Mason picks up 100th career point and four points on the night
HIGHGATE — I spoke with Hunter Mason and some of his teammates in December. Talk of the delayed season came up, and there was no doubt Mason's team was hoping he'd reach the 100-point milestone.
There's something to be said of a team that shares the joy of an individual athlete, and there's something to be said of a teammate who recognizes the team's generous spirit.
Mason hit his mark in the first game of the season. The Thunderbirds earned a 6-2 victory over Colchester, and Mason left with a hattrick and an assist.
How did you prepare for the delayed season? "We worked out on our own and did whatever we could to prepare. We wanted to be ready when we found out we could play."
What was it like to get back in competition? "It was surreal since we'd been waiting so long. I was trying to take it all in, stay focused, and do what we needed to do to win the game. I just wanted to go in and play and have fun."
What do you enjoy about this year's team? "The best part is going to practice every day; it's a brotherhood we've had since we were five years old.
People may not understand how much it means to have eight seniors. It's a really deep core group. It makes a difference on the ice and in the locker room. We've been waiting for this year; we're here, and we're ready to go."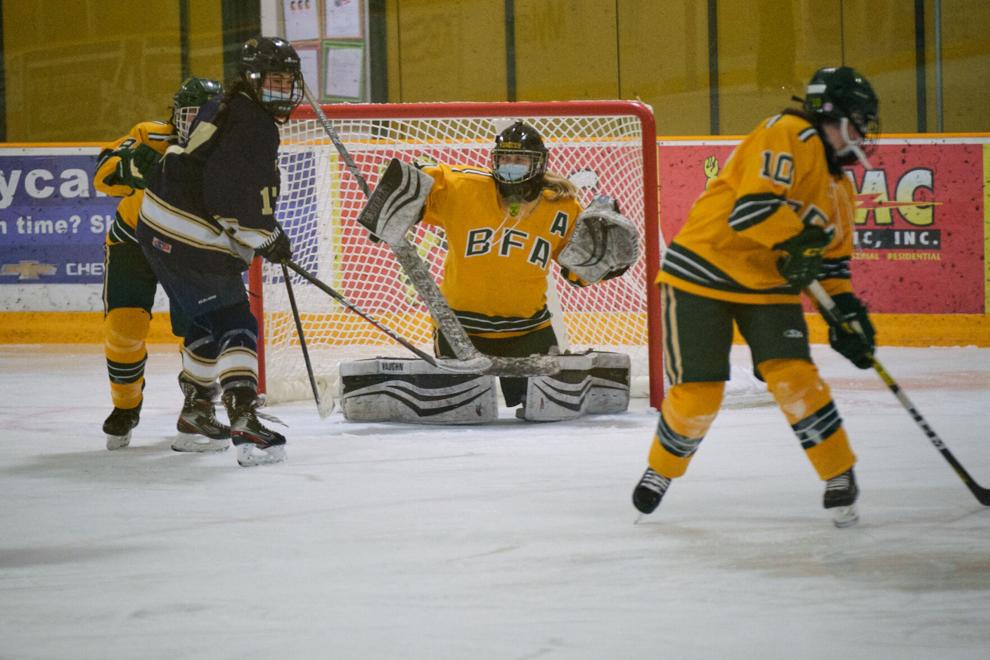 Boissonneault's 35 saves kept the Comets in the game.
ST. ALBANS — Comet senior Macie Boissonneault kept the Essex Hornets at bay on Saturday, canceling all but one of their bids to score in the rivalry game.
What Ari saw: "There was one particular save in the third period that saved the game when the Comets were on a 5v3 penalty kill," said Messenger reporter and photographer Ari Beauregard.
Beauregard also noted Comet coach Luke Cioffi said he was glad they'd never have to play against Macie.
"That sums up how well she played," said Beauregard.
What the coaches saw: "Macie was square to the shots and in excellent position all night and left little net for Essex to shoot at. She also did an outstanding job of smothering the puck and not allowing rebound opportunities," said coach Jeff Rouleau.
"She was a leader with her performance and provided the team with energy as she made all the saves she made."
She's a Comet record holder: Boissonneault made the Comet hockey record page with a single-season goaltending record (min. of 225 shots) in the 2019-2020 season for best save percentage with a 0.946.
2020 stat sheet: Last year, as a junior, Boissoneault shred the net with Maddie Hungerford, playing in 11 games and allowing a slim 13 goals, earning her a 1.17 goals-against average. She had 226 saves on 239 shots. She had five shutouts on the season.
In Boissoneault's Words: "It was awesome to be playing, and I was really looking forward to it; after everything we've gone through this year, it's so nice to be playing games."
Starting a season with no scrimmages: "It was nerve-wracking because we were playing Essex. I was a little nervous, but it felt so good to play a game! It was very different, but it was a good different."
This year's team: "We have a lot of younger players, and there are new learning opportunities for everyone. Having the younger teammates to show the way is a really good feeling. We get along really well."
Favorite part of the Essex game: "I wanted to win, but the whole game was just so enjoyable because we were able to play. I'm not taking it for granted and enjoying it as much as I can."