ENOSBURG - The Enosburg Hornets girls' varsity basketball team hosted the MVU Thunderbirds on Tuesday, Jan. 24, earning a 44-36 point win in a well-played, high-intensity in-county contest.
MVU jumped to an early lead in the first quarter, eventually earning a six-point spread, but the Hornets rallied late, and the teams exchanged the lead several times. Lilly Robtoy retook the lead for Enosburg with 25 seconds remaining in the quarter, but a T-bird bucket in the paint tied the score at 10-10 at the end of the first.
Shots wouldn't fall for either team early in the second, but Robtoy capitalized on an And-1 to give the Hornets a brief advantage midway through the quarter.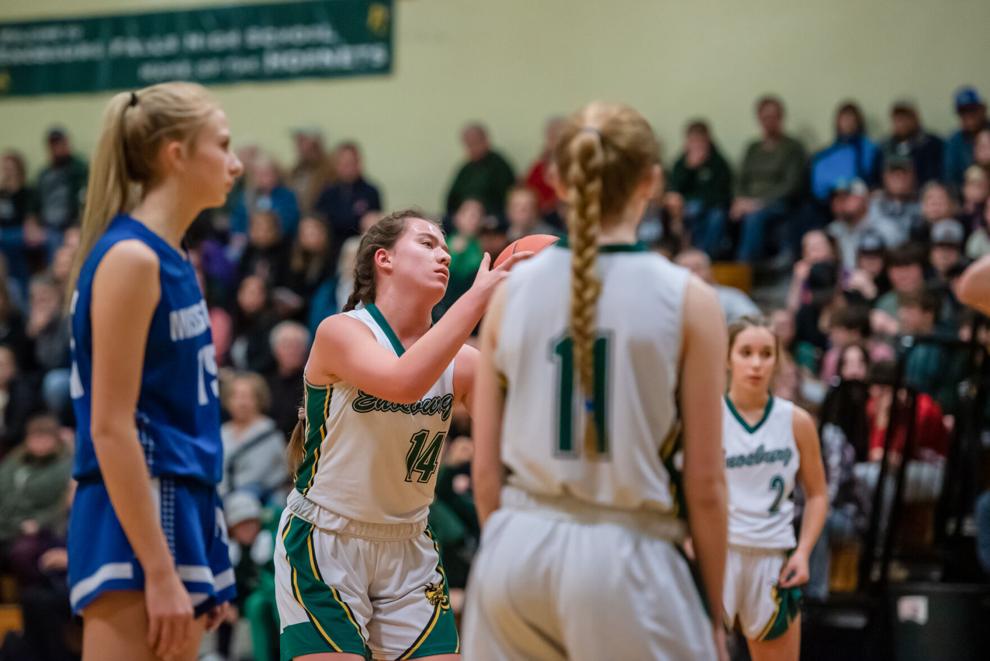 Defensive pressure by both teams caused several out-of-bounds balls, and jump balls caused possession changes, which opened an opportunity for Daisee Gabree and Allison Bowen to add to the Hornets' tally. Montannah Ovitt drew a foul on a drive, completing the And-1 and sending Enosburg to the halftime break with a 25-15 lead.
McKenzie Vincent, Destinee Pigeon, and Jaylynn Langlois cut into the Hornets' lead in the first minutes of the second quarter, but Gabby Spaulding drained a three for Enosburg to give them a seven-point lead as the quarter waned.
A timely bucket by Vincent narrowed the Hornets' lead to four and instigated an Enosburg timeout with two minutes on the clock. Enosburg held a 35-28 lead at the end of three.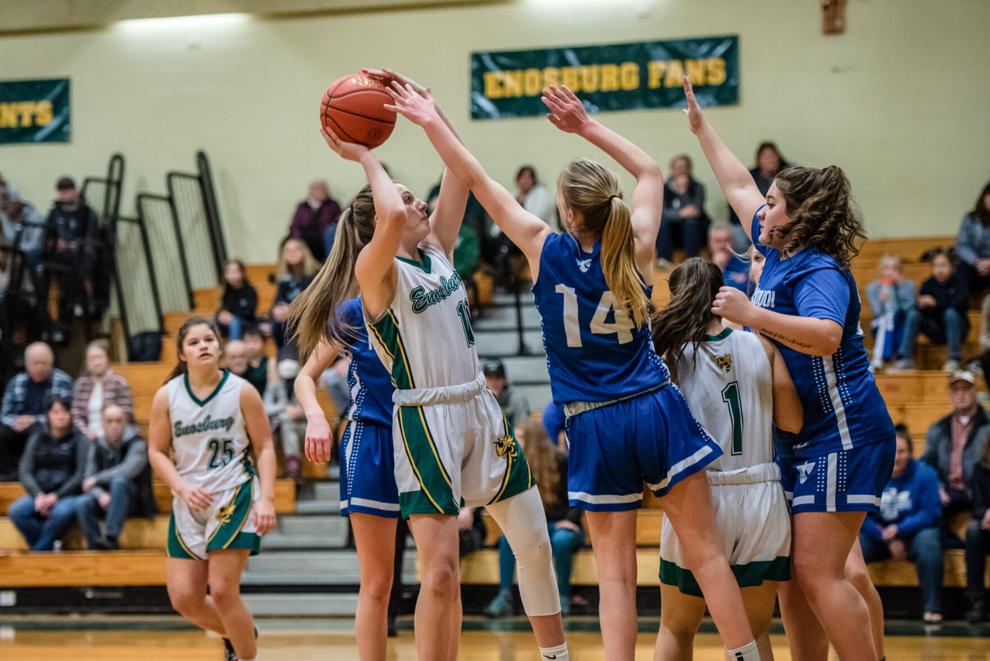 Enosburg's tight defense initiated several turnovers and an MVU timeout two minutes into the fourth quarter. MVU responded as Langlois brought the T-birds within three points off a basket from an inbound play. Alex Bourdeau earned a cheer from the crowd for her persistence as she took off on a breakaway, recovered the loose ball knocked out by Robtoy, and drove to the hoop to narrow the Hornets' lead to 35-34 midway through the final frame.
Robtoy answered with two heavily contested layups on the following possessions, giving the Hornets a five-point lead with three minutes on the clock.
The Hornets were consistent from the free throw line in the game's final seconds, sealing the victory.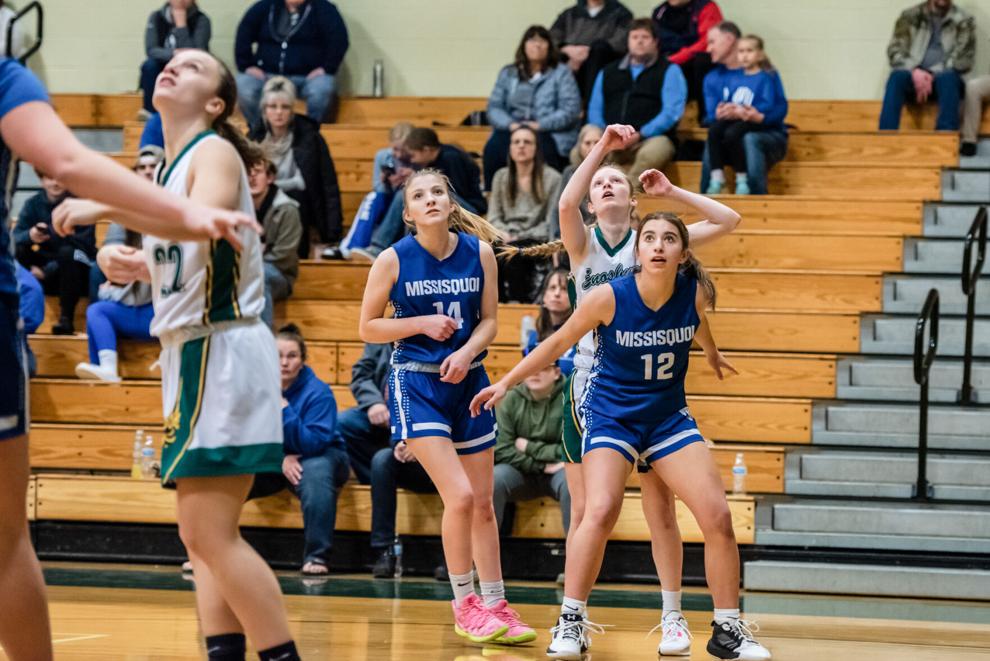 Alex Bourdeau and Lilly Robtoy play together in the off-season. They spoke about what it's like to play as opponents after playing together.
Alex Bourdeau: "Lilly has a mean drive, and she can shoot right over you. It's good for me to face her as an opponent; I love playing against her."
Lilly Robtoy: "Alex is a shooter; you can't even play help defense. She's got a nice runner, so you can't let her into the middle either, which makes it difficult."
MVU coach Tim Luneau has coached the two juniors, and several others on the teams, since middle school.
"It's exciting to watch them play against each other. I'd have liked to come out on the winning end, but it is exciting when Lilly's making big shots down low. Lilly and Alex have played together since the seventh grade, and I've coached half of that team. It's always hard because you want them to do well, but you want to win."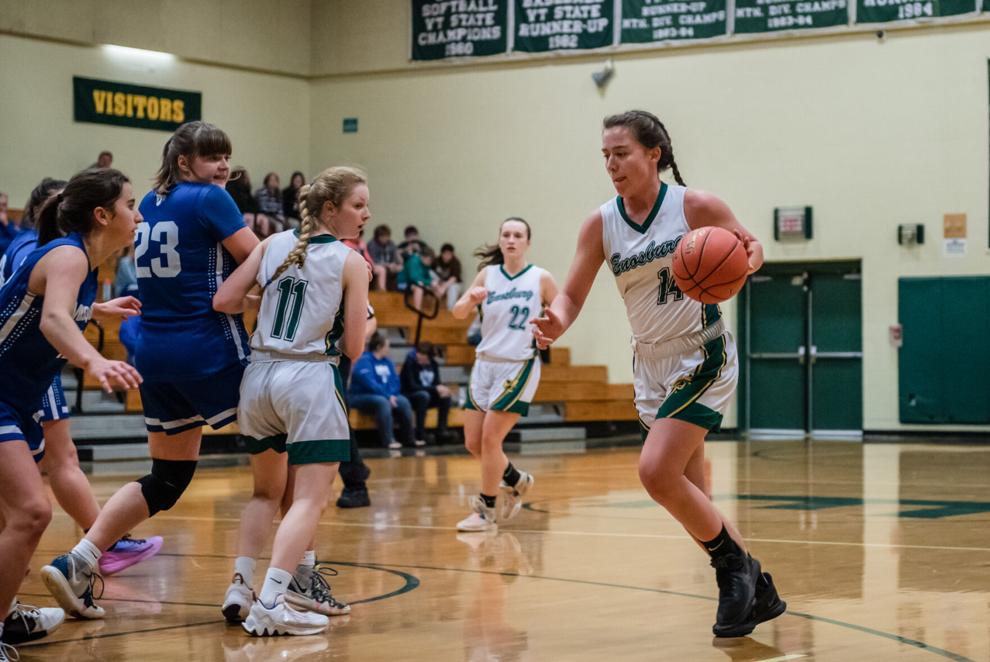 Enosburg coach Gary Geddes was pleased with the strides made by his Hornets.
"This was a much-needed victory, and we put together four pretty solid quarters. We had a little lull in the third quarter and missed a few assignments, but we rebounded well, made shots when we needed to, and hit some free throws to keep them at bay," said Geddes.
"I'm very happy with my freshman Montannah Ovitt. Erica Goodhue did well on McKenzie (Vincent), Alley (Bowen) had a good game, and Lilly rode Alex (Bourdeau) pretty hard and had a lot of minutes. Everybody chipped in."
Geddes complimented MVU's gameplay: "That's the best team they've had in years, and it showed tonight. They didn't give up."
Scoring leaders: Lilly Robtoy led Enosburg with 18 points, and Alex Bourdeau led MVU with nine.