On Tuesday afternoon, the Enosburg Hornets (3) punched their ticket to the D3 state championship after earning a 3-2 win over the Winooski Spartans (2) at an empty field at Burlington High School. 
Fans were prohibited from attending the neutral site game after controversy erupted following the regular-season game between the two teams on Sept. 18. 
Levi Webb, who scored two goals during the game, surpassed the Enosburg goal-scoring record (54), finishing the night with 56 goals in his varsity career. 
Swainbank complimented Webb on his record-breaking performance, "Congratulations to Levi; he put on a really good performance tonight, and hopefully, he's got one more in him on Saturday."
The teams took the field playing a balanced back and forth game in the early minutes, which was expected from two programs with little separation in the standings.
The absence of the crowd focused the attention on the field, where the athlete's voices could be heard as they called out directions and warnings. The languages may have been different, but the intensity and focus were the same.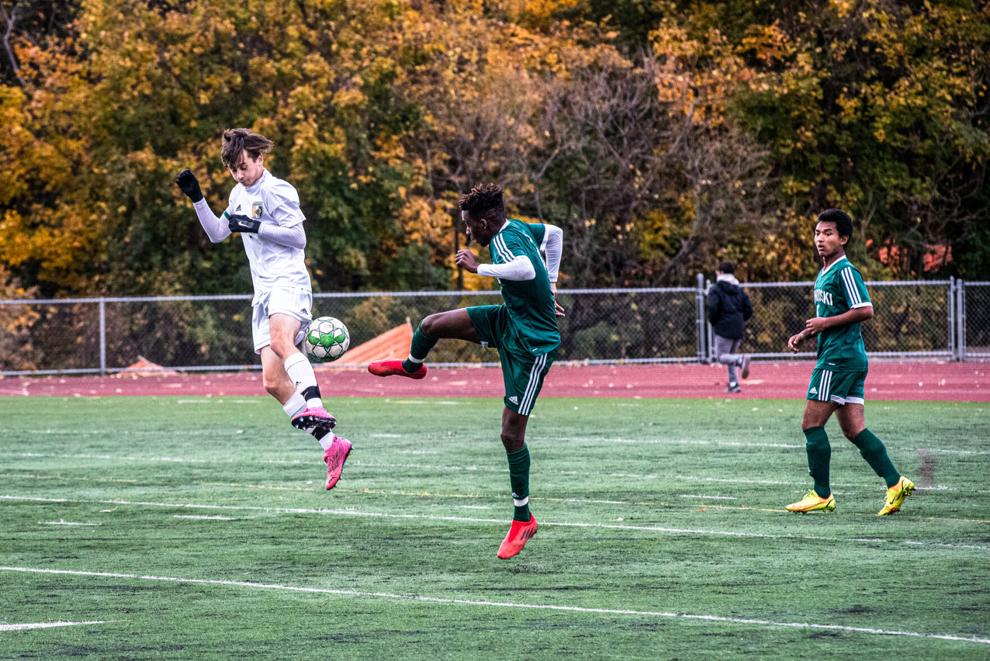 Levi Webb notched the game's first goal, sending the ball soaring, top shelf, into the Spartans net on a direct kick with 25 minutes on the clock. 
A direct kick awarded to Winooski with eight minutes on the clock provided an excellent opportunity to tie the game, but Ethan Jackson made the save, maintaining the slender 1-0 lead as the teams headed to the half.
Foster Hutchins narrowly missed a shot early in the second, but Webb scored the Hornets' second goal, evading two Winooski defenders directly in front of the net.
Winooski halved the deficit seven minutes into the half and tied the game on a direct kick at 15:57, but Hutchins beat the goalie on a breakaway to break the tie with 12:45 remaining in the half.
Jackson saved the tying goal off a corner kick as the clock crept near the 10-minute mark. Then, two minutes later, he made a diving save on a point-blank shot to maintain the Hornets' lead.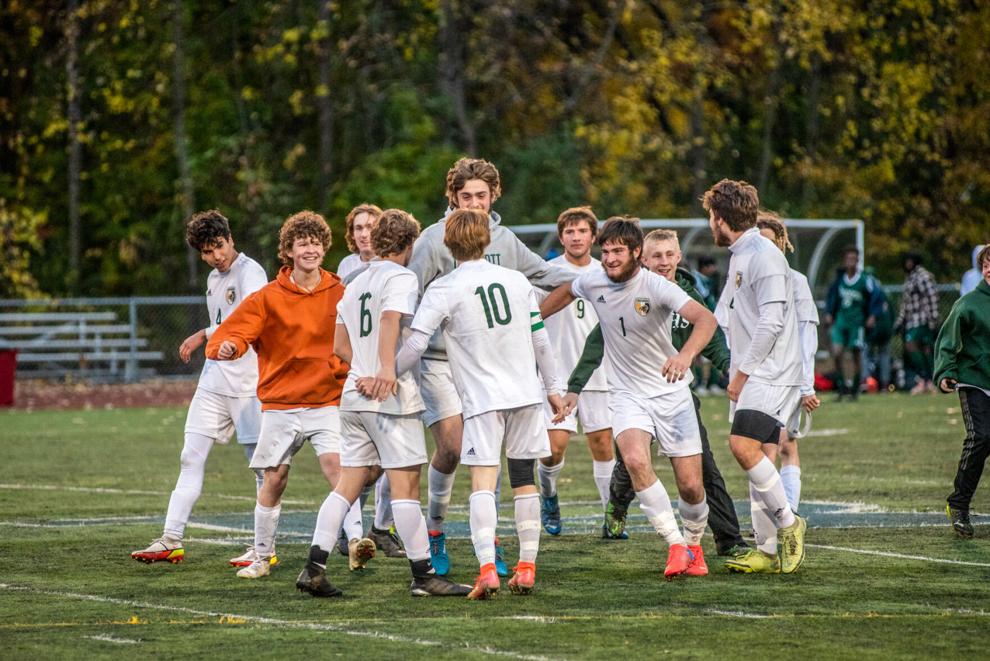 Enosburg coach Randy Swainbank spoke with relief and confidence after the game. 
"It was an outstanding effort from our guys against a really talented team. We've played them a number of times, and we talked last night that if we were to get up a goal or two, we knew they weren't going to quit," said Swainbank.
"When they tied it at two, I thought we were in trouble, but our guys stepped up. Levi had a phenomenal game, Foster had a huge finish, and defensively the guys met the challenge, and we're off to Hartford."
Swainbank also praised Jackson for his work in net. "Ethan has been solid all year, and he rose to the challenge today."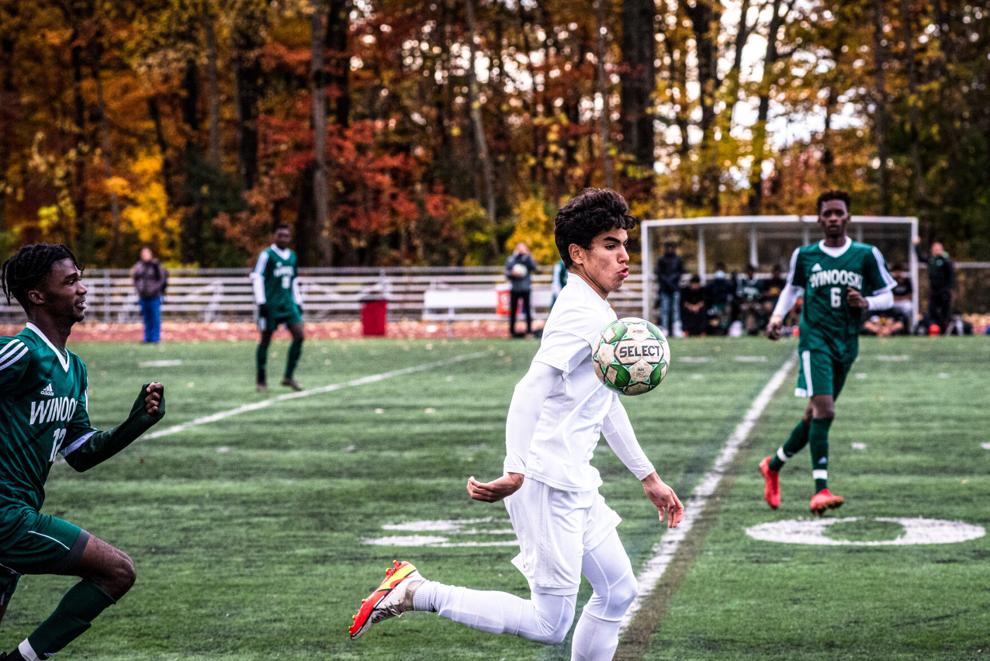 Q&A with Enosburg seniors
Ethan Jackson
What were you thinking in those last few minutes? I trust my defense so much; I've been working with these guys forever. I was feeling tense in the last couple of minutes, but I saw them keeping the ball on the other side of the field, and I trust that they've got it. Respect for them (Winooski) and us all over; it was a really great game.
Blair Archambault
What are you going to remember from this game 20 years from now? I'm going to remember my teammates, this game, and how special it is going to a championship in our final game of high school soccer. It's going to be great, and we're going to play our hearts out.
Lawrence Harness
What will you remember about tonight? I'll remember the team and making it this far, and I'll remember the season.
Jake Boucher
What are your thoughts about heading to a state championship in your senior year? I'm very lucky to be here and make it this far. It's phenomenal. 
Gavin Combs
What will you remember about tonight? It's an amazing feeling to play with these boys throughout most of high school.
Shea Howrigan
Were you nervous this afternoon? No, not really; maybe when it was 2-2, but I knew we were going to come through with it. 
Foster Hutchins
What was it like netting that last goal? I knew Levi would put the ball right where it needed to be. I looked up, took a touch, saw the goalie on me, and just put it in the back of the net. I had to celebrate; I was so excited for us.
Ethan Hogaboom
What stood out to you about your teammates today? Everyone had each other's back from the get-go. We were lifting each other up, and we had great chemistry. A lot of us have played together for three or four years, and we work really well together; that's what's got us this far.
Levi Webb
What are your feelings on this game? It doesn't get much better. We've got one game left, and we've got to capitalize on it. And this group is amazing, on or off the field.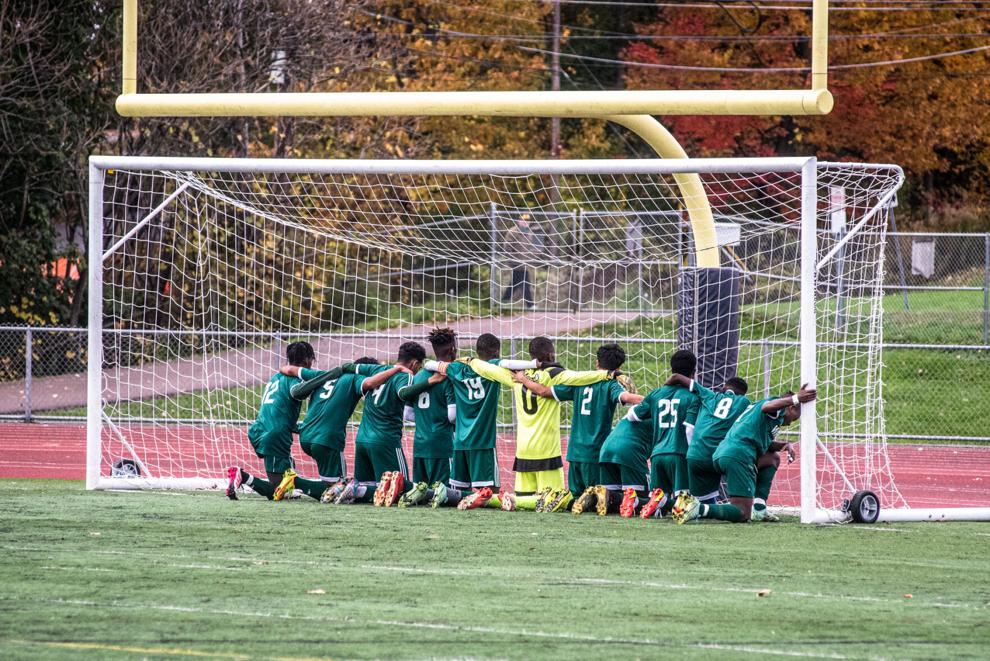 The Enosburg Hornets will travel to Hartford on Saturday for the D3 title game against Green Mountain.