WILLIAMSTOWN — The Enosburg Hornets (7) boys basketball team's season came to a close on Wednesday night against the Williamstown Blue Devils (6) in the D3 semifinal.
The Hornets have won three games on buzzer-beaters, one to BFA St. Albans in the final game of the regular season, one to Peoples Academy in the playdown, and one in the thrilling upset against Hazen Union (2) in the quarterfinal.
Gavin Combs put Enosburg on the board early in the first quarter; Owen McKinstry and Devyn Gleason each added to the Hornets tally, but Williamstown crept closer as the quarter progressed, hitting a long three on a buzzer-beater and diminishing the Hornets' lead to two.
In the second quarter, Williamstown limited the Hornets to just five points, Danny Antillion's three, and a solo bucket by Wyatt Boyce.
The Blue Devils jumped ahead in the quarter, and while the teams traded the lead several times, Williamstown closed the half with a 21-17 point advantage.
Enosburg returned to the floor in the third with renewed energy. Ethan Hogaboom got the Hornets' scoring started, and Shea Howrigan scored on a dynamic breakaway layup. Nathaniel Robtoy flashed a beautiful pass to Combs for a layup, and Mckinstrey came up with a three.
For the second quarter in a row, the Blue Devils kept the Hornets out of double-digit scoring while putting up 16 points of their own and extending the lead to 37-26 in their favor.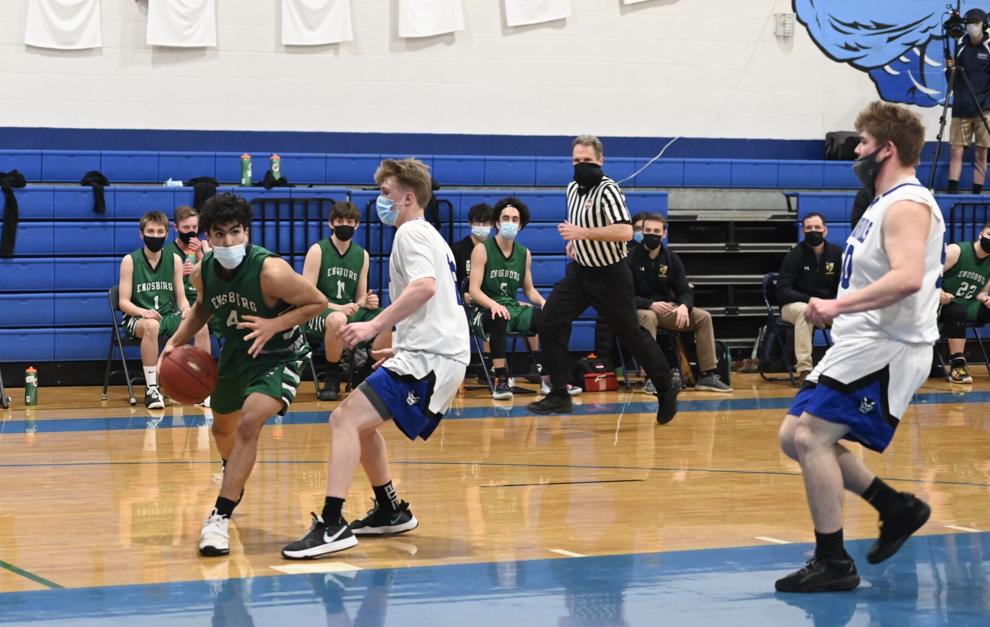 In the fourth, the Hornets made a run, scoring 18 to the Blue Devils' 13. McKinstry led the effort, draining three 3-pointers; Howrigan had two.
Howrigan also roused the Enosburg bench after corralling a stray ball and whipping it, mid-air, to Gleason, who was also off his feet.
McKinstry hit back-to-back threes in the final minutes, and Howrigan came up big with a three in the final seconds. The late-game rally wasn't enough to earn the win, and the Hornets fell 51-44.
"We knew they'd play zone the whole game, and it would be a matter of whether we would make shots or not. We knew what they were going to do, and it just wasn't our night tonight," said Enosburg coach Chad Lovelette.
The game was the last for senior Owen McKinstry.
"You can't ask for anything more from a player--in effort and in 'want to,'" said Lovelette. "There isn't a coach in Vermont who wouldn't take that kid on his team."
Owen McKinstry led the Hornets with 18 points.