GEORGIA — Hiking Vermont's Long Trail, the 272-mile path that runs along the Green Mountains' spine, is an accomplishment for any hiker.
This July, Sydney Heth, who had just finished her junior year at BFA, and her cousin Ella Considine hiked the entire LT in 25 days.
"Ella and I were hiking in Pennsylvania last year, and she suggested we hike the Long Trail, so we did!" said Heth.
Some hikers choose to split the trip into sections, hiking for days or weeks, as schedules allow; others complete the entire trail in one epic adventure.
"We chose to do it all at once. We slept every night on the trail because we were afraid if we went home, we wouldn't go back," said Heth with a chuckle.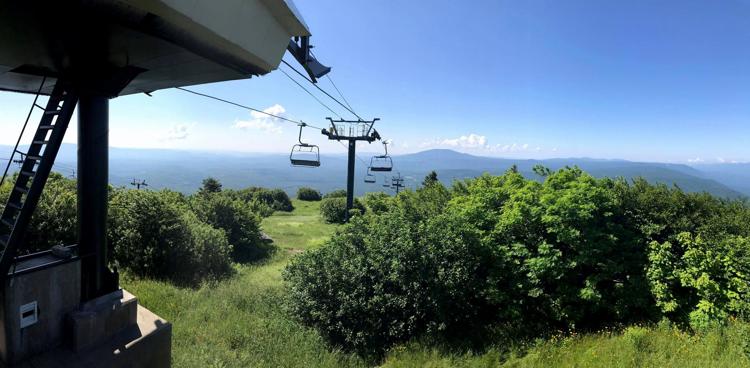 The girls did spend one night in a hotel in Jeffersonville.
"It had been 16 days since we took a shower, and it was the best thing ever!" said Heth.
The girls began their quest on June 28th at the Massachusetts/Vermont border; they reached the northern terminus on July 23rd.
"It poured the first few days, and everything we had was wet and didn't dry. After the rain, it got really hot," said Heth.
"The first week, I got terrible blisters, and my heel was peeled off."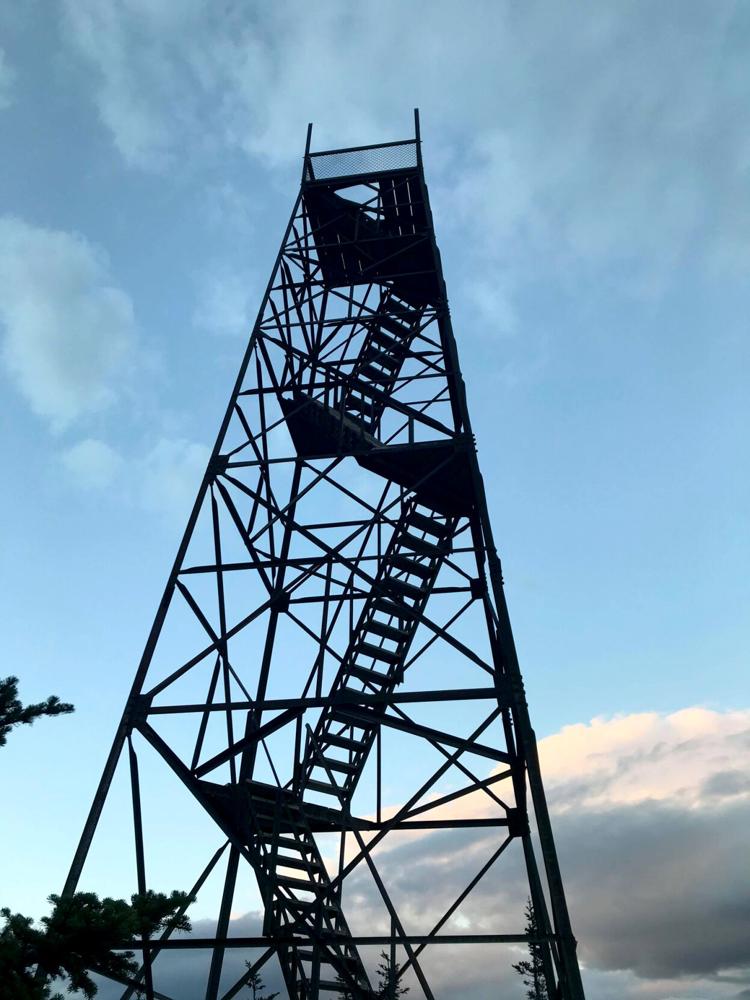 Heth had limited backpacking experience, which included a one-night stay on Mount Washington.
The girls carried a tent, but they opted to sleep in shelters as often as possible.
The shelters were dry, but they did, occasionally, have to contend with mice. Heth especially liked Butler Lodge, where they stopped for lunch but didn't stay.
Each evening, the girls checked in with their parents to let them know they'd made it to their sleeping destination.
"We were at Taylor Lodge, and we had no service. We went up to a lookout and found two stumps," said Heth.
"I stood up there and tried to find just enough service to tell my mom we had made it."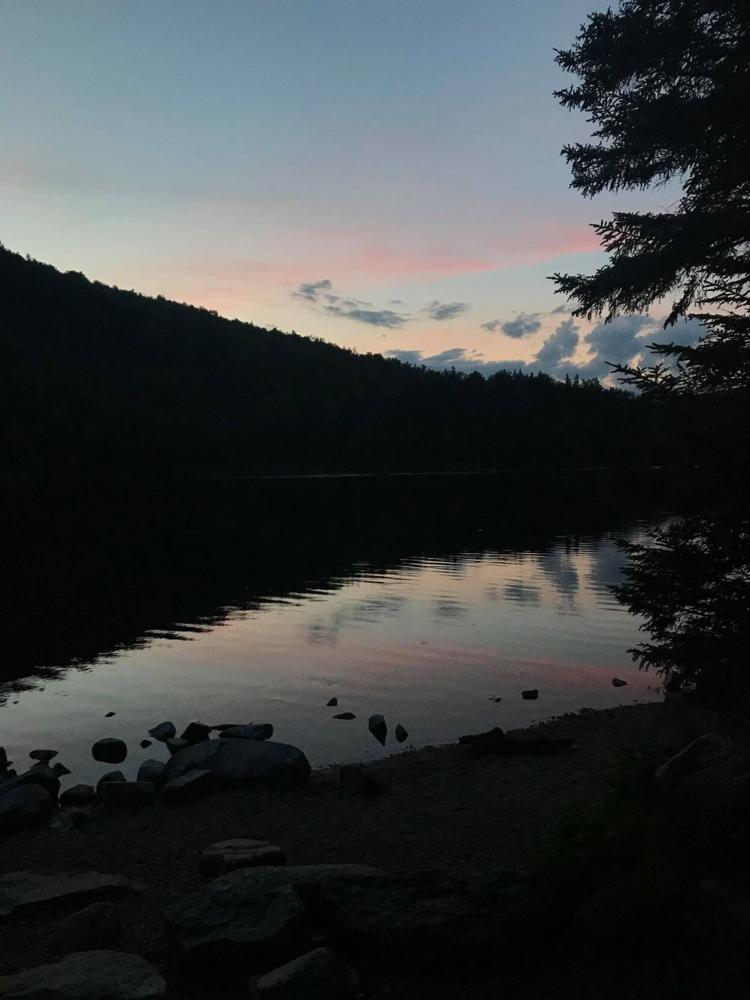 Every five days, their parents would bring them clean clothes, portable chargers, and food, which helped the girls maintain a lighter pack-load.
"We ate a lot more snacks than we thought we would. When we got to the end of the five days, we were close to running out of food," said Heth.
The girls ate oatmeal for breakfast until they couldn't stand it anymore; they decided to trade their oatmeal for a half dozen bagels.
At lunchtime, a tortilla with peanut butter and trail mix was on the menu, and in the evening, freeze-dried food.
Heth noted that the southern end of the trail was much easier than the northern end, but the views in the higher peaks were stunning.
"I enjoyed going over the sections with Mt. Mansfield and Camel's Hump. At the summits, especially Bromely, you could see where you were going, and it seemed far away," said Heth.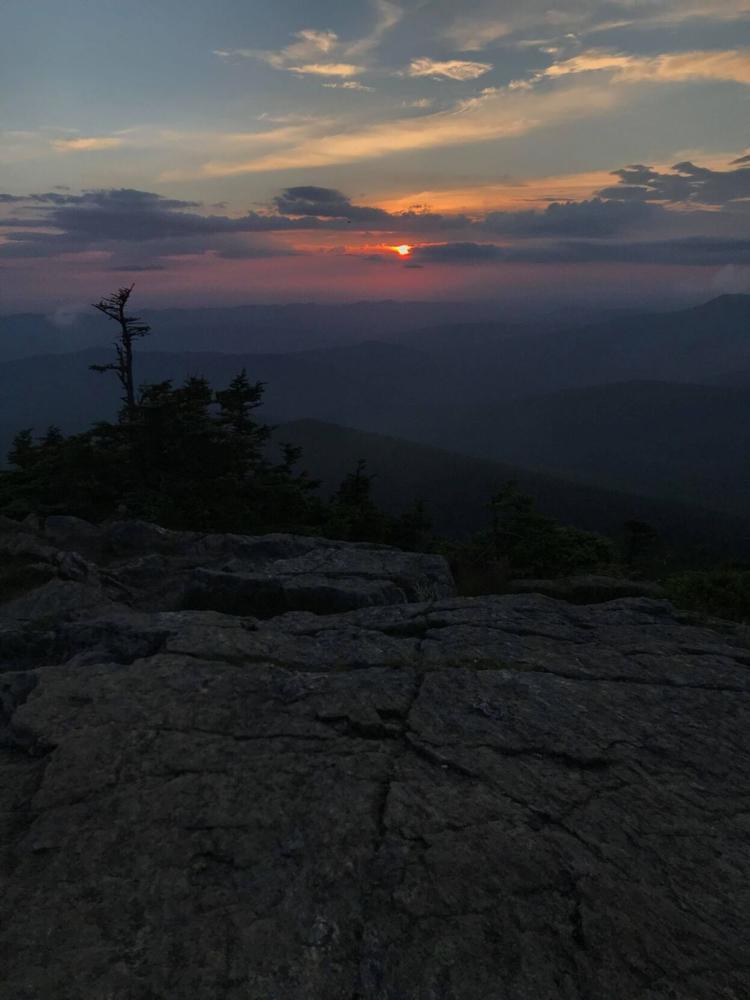 "We went up for sunset on Killington Peak, and it was so pretty."
While the more rugged sections provided constantly changing views, some sections were just the opposite.
"The 'Green Tunnel' section seemed very long; you hiked through ferns and trees for miles."
The girls spent most of the day unplugged, but they didn't hesitate to document it if they did see something memorable.
"We took a lot of photos, especially if we saw a pretty view or stopped for lunch," said Heth.
The girls didn't encounter any large animals, but they did see plenty of wildlife.
"One day, we saw 46 newts! We also had to stop because there was a tiny owl on the trail flying around," said Heth.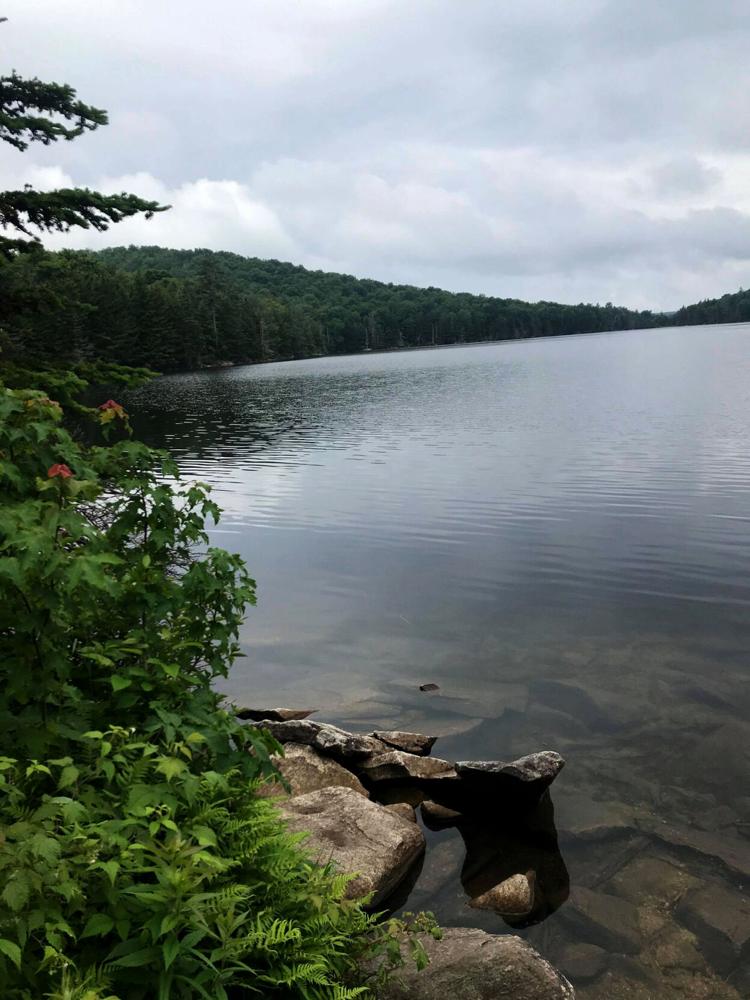 Along the way, the girls made friends with other hikers, some who were hiking the Long Trail and others hiking the Appalachian Trail. They spent a few days hiking with a couple from Burlington High School and with a girl named Cricket.
"In every shelter, you could read notes left by other hikers that explained where they were going, which was interesting," said Heth.
Every night, the girls stopped at a water source, and on hot days they kept a lookout for water for swimming.
"We swam in Big Branch River near the Big Branch shelter," said Heth. "We jumped in; it looked so refreshing."
The Long Trail is very well marked, but Heth and Consadine did have an unexpected detour.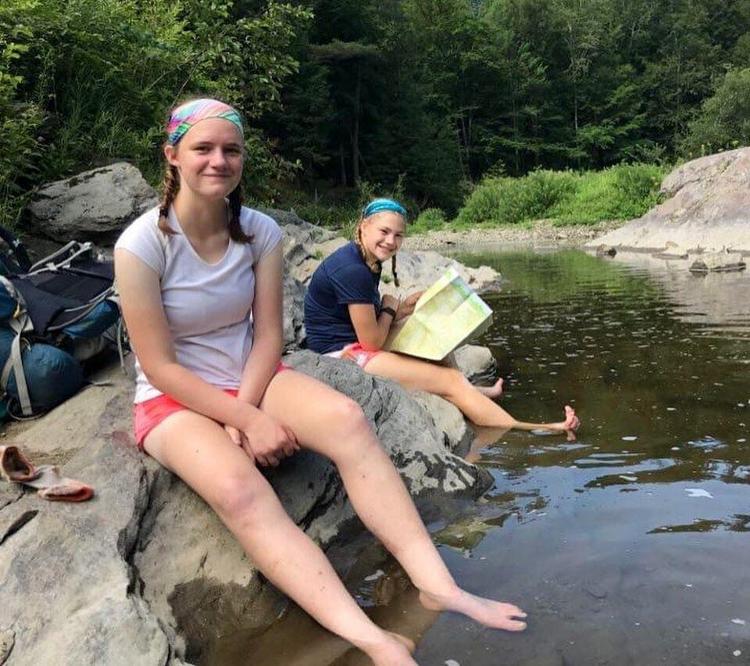 The girls began their hike, accompanied by family members. On their first night alone, they followed white blazes over and under electric fences and even under the interstate.
Heth lost her favorite shorts, and Consadine got stung along the way. The 1.7-mile hike to the Duck Brook Shelter turned into a four-mile wild goose chase.
"We hiked in the dark for two hours. We had no idea where the shelter was, and we were stressed and hungry," said Heth.
The girls camped on the trail side after calling Heth's mother and explaining that they hadn't found the shelter.
They discovered that their map was outdated, and they'd wandered off on the only spot that had been rerouted.
Heth also recalled falling down a steep cliff in Devil's Gulch and landing on her backpack.
"My bag saved me! It wasn't the most comfortable landing, but it was better than falling on the ground!
"I found I was tougher than I thought I was, and I appreciate the state I live in even more," said Heth.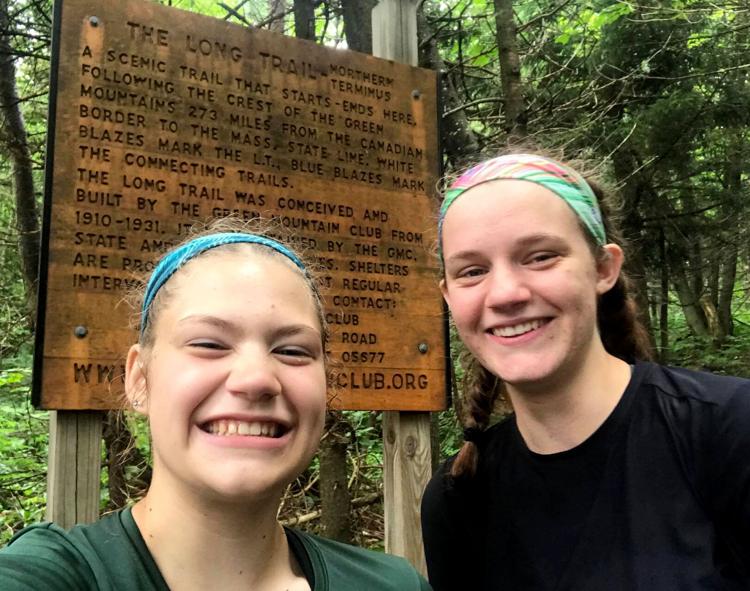 The girls arrived at the northern terminus on a Thursday.
"When we got there, it hadn't really set in that we had finished. We were going so fast because we wanted to get there, but when we did get there, it was sad, too," said Heth.
"We had been hiking 13 miles a day, and it was strange that we were done hiking; we did take a lot of crazy selfies at the sign!"
At the end of the trail, while they celebrated with their parents and grandparents, the girls had an unexpected surprise.
"We were eating, and Cricket, the girl who we'd hiked with earlier, came out of the woods. It was cool to see her at the end."
The day after the girls finished the hike, they met at their grandparent's house for dinner.
"We had a feast of all the food we'd been craving--pizza, chicken, lemonade, and slushies," said Heth.
"My grandparents even made a sign for us and hung it in their front yard."
Heth and Consadine have closed the book on their Long Trail experience, but their memories will last a lifetime.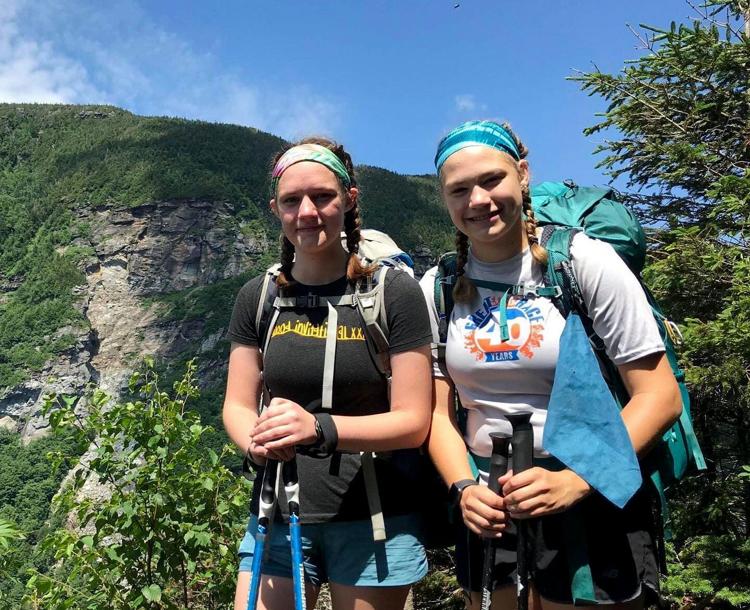 "I'm not sure what I was expecting, but it was what I was expecting because it was very difficult.
"Driving down, my cousin and I couldn't wrap our heads around the fact that we were actually going to do it," said Heth.
"It was such a great experience--probably one of the best things I've done and one of my biggest accomplishments in life."