ST. ALBANS/ HOLYOKE, MA— After playing a vital role in the BFA Bobwhites' DI state championship last March, Caden Hart (class of 2020) signed with the Baystate Bobcats, a Junior A hockey club in the 3HL.
Hart moved to Holyoke, Mass., this fall, taking the next step in his hockey career.
'It's the highest level I've played, and it's a huge step up from high school. It's a lot faster, and you have to get rid of the puck quickly," said Hart.
At the time of the interview with Messenger Sports, Hart and the Bobcats had played six games and stood at 3-3 on the season.
In an ordinary year, the team would travel extensively, but due to COVID concerns, most of the games have been played in Connecticut or New Jersey.
Hart has played in six games and accrued five points; he's also been to the emergency room where he had 42 stitches administered to close a facial wound.
"It's a lot more physical than high school, as you can see by my face, and I'm starting to hang in there," said Hart.
"It's definitely a lot like BFA hockey with the relationships everyone has, and I knew a bunch of guys from summer hockey."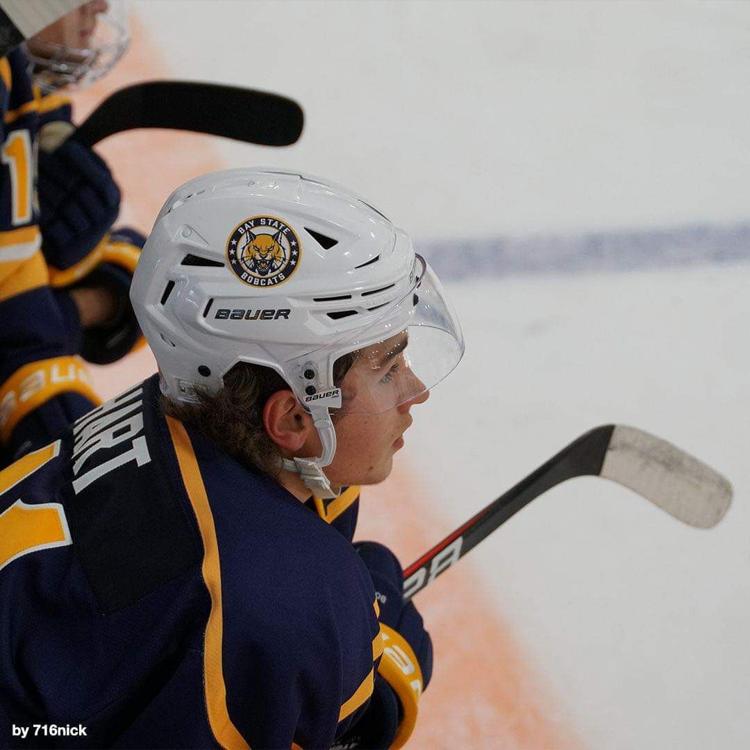 Playing for a junior hockey team has required Hart to adjust to the game, live on his own, and a new schedule.
"I like how organized things are and how we have two hours of practice a day," said Hart.
"I enjoy having three games a week, and I enjoy living with the other guys in the apartment. It's a lot of team bonding."
There's time to bond at the apartment, on the ice, and on the bus.
"I'm used to a 45-minute ride for high school games, but now we're driving hours. It changes your mentality and your routine before a game."
Hart noted that playing for Toby Ducolon and Bill O'Neill prepared him well for the next level.
"The level and style of play that Toby brought to us are the same here--get the puck deep and chase. The mentality is also a lot like what Toby brought to us," said Hart.
Hart's most memorable moment to date came at a Friday night game just a few weeks ago.
"My grandfather had passed away the night before, and I was out to play for him. I stole the puck on the two and one, made a move, lost an edge, and passed the puck to a teammate," explained Hart.
"Someone tripped over me and hit me with the heel of their skate. I was able to get the pass off, and the goal was scored."
Hart recalled doing a self-check on the ice.
"When I fell, I knew something had hit me, and there was a puddle of blood. I felt that all my teeth were there, but there was a big hole in my lip," said Hart.
"When I got off the ice, I was hoping they could stitch me up right there, but I had to go to the hospital. I didn't realize it was that bad."
Hart was rushed to the hospital, where he watched the rest of the game on his phone and awaited help.
"We tied it up 4-4 with 30 seconds left, and the other team scored and won with seconds left in the game," said Hart.
When it came time for stitches, Hart made sure to respect his jersey.
"I had them stitch me up with the jersey on. It wasn't the most comfortable thing," said Hart.
Hart left the hospital with 30 internal stitches, 12 external stitches, and an appointment with a plastic surgeon. He was on the ice the next day.
"My grandfather's birthday was two days ago. I had my stitches, and I told my coach I had a full cage and was ready to go," said Hart.
"He told me I was on the starting line. That game, I was able to put up two points on assists."
Getting back on the ice after an injury of that magnitude could be intimidating.
"The game is really all mental; when I got this injury, and I've had a lot, I have to put it in the back of my head and keep playing. You can't be scared to get hit or make the right play."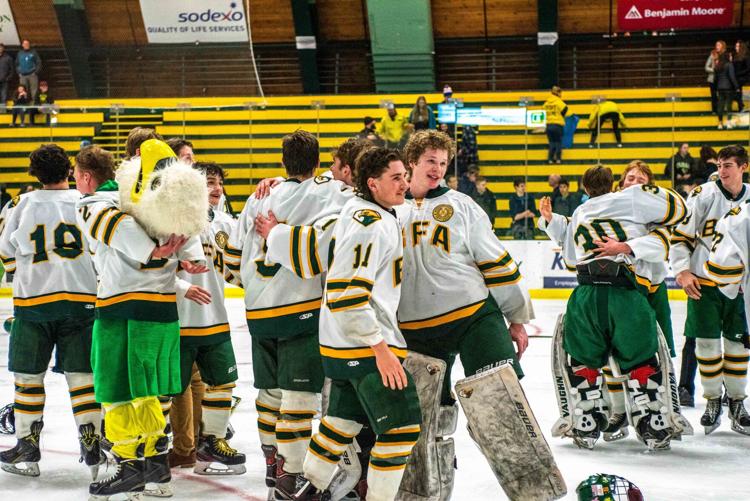 Hart is enjoying playing the game he loves, but he hasn't forgotten his roots.
"I miss BFA hockey a lot, and I miss the community; it's a hockey town. I miss going to a game, seeing Mr. Marlow and giving him a handshake," said Hart.
"I want to give a 'good luck' to the next BFA hockey team! Bring another banner home," said Hart. "I wear my championship ring to every game!"