One would think that the last Tuesday League of the season would be hard-fought with everyone scoring well. Just the opposite happened as there was a fight to get to the bottom.
Crash and Burn Trophy: First, it was "Check" Mark Garland thinking he was the winner of the Crash and Burn Trophy, which goes to the player most under their points. Check Mark was -6.5 and acted like he already had a spot on the mantle for it. Then it was Andy "The Bus" Jette who was whining that he was -7.5. In steps Bob Roy "Rogers" and his -8 performance. At last, the professional showed up, Harold "Hair Hole" Bessette, who was an unbelievable -9.5. Hair Hole never lost a ball in this dismal showing, as he explained, "I never hit it far enough to lose it."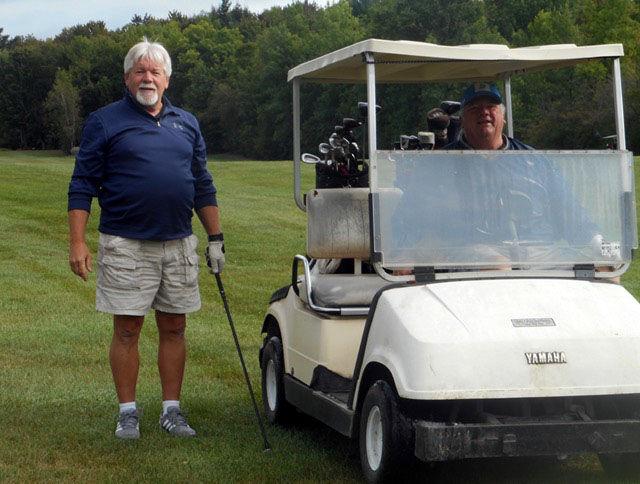 Dumpster Fire Award: There was more whining when it came to the Dumpster Fire Award. The Bus, along with Ron "The Canuck" Deschamps and Warren "Haulin" Dahlin were -10. Get out of the way chumps, as Bert "Eraser" Broe's team was -16.5. Eraser acted like the leader he isn't by blaming a new guy, Rick Marsh "Mellow," for their score as well as Bob "Shorty" Ruiter and Leighton "Deer" Hunter. 
While they were crying in their beer, a new leader emerged for the Dumpster. Led by Roy Rogers, Gerry "The Tapper" Flanders, Bob "Flower" Tower, and Jim "Aflac" Shepherd, this team looked to be in control when they posted -21. The last group in consisted of Hair Hole, Wendell "No" Sweatt, Hugh "Vegetable Man" Gates, and a guy who is no stranger to the Dumpster Award, "Mr." Ed McGarry. This team was doomed from the beginning, and they came in at -23 to win the Dumpster. Great drama guys, kept us all on pins and needles.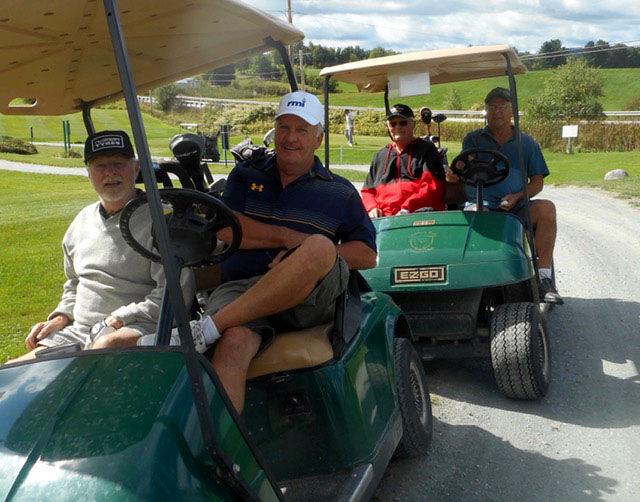 As far as who won, who is left? Well, there was a team that was +10, and all the guys were between +2 and +3.5. Gary "GG" Gilbert led this squad consisting of Larry "The" Lyons, Stevie "Wonder" Rocheleau, and Roland "Butter Scotch" Daudelin. I know; it surprised me too.
Most over was Gary "Iron Man" Deaette with his +5.5, edging out "Scuba" Steve LeBlanc who was +5.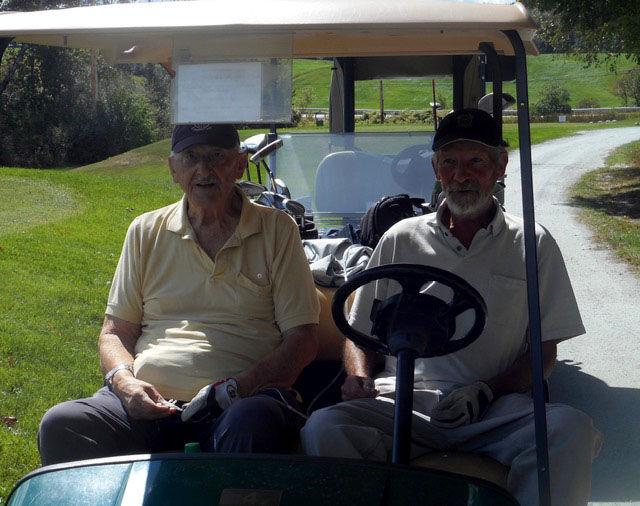 Closest to pin: Iron Man also won closest to pin with a distance of 3'10". 
The 50-50 winner was a guy who we thought we wouldn't have to mention again. Wrong as usual. Chris "Blue" Gill hit the trifecta today as he made his points, broke 100, and won the 50-50.
In another milestone, Dick "Blood Sucker" Blouin made his points for the first time.
Haulin Dahlin shot his age last week, a feat that's hard to do. Oh sure, Winston and Bone can shoot their age in 9 holes, but 18 is quite impressive. Congrats to him.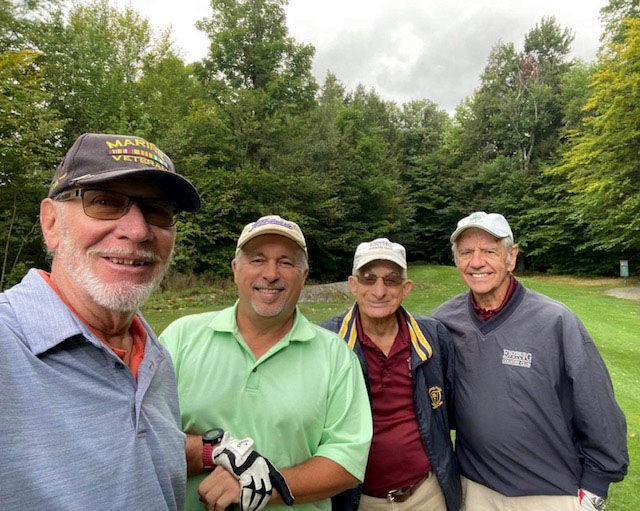 Season recap: we played 17 weeks with no rainouts. There were some good scores and some not so good. Welcome to golf. Who made out with most of the loot? A quick check shows that Haulin Dahlin collected on 12 paydays throughout the season. Dan "The Fish" Poissant won an unheard of four 50-50 drawings. Who was the invisible man? Well, there were two guys who were mentioned only once. "Tricky" Dick Delorme won a skin in week 6 but was shut out the rest of the year, and he claims that he has never been on the winning team. I believe him. The other guy won the 50-50 last week, but performance on the golf course was next to zero. That would be Gilles "The Man" St. Amand. These two guys share the Invisible Man Award.
So long for now: A great season comes to a close, and I hope everyone is looking forward to next year. From Bone, Winston, The Bus, Hair Hole, Eraser, Mr. Ed, Blue Gill, and the rest of the gang here in the League: keep your head down.