It's been seven weeks since we heard the name Paul "Hack" Hatch, at least in a favorable light. Hack dominated the first part of the season with his closest to pins, most over, and skins. Actually got sick of hearing about him. In that great run, he never finished on a first-place team. Today that all changed as Hack is in the winner's circle, thanks mostly to Mike "Stewey" Stuart, who was +8, even with one wrist bandaged. Hack was +3.5, Gerry "The Tapper" Flanders was +4, and a guy who happened to be in the right place at the right time, "Moby" Dick Dragoon was -3. Their +12.5 was 3 better than the second-place team.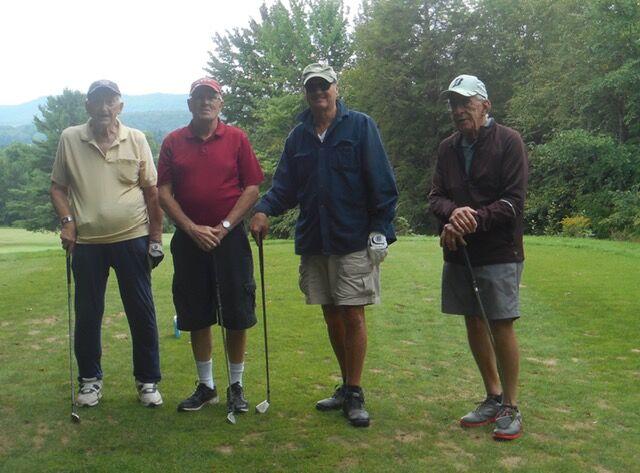 Most over: Mike "The Hammer" Bessette had a big day as he was +9.5 to win most over, edging out Warren "Haulin" Dahlin by half a point. The Hammer had 4 birdies, but didn't win a skin. It's all about where you get them. Payout is $15 to the winners.
Crash and Burn: Another guy we haven't heard from in a while is "Mr." Ed McGarry. A closest to pin three weeks ago may be the high light of his life. Well, Mr. Ed showed up today, and his teammates probably wondered if his clubs were replaced by croquet mallets as he was -6.5, edging out Dick "Blood Sucker" Blouin who was -6. The performance was enough to win him the coveted Crash and Burn Trophy for most under points. 
Dumpster Fire: Mr Ed wasn't done, as he led his team to the Dumpster Fire Award helped out by George "Corkscrew" Gates (-1.5) and "Handy" Andy Laroche who was -2.5. Bill Dubie "Brother" at +2 had to wonder what he did to end up with this crew.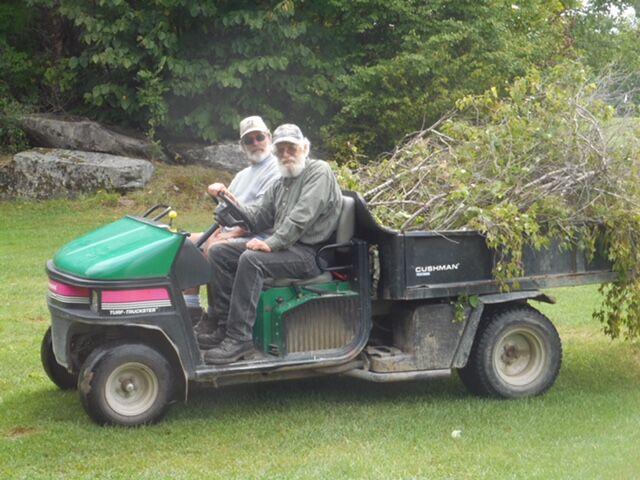 Closest to pin was The Tapper and he was 6" 3" away. A big thank you from Andy "The Bus" Jette as Tapper missed the putt and The Bus got a skin because of it.
 Gilles "The Man" St. Amand has basically lived in oblivion as far as the League goes. Not anymore as he won the 50-50 and the $80. Dan "The Fish" Poissant finished second.
Negotiations? It was noted last week that Chris "Blue" Gill was negotiating with the women's league for admittance in case things went south in the men's league. This all came about as he finished the last four holes of his round two weeks ago and only made 1 point. Bert "Eraser" Broe brought up that fact today as he was in his group. How did Blue do? He finished his last five holes with four double bogies and a bogey, for a total of 3 points. Baby steps in the right direction.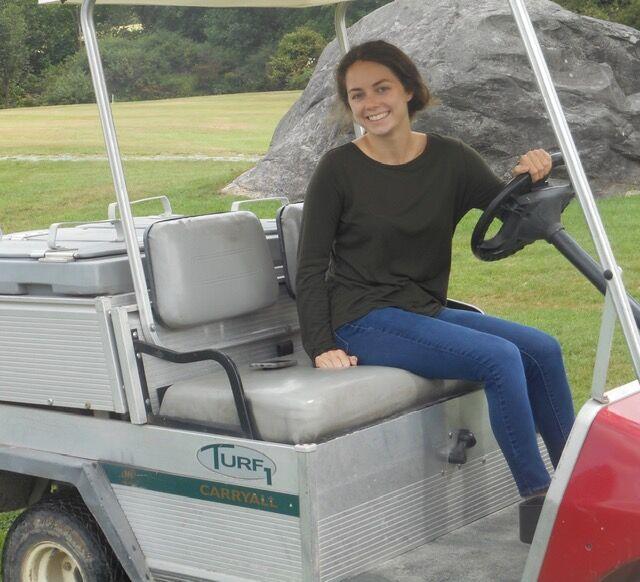 Big milestone today for Bob "Bone" Mero as he joined the 70 club, that's age not score. The Bus presented Bone with a sash that said, "70 never looked so good". Not sure if that was made for Bone or not. Also, the Bus gave Bone a roll of toilet paper. Practical, I guess. Bone thanked everyone for not saying anything about him.
In the "Ask Bone" segment this week, a question comes from someone who reads this article in the Messenger. Hard to believe. Anyway, Dr. Chuck asks, "Bone, you seem to be an expert on golf and give some unbelievable answers, to say the least. My question is, "Are you an expert in any other sport?"
Bone replies, "Well, I don't like to brag, but yeah. The key is to eat a lot of fiber to stay regular. You'll see me eating a cardboard box on occasion or chewing on a stick. Even my picnic table has teeth marks in it, and that's plastic. I'm a regular guy, and I do mean regular. Try it, and your bowels will thank you."
Only 4 skins this week and they pay $12. Hack on the tough #5, The Bus #6 (Thanks Tapper), Ron "The Canuck" Deschamps #8, and "Hard" Rock Benoit on #10.
Last official week next week with many guys looking for their first time in the winner's circle. Hope to see a big turn out.