BERKSHIRE — Elle Purrier has been turning heads in the professional running community this year, breaking records and proving that Vermont may be small, but it's capable of producing incredible athletes.
After breaking the record in the indoor mile in New York City last February, Purrier broke the American 2-mile record at the 2021 New Balance Indoor Grand Prix, running a 9:10.28 and shattering Jenny Simpson's 9:16.78 record.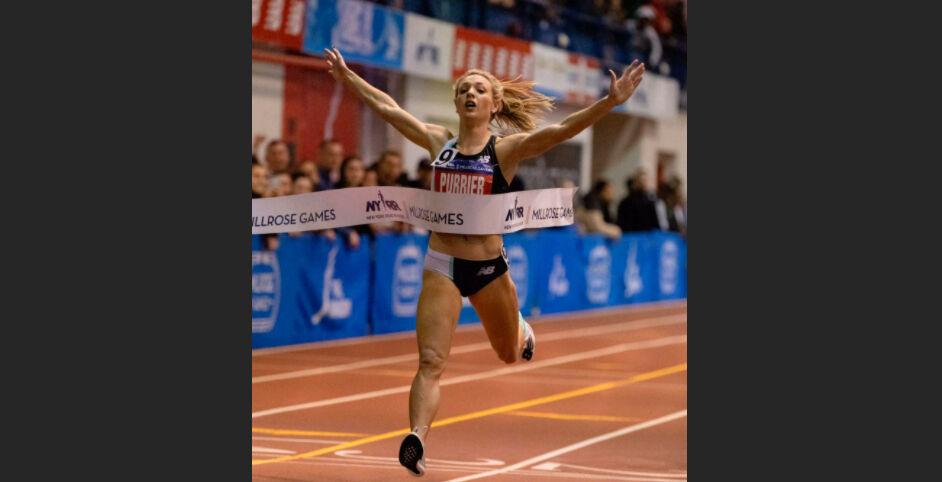 A trip to Texas for the Trials of Miles Olympic Qualifier in late February produced a time fast enough to meet the Olympic standard qualifying time.
After that race, Purrier packed her bags and headed back to Berkshire to her family in Vermont. Ahead of the Olympic tryouts in June, Messenger Sports caught up with Purrier.
What's it like coming back to Vermont after a big race?
"It's very different after being in New York City and Texas, but it's great. I love the contrast. Being away helps me appreciate being home more."
What's your training like at home?
"It depends on what's going on. After the last race, I had a down week and ran about 40 miles, but I'm usually training the same whether I'm here or in Boston."
Are you looking forward to coming home when you're away?
"I'm always counting down the days until I can go home. I enjoy traveling, but I'm definitely happiest at home when I'm with Jamie and his family and my family. I like being home doing the things I love and being on the farm."
What's it like training in different places?
"This is my third year going out to Flagstaff to train, and I'm getting used to it. Everything is harder training at a higher altitude. You feel it immediately when you start to run, you're more tired, and it's harder to breathe."
What's it like to run in these big races, first in New York and then in Texas?
"I was excited to have an opportunity to race; I've hardly raced at all this past year. I was excited to bust the rust and get back on the track and see what I could do. I have been training hard, and I was anxious to put that to good use.
"I wasn't that nervous (in New York); I was excited, and I knew it would be a fast race. Going into every race, you think about different things, and heading into that race, the goal was to break the two-mile American record. I knew what pace I needed to run, and I'd been practicing. I was feeling really good, and my coach had the utmost confidence in me, which helped. I didn't pay much attention to the clock; I listened to my coach, and I was able to run a really fast second half.
"The second race ( in Texas), I came home and got a refreshment from being here and seeing my husband (Jamie St. Pierre) and my dog, and it was go-time again.
"It was so windy and humid that night! I went into that race, looking at it as an opportunity to learn more about racing. I knew it was a stacked field, and I'd run against most of those women before."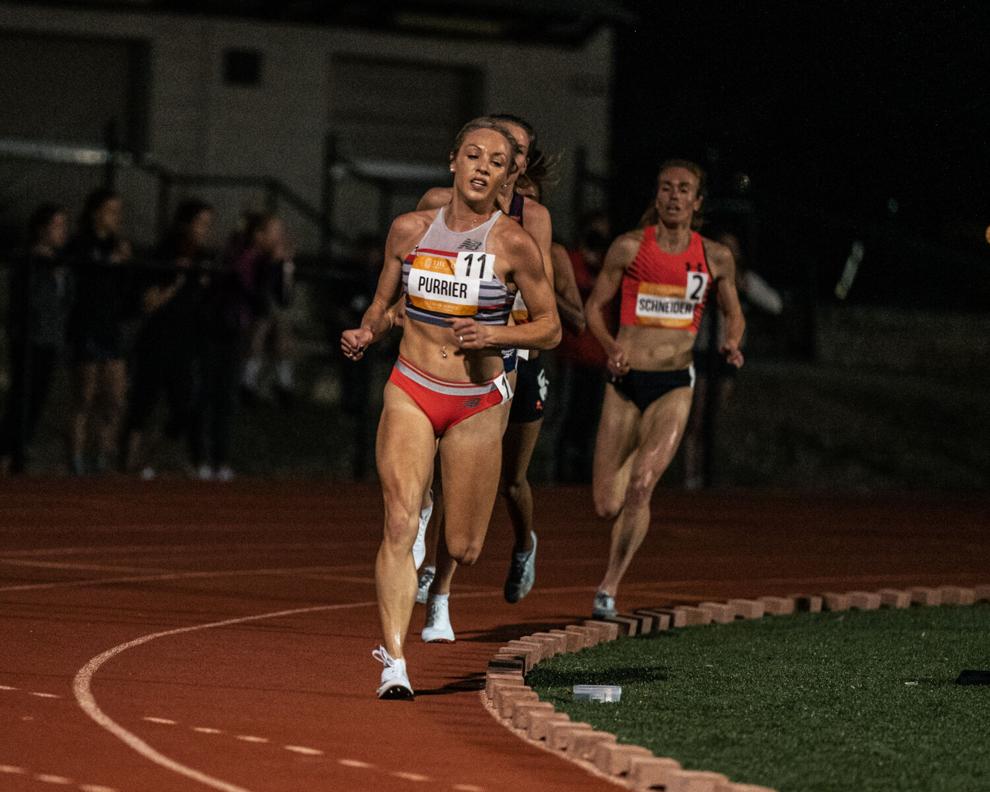 What's it like running for Team New Balance Boston?
"I made a great decision signing with Team New Balance Boston. I really liked the girls, and that was a big part of my decision. My college coach 'Hopp' (Robert Hoppler, University of New Hampshire) had a lot of confidence in my coach (Mark Coogan). Mark is so chill, and that's what I needed.
"Mark works well with me and gives me time when I need it to come home. I've made the environment for myself (at home) better for training. I take my job seriously, and I figure out the things I need to do and do them with whatever resources I have.
"I enjoy having that flexibility; I'm so grounded here, and I'm happy when I can help my dad or Jamie with chores in the morning. I have a lot of joy and love for where I grew up."
What shoes are you running in right now?
"My favorite shoes are the New Balance Beacons; they're light, but they also have a lot of support. I like that they're good for both long and short runs."
What's it like preparing for the Olympics?
"I was planning on them being last year, but now I'm gearing up again. I'm stronger than I was last year, and I'm happy about that. It's nerve-wracking, and I want to put everything into it. The US is so competitive in women's distance running, and you have to be on your game."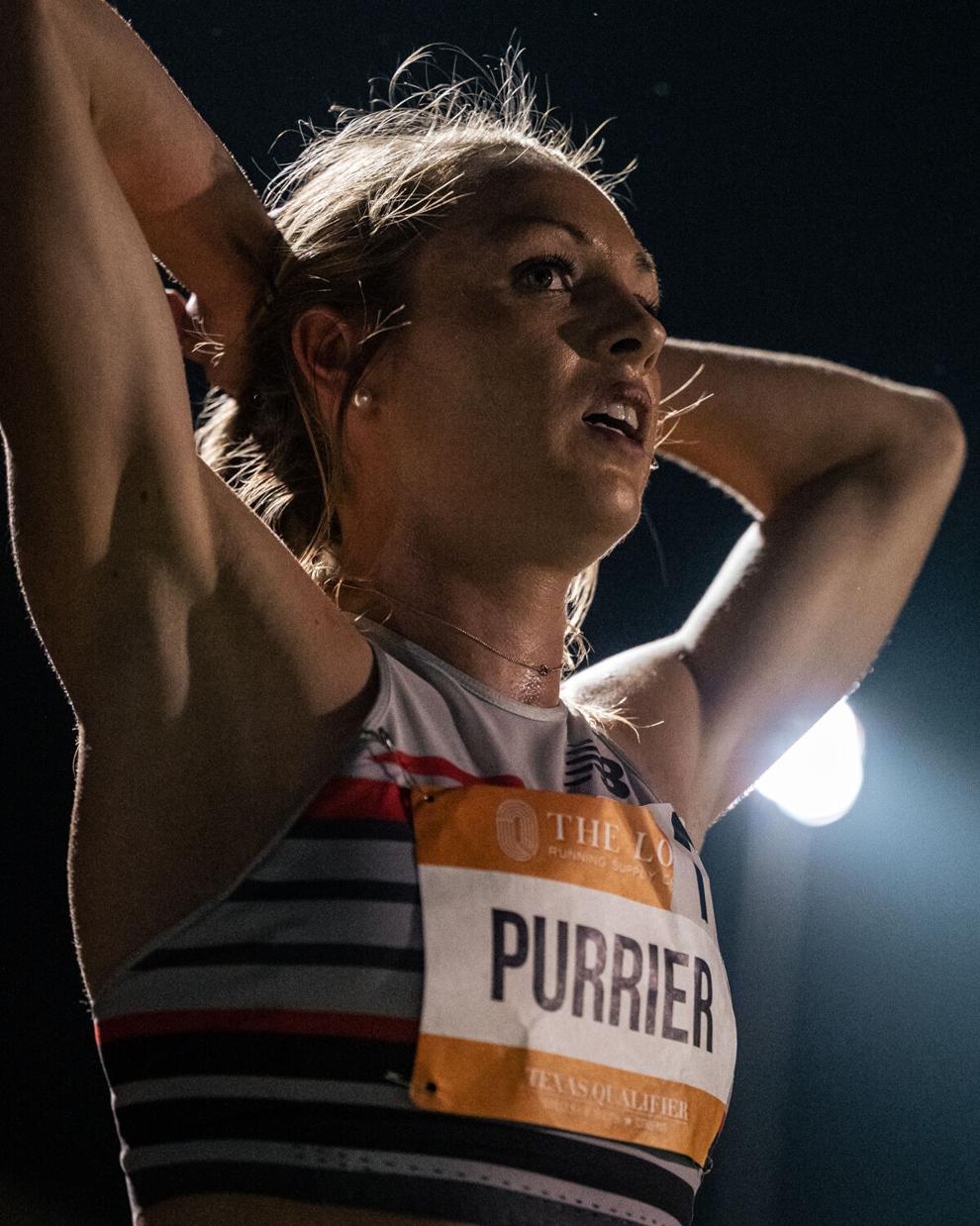 Jamie always has your back; how does that motivate you?
"I'm so fortunate to have him in my life; he supports me and loves me so much. I think it takes a special kind of person to support me in these dreams that are so wild! He's also following his dream with the farm (Pleasant Valley Farm); we're both supporting each other. He's equally excited about my career, and he wants me to get the most out of it now while I can. I don't think I could do what I am (doing) without the support of Jamie and my family."
Do you have wise words for younger athletes?
"If you're young and in a sport, try to enjoy it the most you can. Sometimes we get really competitive with things, and that can take the joy away from the sport. Take the time to enjoy it with your friends; life changes quickly, and you're going to look back on those times and wish that you'd enjoyed it and had fun!"