ESSEX/FAIRFAX — Horses and riders converged on the fairgrounds at the Champlain Valley Exposition over the weekend for two days of barrel riding and pole bending.
Cassidy and Paige Superneau and their mother Dawn, from Ridgefield Ranch in Fairfax, all rode in the barrel racing events on Friday evening.
Cassidy took first in the Youth Division with a 16.91 and second in the Open. Paige, who rode a 16.97 and just a little over, came in third in the Open and second in the Youth.
"We were that close," said Paige, smiling, "She barely got me!"
On Saturday, it was Paige and Rain who won the day, clocking a 16.52, and securing the win in both the Open and Youth Divisions.
Cassidy and Hank came back on Saturday to race a 16.8, and secure second place in the Youth and Open 1D.
The Superneau sisters have grown up on horseback and race together ever weekend.
"We learn from each other," said Paige. "It's really helpful."
Barrel racing, like any other sport, requires constant fine-tuning, and each race provides an opportunity for horse and rider to develop.
"I rode a little more aggressively tonight and pushed Rain past my barrels. I still need to sit a little sooner on the first barrel, but my second and third, I rode really nicely.
"With barrel racing, you take it barrel by barrel. You've got to hit your marks on each barrel, and once I do, I usually know if it's a good run."
Cassidy was also confident in her performance in the first race of the evening.
"Hank and I were a little wide on the first barrel, which cost us some time, but his second and third were really tight, like always, and that's what made up some of the time."
In the GMBR event at CVE, the horses and riders raced in groups of four or five. Riders who could run in both the Youth and Open Divisions had the choice to 'roll' their first race time from the Open Division to the Youth Division.
Both Paige and Cassidy earned 16.9 times in their first races, so they opted to roll their times into the Open Division.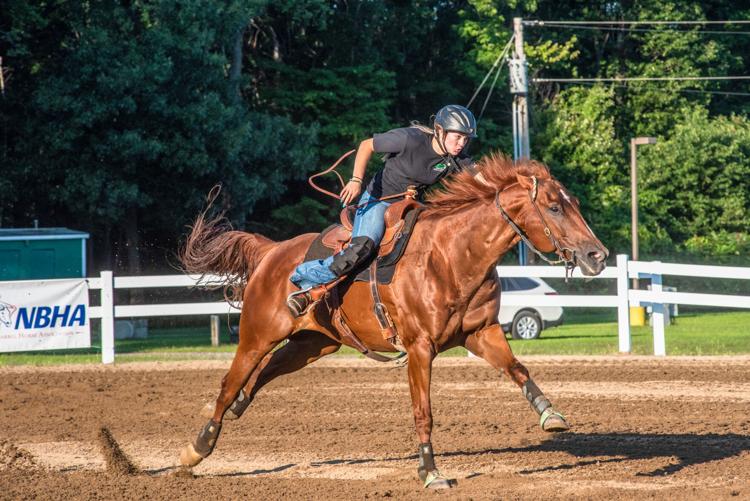 Each arena the girls compete at is different in size. The CVE arena is a larger arena, and the course record, 16.3, was set last summer by a Canadian Rider. Cassidy set a record of 14.7 at a course in New Hampshire two weeks ago.
"I wasn't expecting to ride that fast. Everyone was joking ahead of time that no one had ever hit 14 seconds," said Cassidy.
Arena size factors into times, but so does the consistency of the soil.
"You have to judge the footing and ride differently in every arena. If the soil is deep, you have to push harder to each barrel, so the horse carries the momentum to get by," explained Paige.
Before a race, the girls ride their horses around the arena to get them accustomed to everything from the soil to the banners hanging on the fences.
On racing weekends, the Superneau family sleeps in the living quarters at the front of the horse hauler while the horses stay in an on-site barn.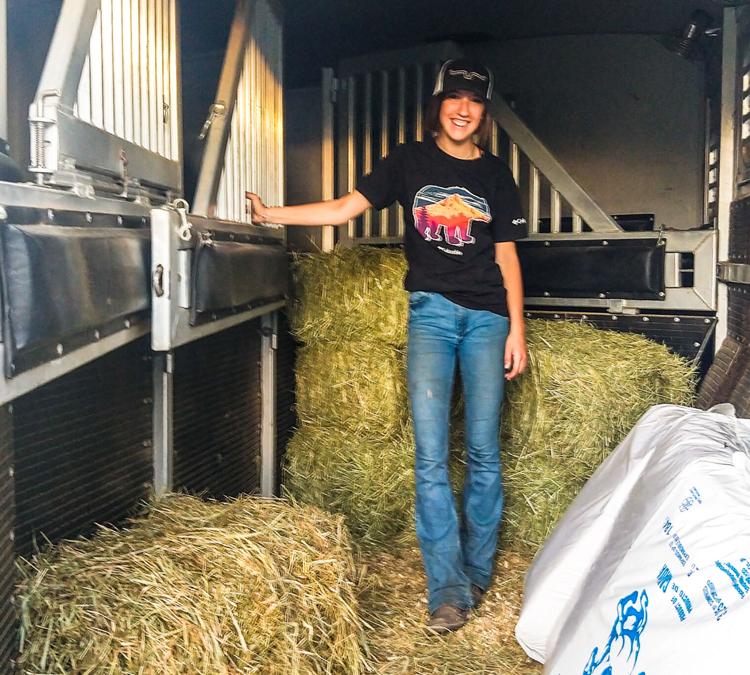 Bill Superneau, the girls' father is the National Barrel Horse Association Vermont Director and takes care of the details at the CVE events. The girls help with setting up the arena for the events.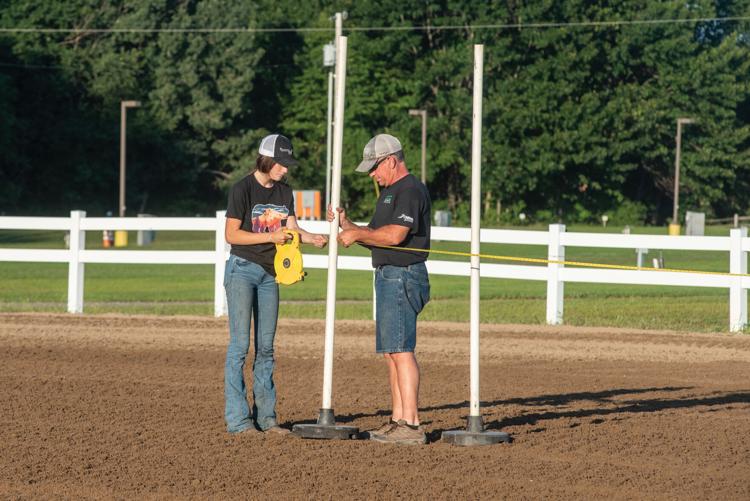 Each week, the girls spend hours working with their horses and continuing to build the bond of trust and understanding that must be in place to compete in barrel racing. On race day, all the hard work is on display.
"It's controlled chaos! You feel the power underneath you, and you're just like, 'please listen to me!' and you know you have to work together," said Cassidy.
"You have your adrenaline and the horse's adrenaline to deal with, and you're both a little nervous. You have to learn to control that. It's hard, but it's really fun!" said Paige.
Practice makes perfect, but even seasoned riders have missteps, and on Friday evening, Cassidy rode her new horse, Honor in the second race.
Coming around a barrel, the two had a miscommunication that left Cassidy on the ground.
"It takes time to learn to communicate with a new horse, especially one that was trained by someone else," said Cassidy, "but we'll get it."
Falls don't happen often now that the girls are such experienced riders, but that hasn't always been the case.
"When we were younger, our parents taught us that you're not a real cowgirl unless you get back on when you fall off," said Cassidy.
"You have to get back on and make sure the horse is good, too," said Paige. "You want to make sure they know it wasn't their fault and that everything is fine."
Saturday's results go to show just what can happen when a cowgirl gets back in the saddle.