ST. ALBANS — On Thursday, Meghan Connor of BFA St. Albans brought some very good news to the Franklin County softball community.
Connor was named the 2019-2020 Gatorade Vermont Softball Player of the Year. She is also now a finalist for the National Gatorade Softball Player of the Year, which will be announced in June.
The award recognizes outstanding athletic excellence, high standards of academic achievement, and exemplary character displayed on and off the field; qualities Connor possesses in abundance.
"I couldn't have done this without my teammates, my coaches, my family, and my friends," said Connor. "I will always remember the people who support me."
Meghan isn't the only Connor to be chosen for the award; her brother Mark was the 2015 Gatorade Vermont Baseball Player of the Year.
"It's so cool to know that Mark and I are going to have our names on banners that will hang in the gym together," said Connor.
Mark was equally pleased to know his name would be displayed beside his sister's.
"Meghan is an incredible woman, and she's very humble. She works harder than anyone I've ever seen," said Mark.
"Even after the season was canceled, she continued to work out, take batting practice, and improve her skills. It's cool to watch someone work as hard as she does with no one telling her she has to."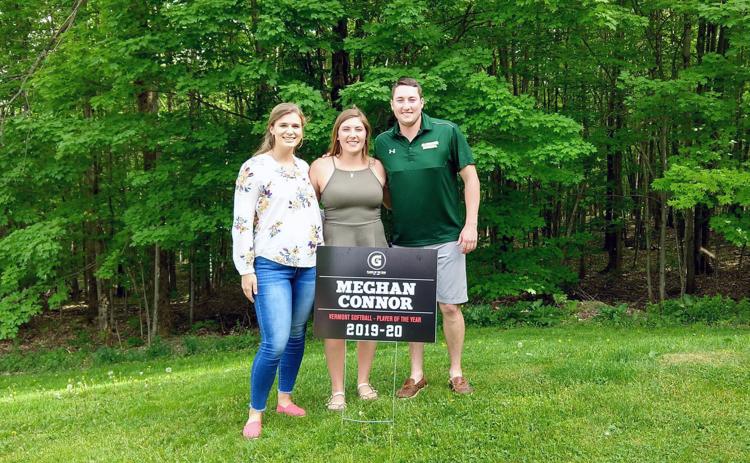 Ryan, the second Connor sibling to graduate from BFA St. Albans, recalled his high school years with the Bobwhite baseball program.
"Meghan was always there throwing on the sideline, and our teammates and coaches would ask us if they could get her out on the field," said Ryan, chuckling.
"We knew she'd do big things, and I'm happy to see it come along this way. We're excited to see what she does in college."
Sean, the eldest Connor sibling, is ten years older than Meghan.
"Meghan has always wanted to go hit, block balls, and catch, and it showed on the field. She spent two months in the batting cage before tryouts, and that's a special drive for a high school player," said Sean.
"There's nothing we love doingmore doing than watching her play--whether she was striking out boys in Little League or switching to softball and turning that softball into a beach ball in high school."
All three of her brothers noted that their respect for Meghan began at home; the siblings would divide up in teams of two--Sean with Meghan and Ryan with Mark.
"It was always competitive, and it was always fun," said Ryan.
"Meghan was always my teammate in our sibling rivalry games, and we came out on top many times because of how athletic she is," said Sean.
"She'd ask to play, and we'd tell her she could if she could catch the ball. We'd throw it to her, and if she caught it, she got to play. Every day she'd gear up and do her best to catch the ball!" said Mark, smiling.
"It was always inclusive, but it was always competitive. And she's turned out to be the best athlete out of all of us!"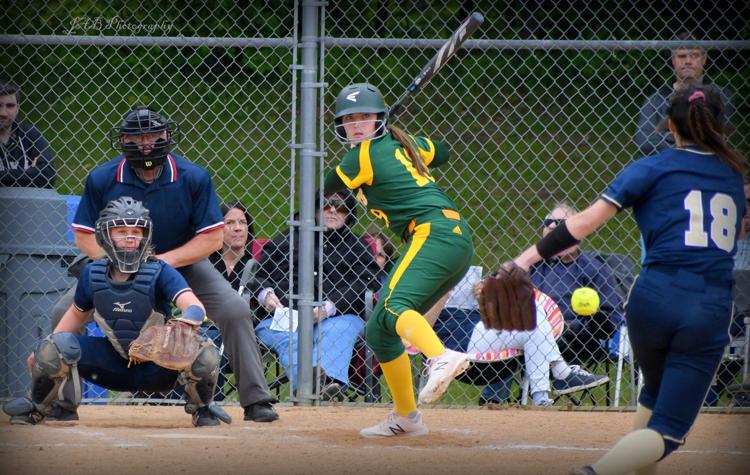 BFA athletic director Dan Marlow has had the pleasure of celebrating with the Connor family twice.
"Mark and Meghan are hard workers and have the best attitudes. They make a point to be there for other people; it's who they are," said Marlow.
"They're not afraid to lead by example--doing things the right way."
Marlow was one of a small group of friends and family who came to celebrate with Meghan, careful to maintain social distancing protocol.
"We hear so much negative about the virus, but this shows the love and care in this community, and the virus can't take that away."
Comet softball coach Bert Berthiaume coached Meghan during her high school career.
"I've been coaching for 34 years, and I've coached some amazing softball players; I've coached other Gatorade Players of the Year. Meghan is unique," said Berthiaume.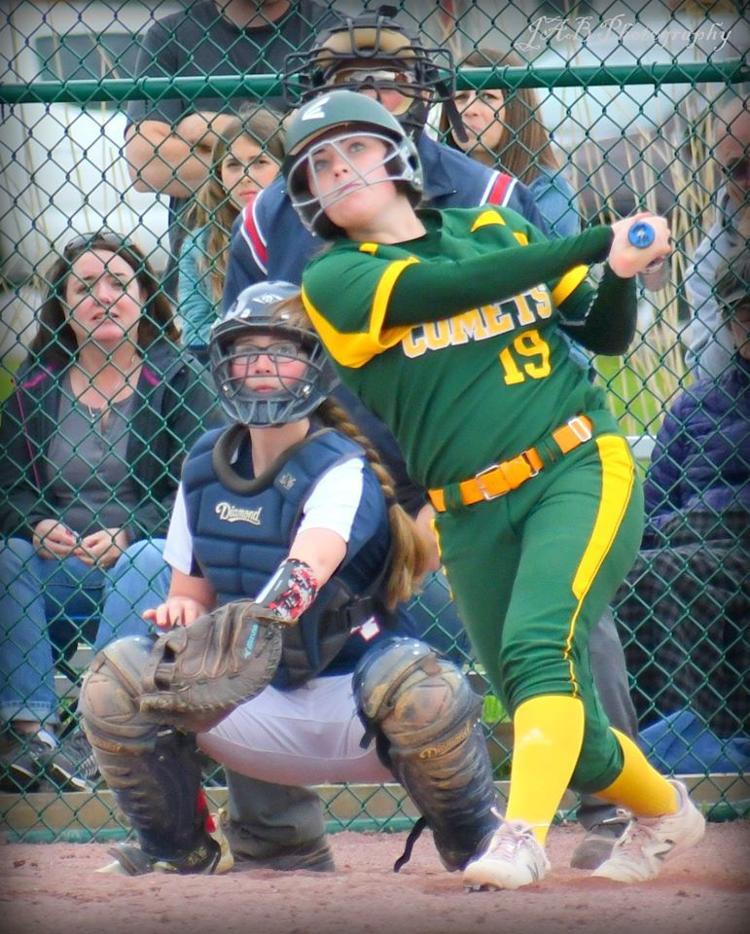 "She's so well rounded in her game; she's a great offensive and defensive player. She was our starting catcher, but she could have played anywhere."
On the field, Connor concluded her high school career in 2019 with a .512 batting average and set school records for hits (103), home runs (23) and RBI (113).
A three-time First Team All-Metro selection, Connor led the Comets (16-3) to a state championship in 2019.
She batted .541 for the season, with 11 home runs, 50 RBI, and an on-base percentage of .590.
Connor, well known for her power at the plate, leads the previous BFA home run record by ten.
"Meghan, along with Sarah Harvey of MVU, the Gatorade Vermont Softball Player of the Year last year, brought the long ball into the game and brought some excitement for women's softball into the state," said Berthiaume.
"Meghan's also remained very humble; she's always about the team and about having fun. When Meghan's on the team, you're going to be laughing, and that makes coaching so much fun."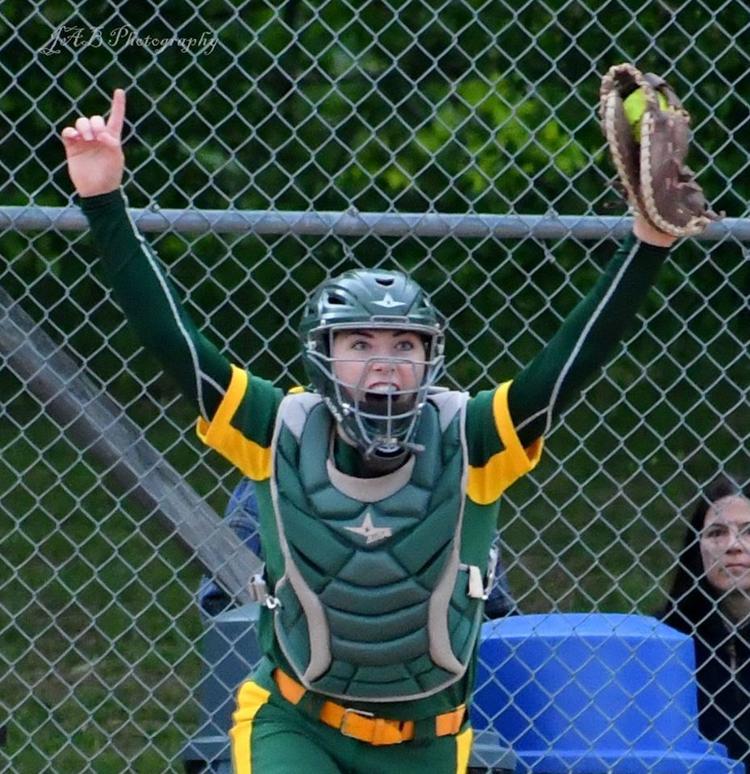 Harvey, a close friend of Connor's, was in attendance.
"It's been an honor to play with Meghan and to play against her," said Connor. "I look at the person behind the award, and Meghan is a better person than a player, and that says a lot."
Connor has played integral roles in three sports at BFA, including hockey and soccer, she has also volunteered locally on behalf of the Special Olympics, a suicide-prevention initiative, food-donation drives, and youth sports programs.
In the classroom, Connor has maintained a 3.53 GPA, and this fall, she will attend Endicott College, where she will play softball.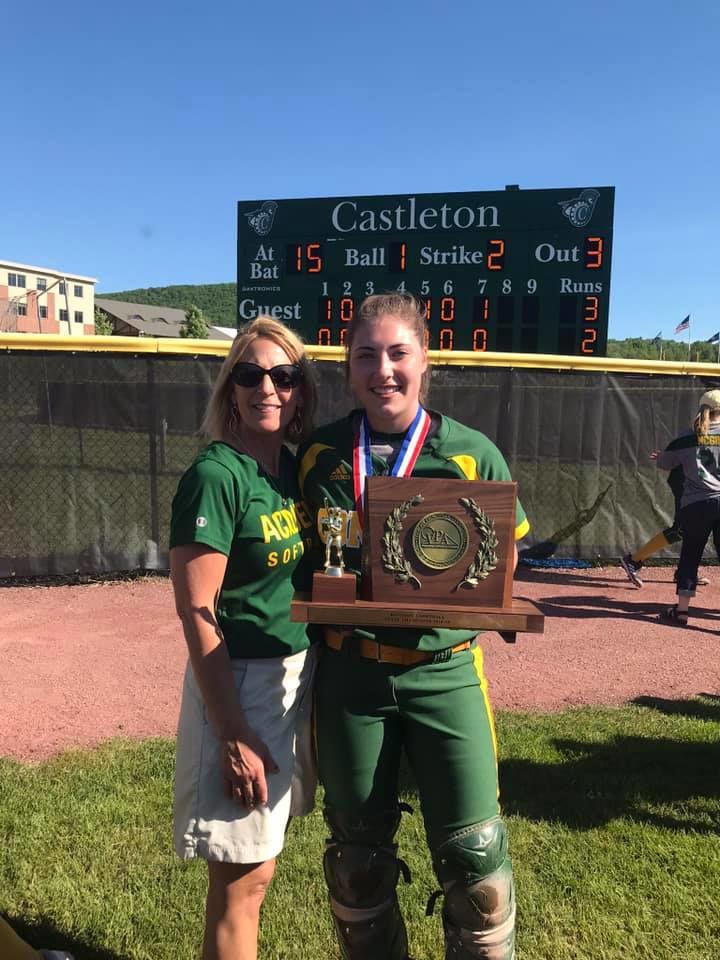 The award was a bright spot for Mike and Joanne Connor, Meghan's parents, in a season that never came to be.
"Good people have supported her--family, friends, coaches--she did the work, but she had a great support system," said Mike, "and she learned to win with humility and lose with grace."
"The relationships Meghan has made through softball will continue through life," said Joanne.
"Meghan played three sports throughout high school and loved to volunteer and give back to the community. It's been good to see her excel in the things that mean something to her. For her, it's always been about more than just herself."