FRANKLIN - Charlie Gates was a force on the ice for the Missisquoi Valley Union Thunderbirds during his years on the varsity hockey team. During his tenure, he served as a team captain and helped lead a successful group of Thunderbirds through several excellent seasons.
After graduating in 2021, Gates completed lineman school in Georgia and returned to Franklin, where he works for the Franklin Telephone Company. In his downtime, Gates plays men's league hockey and enjoys woodworking. Recently, he took up the unique and challenging craft of chainsaw sculpture.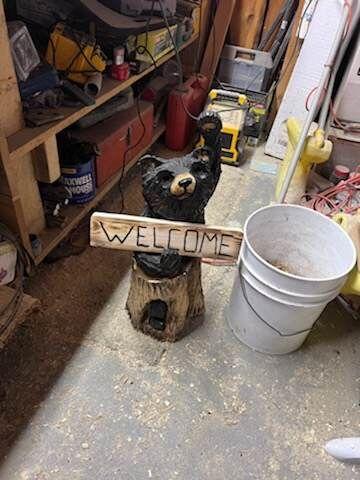 Q&A with Charlie Gates
How did you get into carving sculptures? I was mowing the lawn this summer, and I'd drive by this stump on the lawn every week. I thought I could do something with it, so I bought a small chainsaw from Craigslist and carved the stump into an eagle. First, I blocked out a little bit; I kept working on it, and it turned out alright. Later, we cut down a tree at the telephone company, they let me take the wood, and I brought it home and made a bear. I kept going from there.
What wood is easiest to carve? Softwoods like Pine and cedar are the best; they're a lot easier on the saws and rotary tools.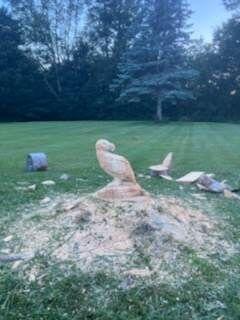 How many carvings have you done, and have you sold any? I've done about 17 so far, and I sold most of them at the craft fair at the Franklin Town Hall last month.
Do you do all the work with a chainsaw? I do most of the work with the chainsaw; it's much more efficient because it will take wood much faster. I rough in everything with the chainsaw, get the basic shape and the furring. Then, I come back with a grinder and sand down everything I want smooth. After sanding, I take a torch and burn off the wood flakes. I have a flap sander attachment for my drill that also breaks off any other rough places.
Do you paint and stain your creations? I leave some of the sculptures the brown color of the burned wood, but I usually stain or paint the sculptures. After, I'll put on a coat of Helmsmen Minwax.
How long does it take you to create a standing bear? It takes about three hours to rough out a three-foot bear. Then, sanding and carving out the eyes can take another three hours.
What inspired your designs? Bears sell really well; everyone wants a cute little bear for their porch. I also try to sculpt designs that are current to the season. I carved the bears, gnomes, and trees for the Christmas season. If I'd had more time around Halloween, I'd have done more pumpkins and jack-o-lanterns.
Do you have a favorite part of the process? I like painting the most. It's fun to give the sculptures some color; it makes the sculpture pop.
What kind of feedback have you received? My girlfriend and my parents have been my biggest supporters. When I finish something and show it to them, they're usually shocked I could do it. It's such a warm feeling to know someone else thinks it looks good.
Are you taking orders for sculptures? I'm not taking orders, so if anyone wants something, they can keep an eye on my Facebook page. I'll post what I have there for people to see.
What skills from playing hockey have helped you with this new hobby? I'm 19, and I've been playing hockey since I was five. The skill part came easy because I've worked on my hand-eye coordination on the ice for so many years.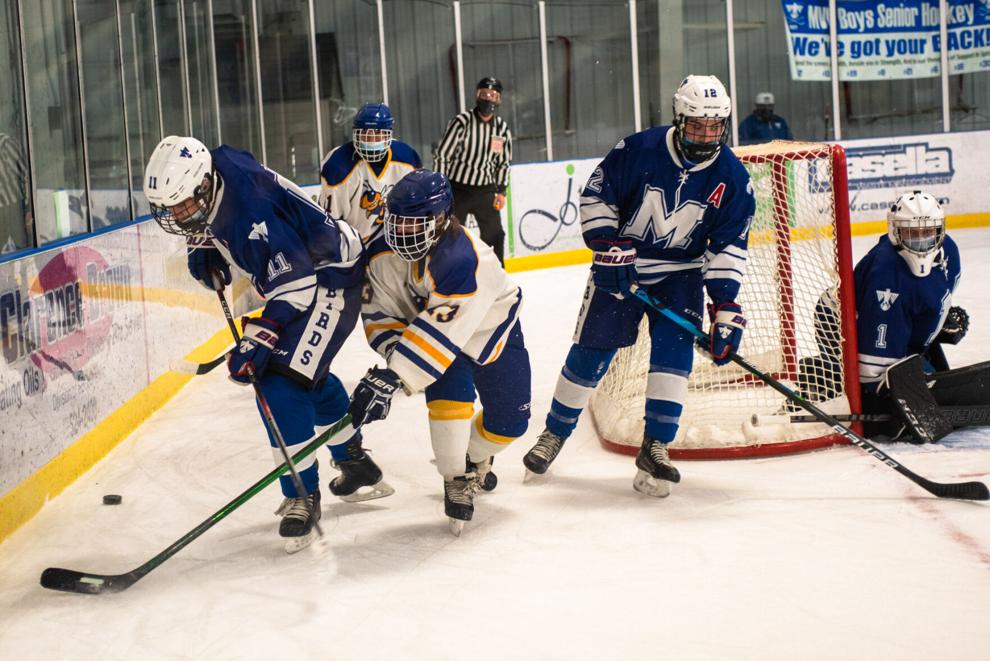 Looking back at your years with MVU, do you have two memories that stand out? My favorite part of playing for MVU was playing against BFA-St. Albans. Most of the time, it didn't go great for us but coming out of the locker room to that full arena, your heart would be pounding; I miss it. We lost every game in the regular season, but we beat them in a scrimmage preseason one year; it didn't get published, but it was still satisfying. I'll also remember being nominated as a captain in my senior year. It was good leading the team and helping the younger kids. It was cool being the guy they looked up to. I remember looking up to the older guys when I was young. Now I'm playing men's league with them.
Do you have any words of wisdom for younger players? I encourage kids still in high school and want to get out not to rush anything. Enjoy it!