ST. ALBANS — BFA XC hosted its second race of the season Saturday, Oct. 24, on a wet but very fast course.
Many of the top-ranked teams from all three divisions were in attendance. St. Johnsbury and Craftsbury came from the Northeast Kingdom, U32 from Central Vermont, and powerhouse CVU; Colchester and South Burlington represented Chittenden County.
The No. 1 ranked team in Vermont left little doubt why they have that ranking as they quickly put runners in the lead pack. U32, the number three team in the state and second in DII followed suit with a pack of runners.
BFA's Loghan Hughes quickly positioned herself in the lead pack hanging on until the pack started to thin out. Loghan would place 6th in a time of 19:50, her second race in a row breaking 20:00.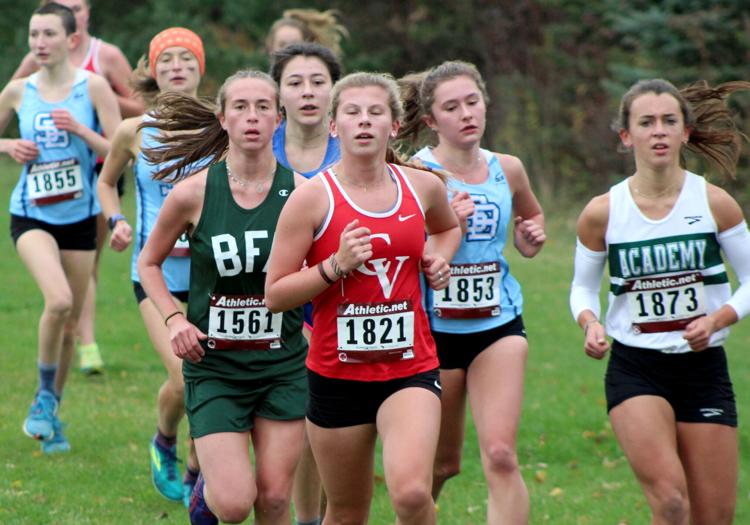 Freshman, Ruby Dasaro was BFA's next finisher placing 17th in 20:37,a new PR. Ruby is the 5th fastest freshman in the state. Senior Caitlyn Dasaro was next in 21st in 20:51, setting a new PR.
Sophomore Lauren Kate Garceau placed 22nd in 20:52. Tara Ditch was BFA's final scoring runner placing 26th in 21:19. Lydia Hodgeman placed 34th in 21:50. Calla Bourdeau was 39th in 22:11.
The girls continue to compete at a high level and continue to be in the race to place second in DI at the state meet on Saturday, October 30.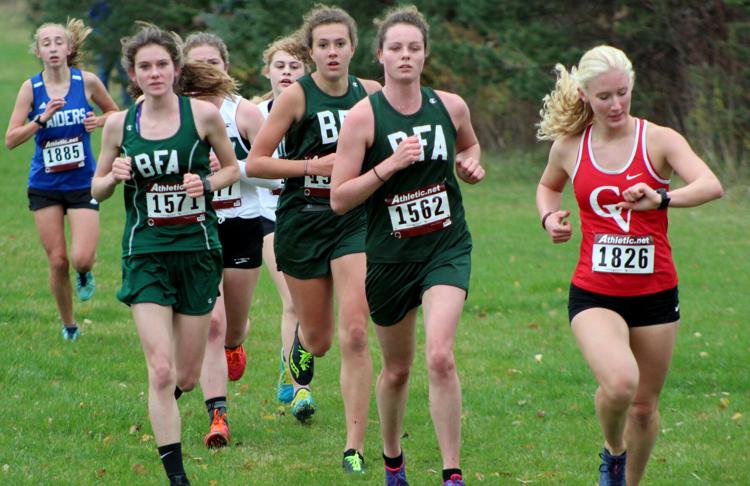 While we lost to all the teams at the meet, when the meet was scored as just a DI race, we would move ahead of St. Johnsbury and would be one point behind South Burlington.
Saturday will come down to which team's runners have the better day. St. Johnsbury, Essex, South Burlington, and BFA all have a shot of getting that position behind CVU who should win their 12th state championship in a row.
The boys' race was just as loaded with talent. Number one and two in the state, U32, the top-ranked team overall and in DII, and CVU number two overall and first in DI, along with No. 3, St. Johnsbury, and No. 4 BFA all went to battle.
Evan Thornton-Sherman quickly went to the front and went through the mile in a blistering 4:45 to quickly put the race away and win in 15:48.
Behind him, a great battle was going on. CVU's Caleb Nye, U32's Jacob Miller-Arsenault, Craftsbury's Cormac Leahy, and BFA's Ethan Mashtare pushed each other throughout the race; each taking turns trying to pull away from the pack.
BFA's Mashtare took his turn, trying to pull away as they came out of the woods with a half-mile to go. His strategy was a little premature as the power of the pack hunted him down with a quarter-mile to go, and the sprint was on.
Mashtare would place 6th in a personal best time of 16:39. A time that puts him only behind Kanoa and Nohea King as the fastest runners to ever run for BFA XC.
Jacob Tremblay proved that his race last weekend was no fluke and was next in 13th place in 16:57.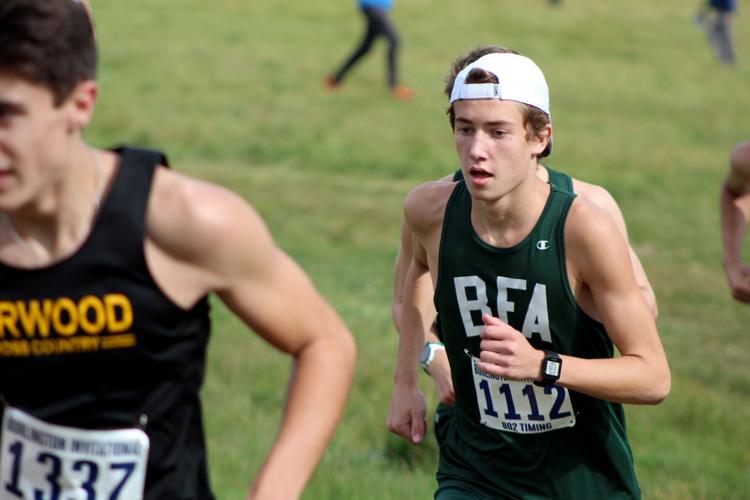 Continuing his strong season was Calvin Storms in 15th place in 17:14, his second PR in the last two races. BFA's freshman Porter Hurteau, the fastest freshman in the state, placed 29th in 17:55.
BFA's freshman Will Hughes, the 7th fastest freshman in the state, placed 44th in 18:29. Junior CJ Fisher was next in 57th place in 19:19. Manny Chiappinelli placed 63rd in 19:47 to round out the varsity team.
Like the girls' team, BFA could be runner up or 6th place. It will all come down to who wants it more.
Within this race was a battle of Junior Olympic teammates, who would have won the meet by ten points had they been a team. They placed 1st, 3rd, 5th, 6th, 13th, 15th, 26th, and 31st. Four runners from St. Johnsbury, three from BFA, and one Craftsbury runner. Most have been teammates since they were in 6th grade.
On November 7th, BFA will be hosting the Meet of Champions. A race of the top teams and individuals in Vermont that would normally compete at the New England Championships, which have been cancelled this year.