ST. ALBANS — Bellows Free Academy (BFA) St. Albans hosted the Race of Champions at Hard'ack on Saturday, giving the top, in-state cross country runners one more race to run.
The race replaced the annual New England's event, canceled due to COVID, for qualifying cross country teams. Twelve boys' teams and eleven girls' teams attended.
BFA's boys' and girls' teams both made the cut, along with one runner from Richford Junior-Senior High School.
Runners couldn't have had a better day for the outdoor event, with ample sunshine and temperatures soaring into the 70's.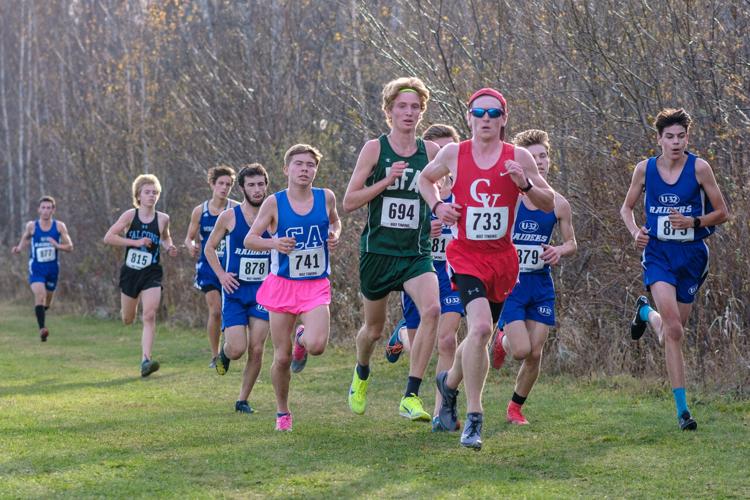 "This was a great alternative to the New England's race--a great atmosphere and amazing competition," said BFA St. Albans' cross country coach Mike Mashtare.
"We got a beautiful day. The snow melted, and the course dried out; it was nice to be able to do this."
The girls raced first, and it was first-year runner Loghan Hughes who crossed the finish line first for BFA.
"For Loghan to be eighth today is outstanding," said Mashtare.
Last weekend, at states, Hughes finished 17th.
"She had a remarkable day and was right up there. It was a strong, strong day for her."
"When we got close to the finish, I was right there, and I knew I'd regret it if I didn't push myself," said Huges.
"Mental toughness came into play again today. The last stretch was the hardest part of the race, but it felt the best because I accomplished what I wanted to do.
"I'm looking forward to next season, and I've got some high goals!"
The Race of Champions was the final race for BFA seniors Caitlyn Dasaro and Quincy Fournier.
"We came in seventh as a team in our state's races, and today we came in fifth, so we improved by two, which is pretty outstanding," said Dasaro.
"We got to be on our home course for our last race, so that was awesome," said Fournier.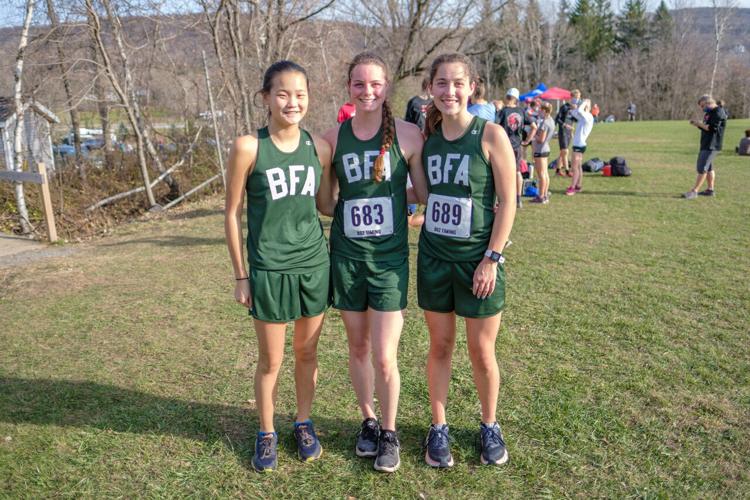 BFA's Ethan Mashtare has set himself apart as a top tier runner in Vermont this season.
"Honestly, I was pretty tired before the race, and I knew I had to stay positive. The gun went off, and I felt awesome. My goal was to stay with the front pack and finish strong, and I did," said Mashtare.
"All the guys were pretty excited for this race, and to be here as a team felt so good. It's a good way to end the season."
Mike Mashtare congratulated his teams for their efforts and their success.
"The guys had an awesome finish today, and I'm very proud of them. I'm glad to see our athletes continue to improve and try to work their way to the front," said Coach Mashtare.
"Ethan had a great day, and Calvin (Storms) and Jacob (Tremblay) were very close together and had really strong days.
"It was a great day for both the girls' and boys' teams."
Competing in a race like the Race of Champions was a new experience for Richford's John Viens.
"There were a lot of new kids, and that helped me. There were more kids around my pace in this race, and that helped me to push harder," said Viens.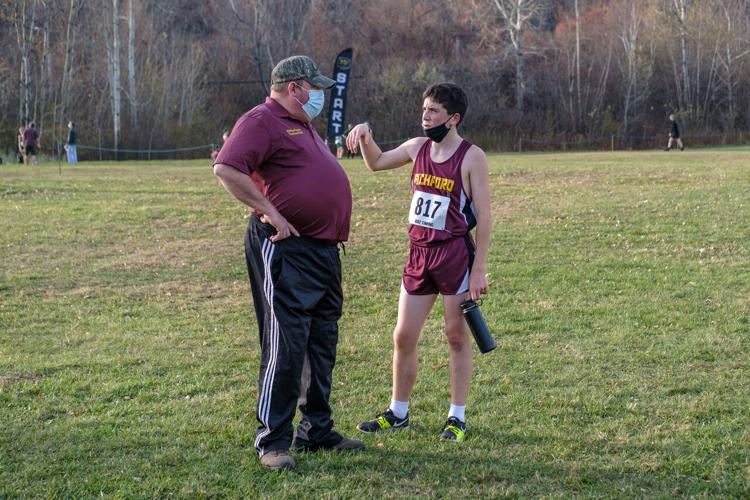 Richford coach Richard Flint was present to support his solo runner.
"Every day, John keeps getting a little bit stronger. I'm looking forward to seeing what he can do in the future," said Flint.
"He's got goals, and hopefully, in the next two years, we can fulfill those goals."
The event was well received by the running community.
"I had a coach from Lyndon tell me it was their team's first time racing here, and they can't wait to come back," said Mashtare.
The BFA St. Albans girls' team finished fifth out of eleven teams in the 5,000-meter race. Harwood, CVU, U32, and Essex finished ahead of BFA, in that order.
Loghan Huges finished first for BFA and 8th overall with a time of 20:00.04. Caitlyn Dasaro was 2nd for BFA and 30th overall with a time of 21:22.98
Quincy Fournier was 3rd for BFA and 32nd in 21:26.94; Ruby Dasaro was 4th for BFA and 37 in 21:38.08. Lauren Kate Garceau was 5th for BFA and 39th in 21:42.22.
Tara Ditch was 6th for BFA and 41st in 21:49.41, and Hodgeman Lydia was 7th for BFA and 47th overall with a time of 22:23.80.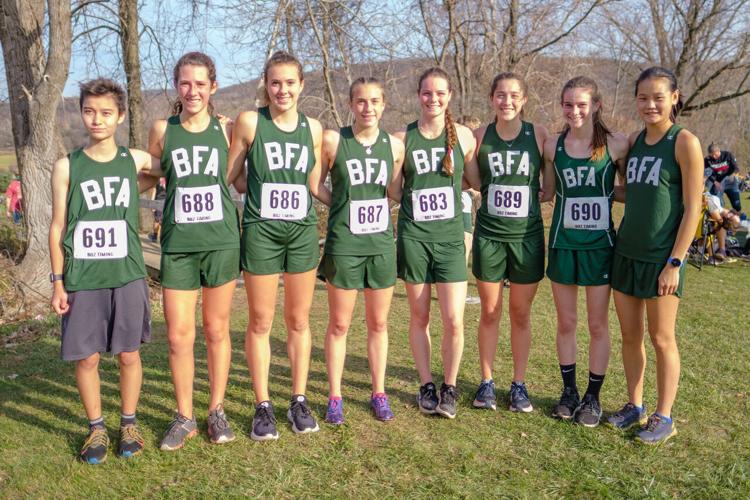 The BFA boys' team finished fifth out of twelve teams behind U32, CUV, St. Johnsbury, and Essex, in that order in the 5,000-meter race.
Ethan Mashtare finished first for BFA and 6th overall, improving three places on his time at State's last weekend, and running a time of 16:45.09.
Jacob Tremblay, 2nd for BFA, finished 25the overall in a time of 17:21.82. Calvin Storms was 3rd for BFA and 22nd overall in 17:26.47.
Porter Hurteau finished 4th for BFA and 33rd overall in 18:03.65. Will Hughes Will was 5th for BFA and 50th overall in 18:46.91.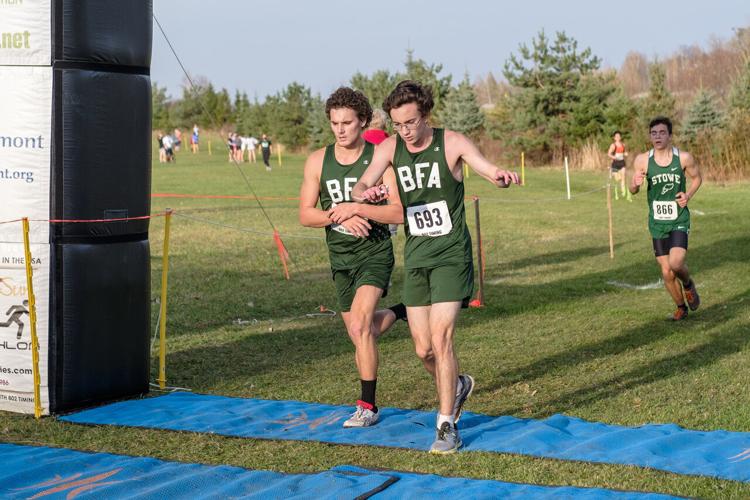 CJ Fisher Cj was 6th for BFA and 75th overall in a time of 20:41.42, and Manny Chiappinelli was 7th for BFA and 76th overall in 20:42.02.
Sophomore John Viens of Richford finished 43rd overall in a time of 18:11.40.