Taylor Mitchell has been consistently K-ing batters in the double digits this spring, and it was no surprise to find out she was nearing the 200-strikeout mark.
In the Bullets' quarterfinal game against Green Mountain, Mitchell was just four strikeouts away.
"I knew I was in the 190s, but I'd kind of forgotten about it. We hadn't played this team in three years, so I hadn't had a look at them, and I didn't want to get too cocky," said Mitchell.
Mitchell didn't realize that Fairfax coach Geri Witalec-Krupa had arranged for the seniors to make the moment extra special.
"Wit had texted the seniors and told them to come out to the mound, and it was so sweet. I wasn't expecting that! I also wasn't expecting to keep the ball," said Mitchell.
Before hitting the milestone, Mitchell was totally in the game.
"There was so much going on in my head, and I was so focused on the game. But when I struck out the batter, I knew it! It was such a nice thing to happen when you forget about it."
Mitchell has been working alongside catcher Sarah Coloney this season. Coloney devoted a year just to learn how to catch for Mitchell.
"I love Sarah; it's so crucial to have that pitcher-catcher bond. It makes me feel really happy to know that I have a good relationship with my catcher," said Mitchell.
"That's what makes teams successful, and I'm hoping that our relationship helps us to the championship."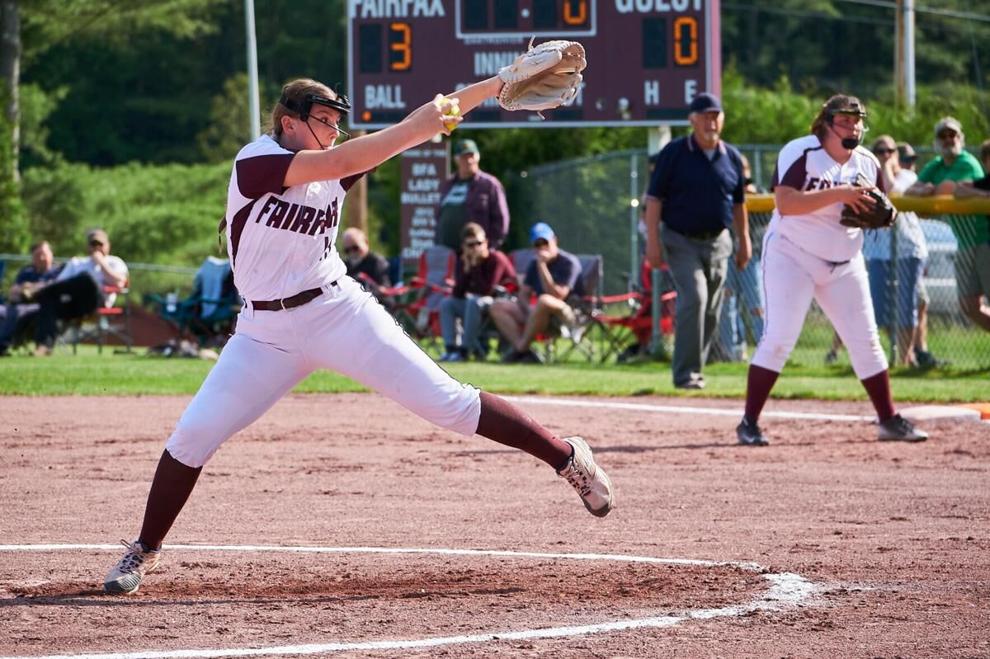 If you've been to a BFA Fairfax softball game, you've seen Mitchell's fan section, complete with K signs.
"I love having a big crowd! The more cheering, the more hyped we get! I love that our community comes out to support us!" said Mitchell.
"The support is insane. I didn't realize how many people were there tonight until I was headed back to the dugout. It's amazing to know the community keeps an eye on me, and it's not just my coaches--I love all the little girls who come out to watch us play."
Fairfax earned a 15-3 win over Green Mountain on Friday evening. Mitchell remembered facing them her freshman year.
"Freshman year, we upset them, and we knew they wanted to come up here and beat us. That year, one of the girls hit a home run off me, but we ended up winning. This time we kept stepping on the gas and didn't let up."
Fairfax moves on to the D3 semifinal round and travels to White River Valley on Tuesday for a 4:30 game.