BFA-St. Albans senior Loghan Hughes began running her junior year. Despite seasons missed and shortened by COVID-19, Hughes rocketed to state and national success in three sports and will run for D1 University of Connecticut in the fall of 2022. She is also a two-time All-American in girls lacrosse. 
Q&A with Loghan Hughes
What are you going to remember about your running career at BFA-St. Albans? The biggest thing for me is how quickly and significantly running changed my life. I was nervous to quit soccer; I'd played my whole life. But doing that turned out to be one of my best decisions. I've fallen in love with the sport, and I've enjoyed the support of the running community.
If your ten-year-old self could see could see this: There's part of me that wonders how this all happened so fast.I wanted to be an athlete when I was young, but I never thought I'd be racing, winning titles, and winning at Nationals.
What was it like experiencing Nationals? It was good that I went in with no expectations. The girl who finished second to me, went out hard and had a huge lead. I didn't think I was going to come back; with 200m to go, I saw I could get there. The camera started following me, and it was surreal. I could hear the cheering--the energy was unreal. 
What about the people who've been alongside you? I say it every time, but I'm so grateful to all my coaches in all my sports for supporting me in doing what I love to do. I'm so grateful for my lacrosse teammates who supported me pursuing my dreams. I'm really grateful for Ethan (Mashtare) and Coach Mike (Mashtare) for bringing me into the sport, teaching me, and helping me succeed in all aspects of the sport. With lacrosse, it's been so clear how passionate Mary (Pipes) is about her players and the game. I know she will always support me, and she's a person I can go to for anything.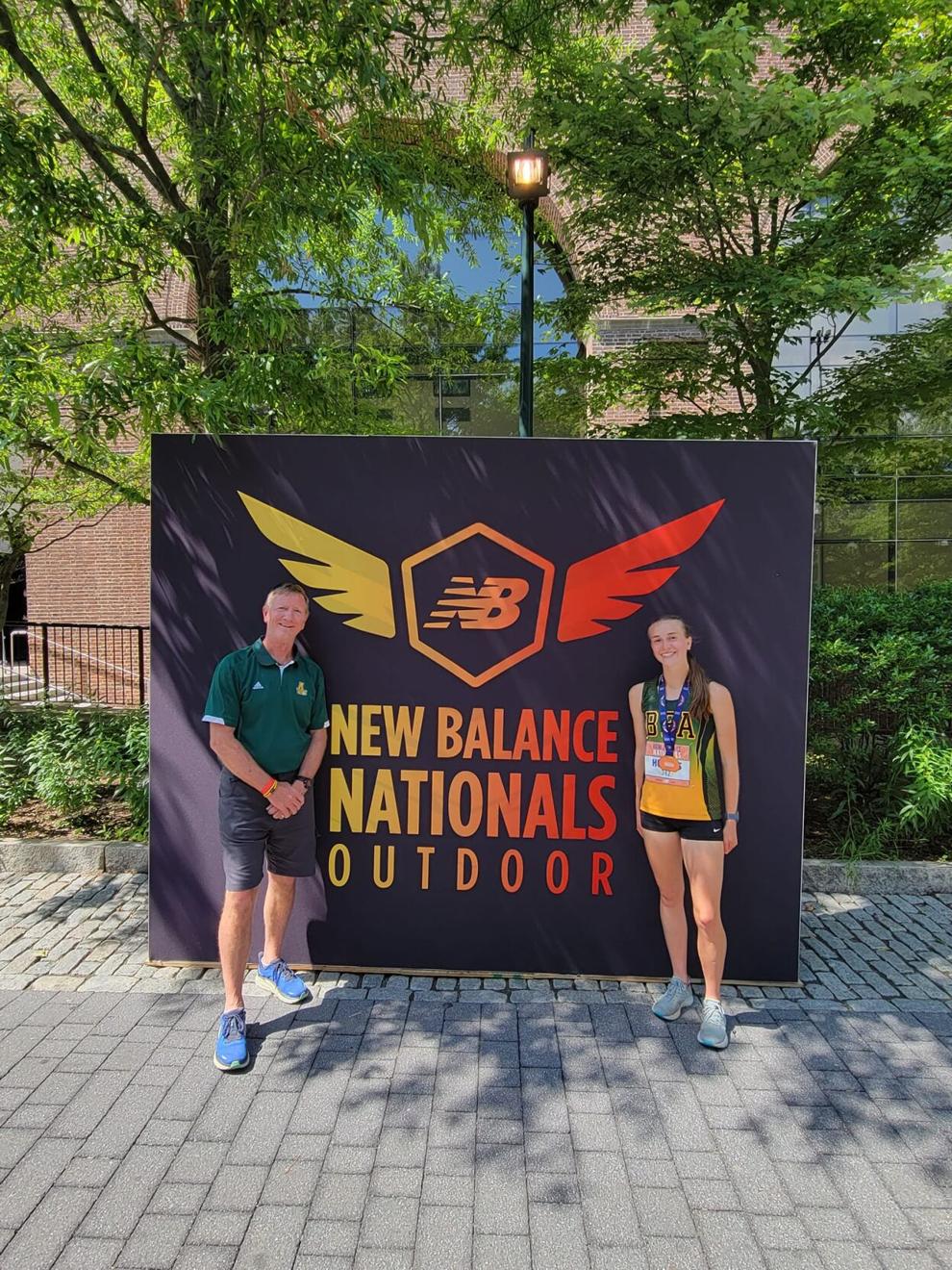 Running Highlights
Cross Country: Loghan began her XC career in her junior year. 
Junior highlights: Eighth at The NVAC Championships, 10th in D1 States, and eighth at the Meet of Champions. 
Senior year highlights: Loghan won and set course records at Essex, Randolph, and the BFA Class Race. She has the fastest time on BFA's Top 10 list for every course she has raced on.
She placed second at the Manchester, NH, Invite, third at the prestigious Manhattan College Invite, and eighth at the Burnt Hills Invite in Saratoga, NY, against the No. 1 ranked team in the U.S., Saratoga. She won the Division 1 State XC title and, two weeks later, returned to Thetford for the New England Championships and placed 15th, becoming the highest placing BFA runner ever at New Englands. She was second at the Vermont Meet of Champions. At the Eastbay Northeast Regional XC Championships, she placed42nd, becoming the highest placing BFA Female runner at this prestigious event.
Nordic Skiing: She began the technique-driven sport of Nordic Skiing this past winter season. Logan placed 19th in Classic Technique and 16th in Freestyle in D1, an incredible accomplishment for anyone, but especially for a first-year ski racer.
Indoor Track: Indoor BFA St. Albans School Records: 600m 1:53.61, 800m 2:34.03. 1000m 3:15.50, 1500m 4:43.91, 1600m 5:04.85, Mile 5:06.63, 3000m 10:18.03, 3200m 10:56.2, 2 Mile 10:59.69. 
State Champion: 1500m at 4:51.74 and 3000m at 10:52.23. 
New Englands: fourth in the mile in 5:06.03 and 13th in the two-mile in 11:30.75. 
New Balance Indoor Nationals at The Armory in New York City: 29th in the Rising Stars Mile in 5:22.22 and 54th in the two-mile in the Championship Division in 10:59.69. 
Outdoor Track: Loghan began racing last spring (2021) while playing lacrosse, where she is a two-time All-American. 
2021: At states, she was fourth in the 1500m in 5:02.25 and third in the 3000m in 11:06.67.
2022: undefeated in the 1500m and 3000m and the D1 state champion in the 4:35.55 and 10:26.62. 
School Records: in the 1500m 4:35.55, 3000m 10:12.88, she's the fourth-fastest Vermont girl to run the 1500m and the sixth fastest in the 3000m. She is a member of the School Record CO-ED 4X400m relay team.
National Championship: Two-Mile in 10:55.21 at the 2022 New Balance Outdoor Championships.
BFA Coach Mike Mashtare: Loghan is one of a kind. Her athletic talent is yet to be fully appreciated. She is so new to running that her times will only continue to decrease as she builds a base and trains with faster runners daily. Her strengths are her focus, discipline, competitive drive, and ability to adapt to the sport she is competing in. She has set the bar high for all who follow in her footsteps, like her idol, Elle Purrier-St. Pierre, she will be one to watch for years to come.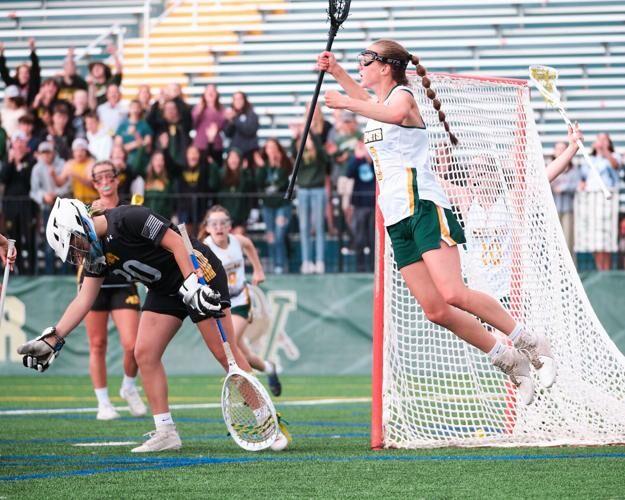 Lacrosse
Hughes played three years of varsity lacrosse due to the cancelation of her 2020 season due to COVID. 
Goals: 196 
Assists: 74 (shooter takes no more than two steps before shot. If they have to take more, it's a feed.)
Overall Shooting Percentage: 64%
Contested ground balls: 170 (ground balls must be fought for not just picked up.)
Caused turnovers: 70
Draw control wins: 232
Comet lacrosse coach Mary Pipes: I've been privileged to coach some very fine lacrosse players at BFA. Five of them scored at least 100 goals in their four years. Leilani King, Erin Shuttle, and Ellen Pipes all excelled on the field and were amazing impact players. Erin is a member of our 100+ goal club and was a driving force for our attack. Ellen holds the record for draw controls and owned the midfield, and Leilani was our leading scorer, playmaker, and most significant impact player with 133 goals and 74 assists in just three seasons. All three of these young women have something in common with LO: they worked hard to perfect their craft.
From the first time I saw Logan with a stick in her hand as a Phantom, I knew she would be a force to be reckoned with. Her grit, determination, and willingness to put in the time and effort to perfect her skills make her the most impactful player in Comet history. It was an everyday event to see her put in two hours of lax practice and then run for miles. Loghan's commitment and work ethic gave her a significant edge over everyone else on the field. She's a fantastic athlete with natural abilities, but I believe her love of the sport and the hard work she put in set her so far above the pack on the lax field. That is her legacy to Comet lacrosse.