HIGHGATE — MVU goalie Garrett Fregeau, a sophomore, got the start on Saturday night in the Thunderbird's game against rival Milton.
Home ice rivals: "We always know Milton will be a good game, especially because we share a home rink. We always want to win that game, and so do they."
It wasn't until midway through the third period that the Thunderbirds took the 1-0 lead, and that came after killing a 5-minute major.
Killing that penalty: "Between the second and third period, after we'd killed off most of the penalty, it was pretty nerve-wracking. We just wanted to kill off that penalty," said Fregeau.
"Our defense is top-notch this year. Killing that power play brought up our confidence. A five-minute penalty kill at the end of a period is massive.
"We work on power plays and penalty kills so much. It's good to see that what we're working on in practice is working in games."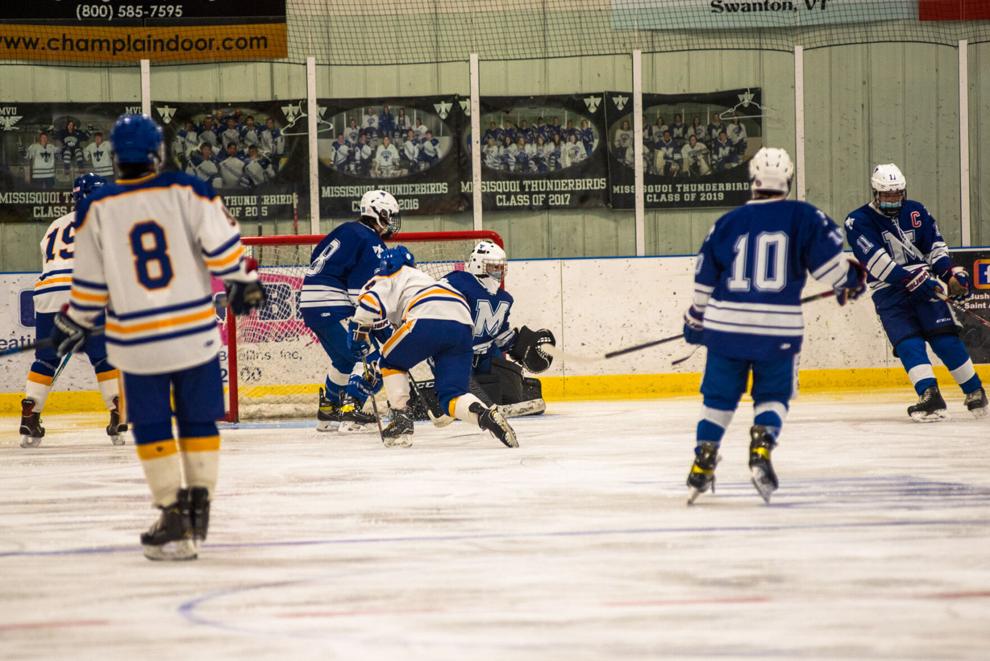 Getting that first goal: "That first goal was so important, especially against Milton, it really changes the momentum. They got a couple shots off the faceoff after that first goal, and they wanted it bad.
Life in the net: "The time between the end of warmups and the first shot on net is always the most anxious. You don't want to let that first shot in. Once you get those first couple saves, it brings your confidence up so much more. You feel a lot better in net. That feeling kicks back up between periods," said Fregeau.
Super seniors: "The skill on our team is insane. The seniors have been playing together for years. We really want it this year, especially our seniors. We all know this is the year they've been waiting for, and we want to make this the best year for them.
"When we heard we could play on the press conference; we were ready! Our practices stepped up a notch, and we wanted to be prepared for the season."