MONTGOMERY — Archer and Atticus Erwin and their father, Corbin, share a love for the game of football.
Corbin played football during his elementary and high school years and was delighted to see his sons develop an interest in the game.
"I loved the contact and the running. It's such a team game, and every piece has to come together just right, or it might not work. There's a lot of surprise in football, and I enjoy that," said Corbin.
The Erwin family connected with the Wolverines, a youth football program based out of Jericho, where the boys compete and Corbin coaches.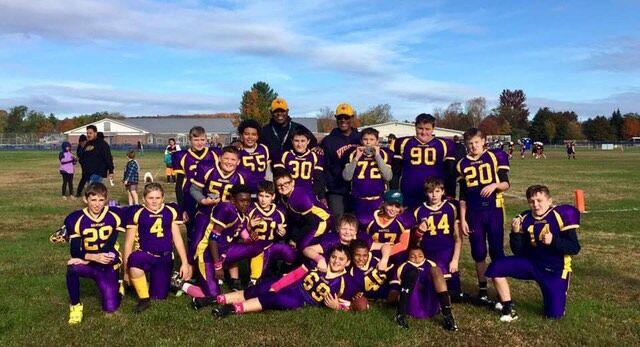 Archer and Atticus weigh in.
Archer and Atticus, Corbin and Meagan Erwin's sixth-grade twin boys, smiled as they spoke about playing football.
Atticus: "No other sport involves being thrown to the ground, and there's nothing like catching the ball right over someone."
Archer: "I love tackling and breaking a tackle. When you break through the line, look back and see everyone behind you, and you score--that's the best!"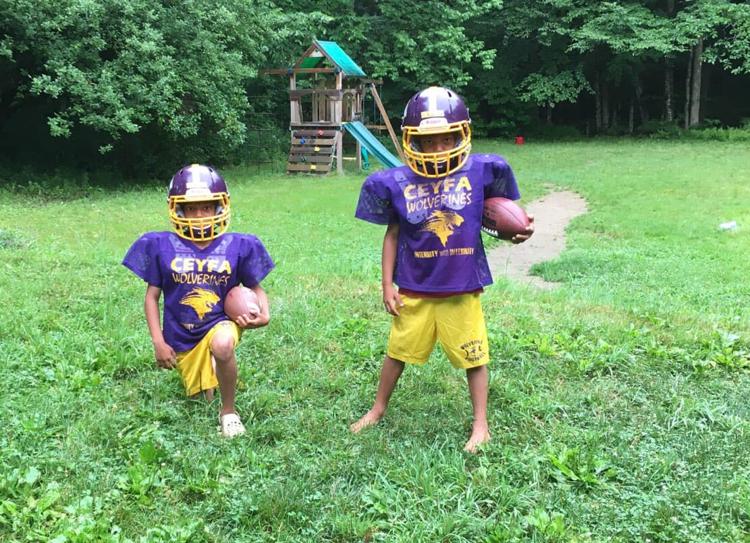 Archer and Atticus knew they wanted to play football before they could play the game.
Atticus: "We were three years old when we started playing in the backyard, but we had to be in second grade for flag football."
The boys moved to tackle in the fourth grade, a year earlier than most.
Archer: "I liked tackle because when I'm on offense, I can run through people, and I don't have to stop when they pull my flag; they have to pull me to the ground."
Atticus: "I love contact! I love being able to tackle someone."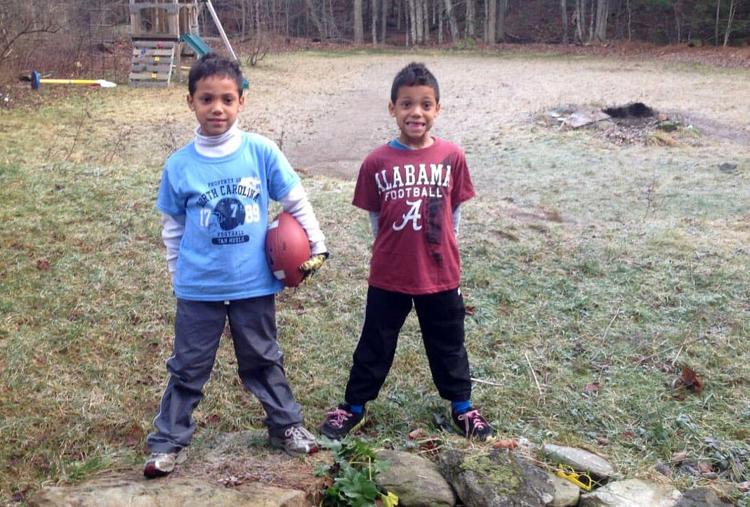 When they did get on the field, there was a learning curve.
Archer: "I was a little nervous, getting used to more contact. I was nervous but ready to go!"
Atticus: "Learning how to wrap people up and bring them to the ground took some time. I still get nervous before a big game against a rival."
This year, due to Covid-19 guidelines, the boys had to go back to playing without contact. They spent the fall doing drills and in-team scrimmages.
Archer: "This year, since we weren't tackling, we practiced catching."
Atticus: "We worked on some techniques this year; we couldn't tackle, so we had to find a way to get around people."
Covid may have changed the way the boys played the game, but it didn't sap their passion.
Archer: "I love getting a big tackle or forcing a fumble, a sack, or an interception on defense. On offense, I like running the ball."
Atticus: "I like scoring on offense, but I like defense and guarding, especially when the other team throws the ball, and I get an interception."
The boys have had some memorable moments over the years.
Archer: "We had a practice in the pouring rain, and we were doing tackling and Oklahoma drills. All the seats in the car were wet after the ride home; we were so soaked!"
Atticus: "We played a game against Bradford, and we won by 40 points. I got two defensive touchdowns, and Archer had three touchdowns in that game. Our grandfather from Maine was there, too, and he got to see it."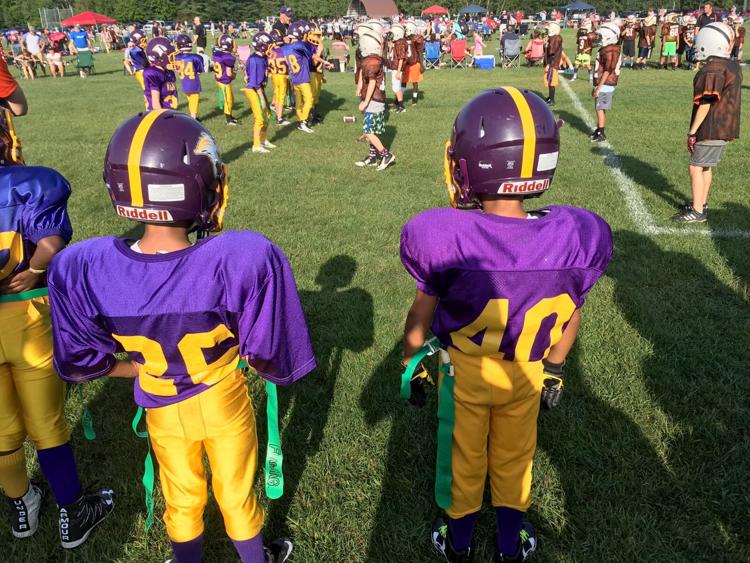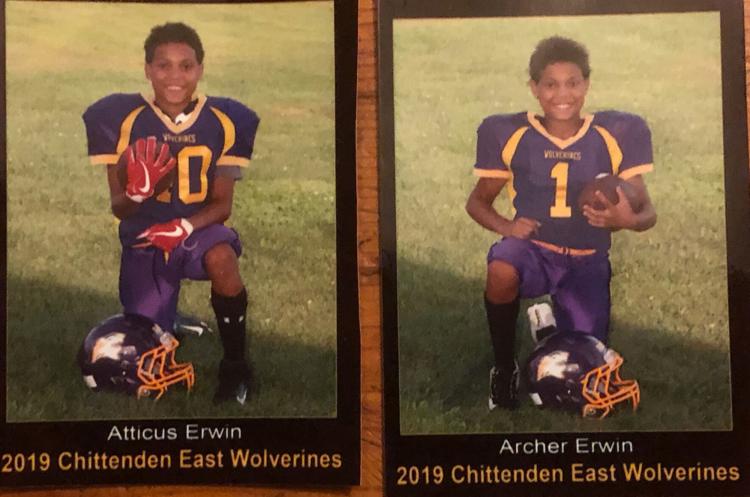 Coaching football brings opportunities to learn life lessons.
"I have a passion for the game, and I try to instill that in these guys. I also like to impart an appreciation of the little pieces of the game I missed as a player," said Corbin.
"It's so much fun coaching at this level! The guys keep it real; you see the fun they're having, how hard they work, and how much they enjoy each other.
"They learn to be on time for practice, to line up--all the little things that all kids need. You have the opportunity to see them grow over the course of a season.
"You realize the most serious part about coaching is that you're teaching them to be decent, responsible people. As a teammate, you're responsible for someone else's moment, too."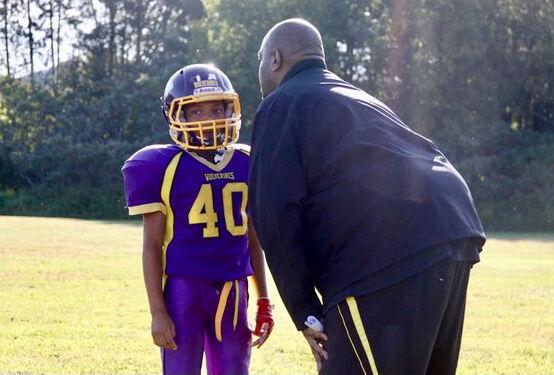 Corbin's memorable moments haven't come from big wins and unforgettable plays.
"I've enjoyed watching Archer and Atticus play well and have success. It's great to see them step in and make plays when the team needs it. The excitement and pure joy they have is awesome," said Corbin.
"Some of the most memorable moments are right here in the back yard throwing with each other; I make a great throw; they make a great catch. That's where it all started."
Corbin noted the unique lessons football teaches athletes.
"There's a level of grit you need to play football. There are times you'll get banged up or upset with a call. There are times you know you can run a play better or that you have the advantage, but you can't get it right," said Corbin.
"There's a thrill to stopping another person with a tackle, and there are so many little pieces that make up the game--a nice pass, a beautiful run, an awesome stiff arm."