ENOSBURG FALLS — When an idea to make autonomous gliders out of leaf blowers didn't work out, students in Randall LaMantia's Conceptual Physics class at Enosburg Falls High School had another idea: put all of the leaf blowers together to create one person-lifting hoverboard the size of a small trampoline.
"The students really took charge of the project," LaMantia told the Messenger. "I was there, but it was all them."
LaMantia and his students can regularly be found with paraeducator Jennifer Burns in the hallways with their flagship craft. The design consists of a large, plywood circle covered in a tarp with a plastic school chair seat. It's rigged with five electric leaf blowers pointing downward.
Wyatt Boyce and Logan Gendron are at the back of the craft as the launching power, while pilot Ethan Hoganboom takes up his trusty tennis ball-ended broomstick to help him steer the craft away from walls.
With a flick, Gendron and Boyce click on the "motors" of the craft, which fill the hallway with sound. Boyce gently pushes the craft down the slightly-sloped hallway and Hoganboom floats down the slick tile, pushing himself away from the walls with the soft ends of his steering staff.
Burns said sometimes, with extra-strong pushes, the students are able to float Hoganboom all the way past the school's offices, almost 100 feet or so.
Boyce, Gendron and Hoganboom said the initial project was aimed at transforming the electric leaf blowers into gliders, or self-propelled aircraft, to fly across the gymnasium. The leaf blowers, however, were a bit bulky and heavy, and didn't make for a very aerodynamic motor-propelled system.
"We were trying to figure out what else to do with them," LaMantia said of the grant-funded air machines. "So we decided to make a hovercraft instead."
Undeterred by their flightless first attempts, the students used hardware, glue and anything else they could find to build something that could carry weight through the air.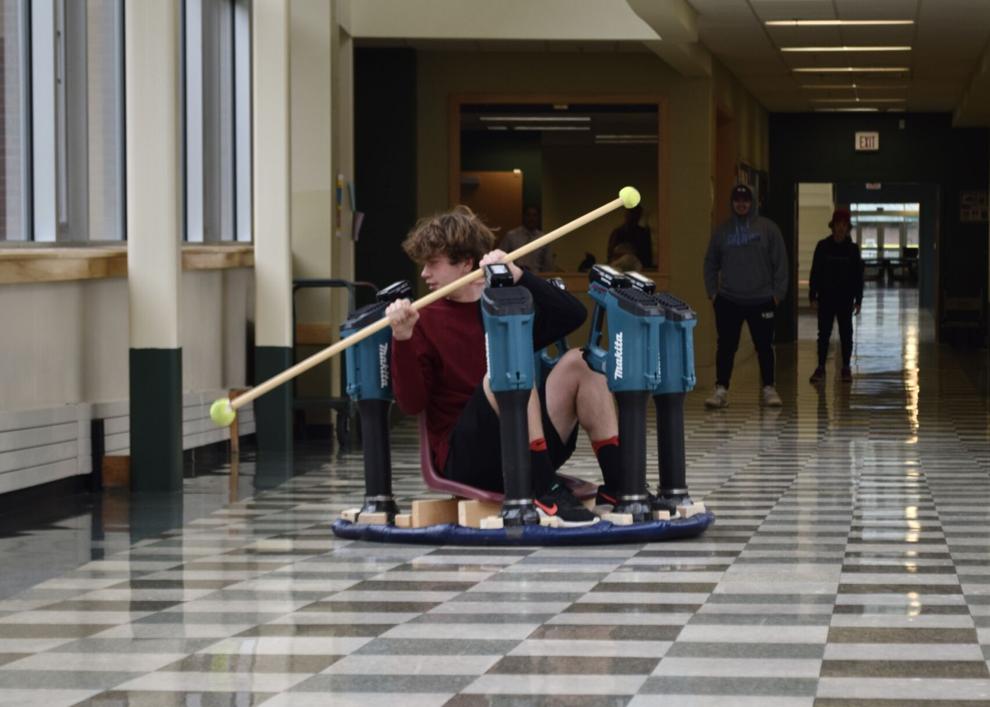 Boyce and Gendron said they'd contemplated using corded leaf blowers in order to harness more energy to lift the craft from the ground, but those leaf blowers would only be able to hover for a certain distance, and the students wanted to be able to travel as far as possible.
They initially settled on a simple design that was large enough for a human to stand on, but Hoganboom said they quickly found out that balance — and the danger of not having it — was a serious factor.
So with the help of maintenance staff, the students found a plastic seat and secured it to the disc. Hoganboom said he volunteered to be a pilot because of his stature, coordination and daredevil-ish nature. Boyce and Gendron were the muscle and launching pad, like a curling team with their stone.
Despite LaMantia's obvious pride in his students' achievements, the students were humble about their flying machine. Nameless and without aspirations for a science fair, the students said their hovercraft's future was wide open. They could make it into a school-centered robot, give it a paint job and show it off around town, or make it EFHS's signature alien delivery device.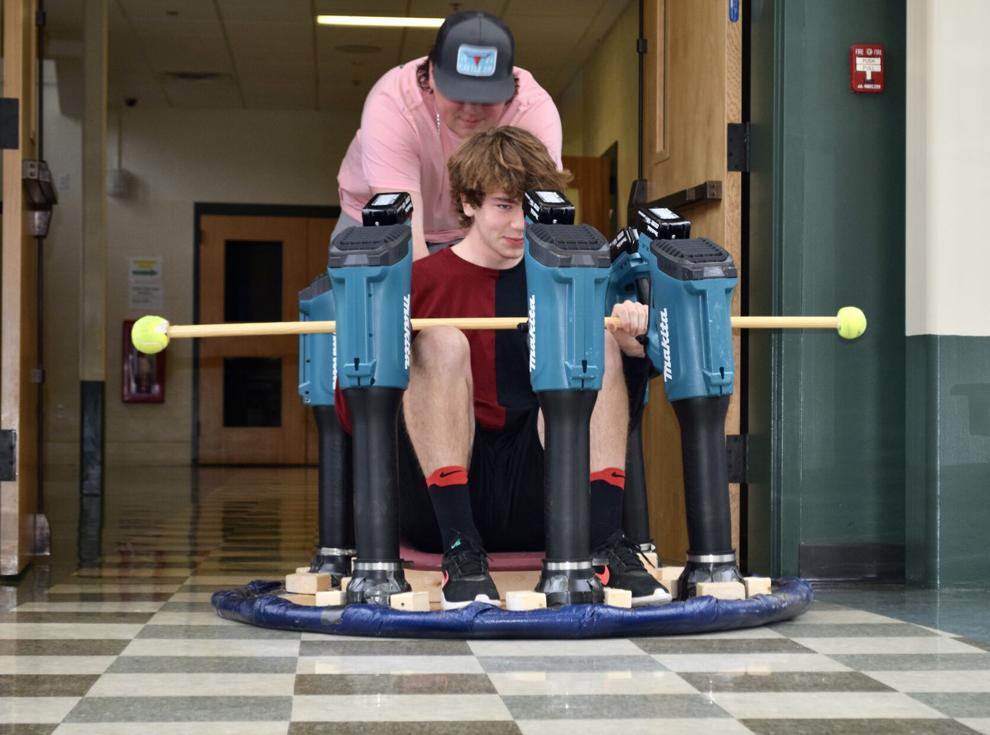 "I think we just wanted to make sure it left the ground," Boyce said. "But the thing moves."
Hoganboom said their creation was a point of pride for all of the students. Building the hovercraft was an accidental take-two of their leaf blower project, and for LaMantia's class, sometimes genius comes on the second try.
"[I am] very, very proud of these students," LaMantia said. "They took the ideas, the hypothesis, and they ran with it."
Rather, LaMantia said — they flew.