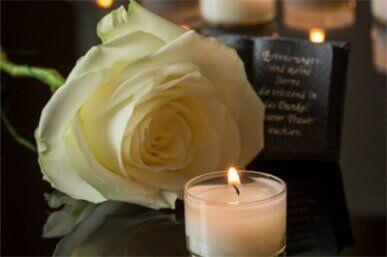 ST. ALBANS —Funerals are often a subject that we don't want to talk about, but they are not the funerals of years ago. Today, they are a celebration and a commemoration of a person's life.
Brady & Levesque takes pride in being the funeral provider that makes each funeral service as unique and individual as the person being cared for.
Just last week, the world watched as the British royal family laid their mother, grandmother, great-grandmother and aunt to rest.
The funeral for Queen Elizabeth II spanned 10 days and had different aspects, from solemn processions, flowers and cheers being presented in different places to religious services and quiet reflections. No matter what type of tribute was paid to the late monarch, it was done out of necessity.
Owner Jeffery Levesque said funerals serve three main purposes:
1. To provide a time for the necessity of paying final respect to the person who has passed.
2. To allow the family to receive much needed support from not only other family and friends, but also the community.
3. To allow the entire community to share support to each other.
"What is the first thing we do naturally when we receive word that someone has passed away?" Levesque said. "We talk about it. We share with others the news, but also memories of times we spent with that person. We also recall what that person meant to us."
A funeral provides opportunities for all of that to occur, and that's why a funeral is so important.
"We need these opportunities to provide and receive support from each other," Levesque said. "When we have a funeral service, no matter how large or small it is, this is what is needed from the family and community. "
Brady & Levesque is the funeral home that allows families to design services in a way that is meaningful for them.
Levesque said he and his staff are constantly being told by community members that the most recent service they attended was the best funeral they have been to.
"We do this all the time," Levesque said. "Please contact us to help you design a service for you or your loved one, where people will say the same thing."
This is paid content. Brady & Levesque Funeral Home is part of the Messenger's Preferred Business Program. Find out more at samessenger.com/preferred_business_program.