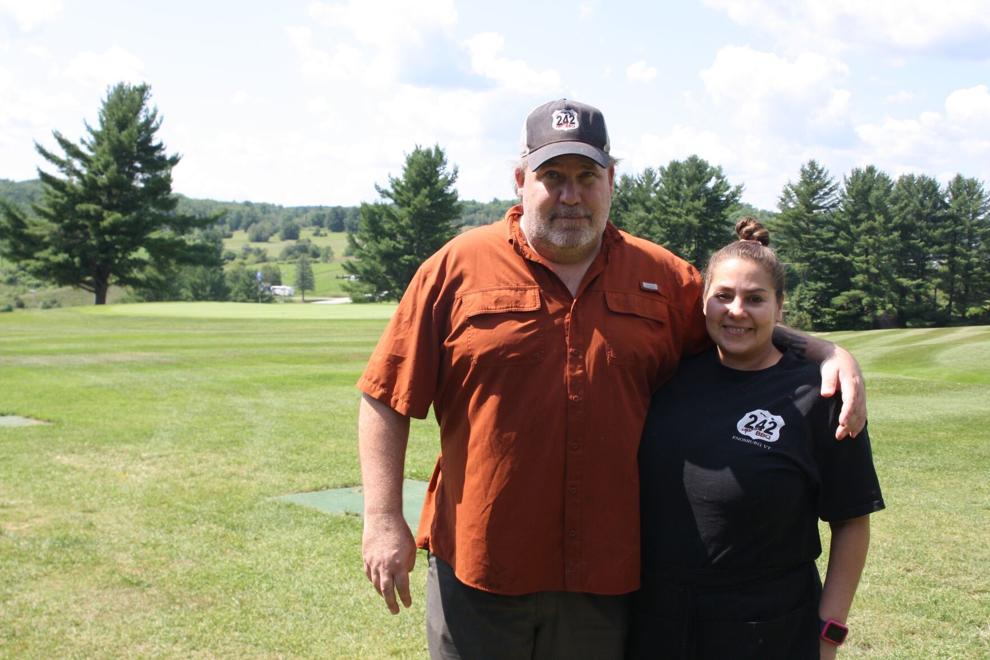 Taking a bite into a 242 Texas BBQ Company piece of brisket, co-owner Dave Maibaum tells me they always put the sauce on the side so the meat can hold up on its own. It does.
"We want the meat to do the talking," he said. "We want people to really experience the flavor of the meat."
242 Texas BBQ Company has moved from their location on Elm St. to inside the Enosburg Falls Country Club, a space with five times the capacity. The restaurant at the new location is still serving the same barbecue regular customers have come to know and love and is open to everyone, not just country club members.
The Messenger spoke with owners Cyndi and Dave Maibaum about the restaurant and the new location:
Q: Do you remember the moment you decided you were going to open up 242 Texas BBQ Company?
Dave: We were on our way to our son's track meet in St. Johnsbury, and she was driving and I saw the food trailer on Craigslist. When we moved here there wasn't barbecue like there is now. We couldn't get the food we were used to when we moved from Texas. So I saw that on Craigslist and told her about it. She said, "Don't you dare." So two weeks later, we were opening the food truck.
Cyndi: We were big foodies and in Texas we did tons of competitions. I always catered too. My husband and I have always enjoyed food and barbecue and brisket is amazing. We one day we're up here with neighbors and we were missing our hometown, our home food.
Q: Has barbecue always been a passion for the both of you?
David: As soon as I moved to Texas.
Cyndi: In Texas, we did barbecue competitions and we missed that. Barbecue is a world of its own.
Dave: Me, I'm kind of like a one trick pony. She does it all. This new location is going to provide the opportunity to do stuff like prime steak nights. We'll do really nice Tex Mex dishes or homemade sauces and stuff like that. That's above my pay grade though.
Q: If you were to attend your own restaurant, what would you order?
Cyndi: Where would I start? I mean, I know I get asked a lot, "do you eat your food?" Absolutely. Everything. Our brisket is amazing. Our pulled pork is awesome. Our ribs are fantastic, even our hamburgers. Everything that we cook, we just put a lot of love. And like I said, we're foodies. We love to serve. We love food and it just is our passion.
Q: You guys are expanding, coming out of a year where most restaurants were having a really rough time, what do you guys attribute to the restaurant's success?
Dave: The awesome community that we live in showed the ultimate support. They never wavered no matter what happened.
Cyndi: Our customers were amazing. Even the customers that are not from the state showed support.
Dave: Yeah, that's true. Even though they couldn't come, we've had people from Connecticut, New York City, just buy gift cards that they couldn't use, just so we'd be here when this thing ended.
Q: What would you say is the mission statement of the restaurant?
Dave: I'd say to provide the best quality product with the most affordable price possible while providing the best service possible. We're huge on customer service. One of us always makes it a point to go out and greet every table. We want to treat people how we want to be treated. You know, we just want people to have a good experience every time. We deeply care about everybody.
Cyndi: You come in as a customer, but you leave as a friend. That's pretty much how it is. People walk in and we recognize you and we start a conversation. We've made amazing friends.
Dave: There's a part of us that someday wants to go back to Texas, but we always talk about the amazing people here and especially all the support we received throughout COVID and it's like, I don't know if we'll ever be able to leave Vermont. The whole barbecue theme bodes well because a Texas barbecue is always a celebration.