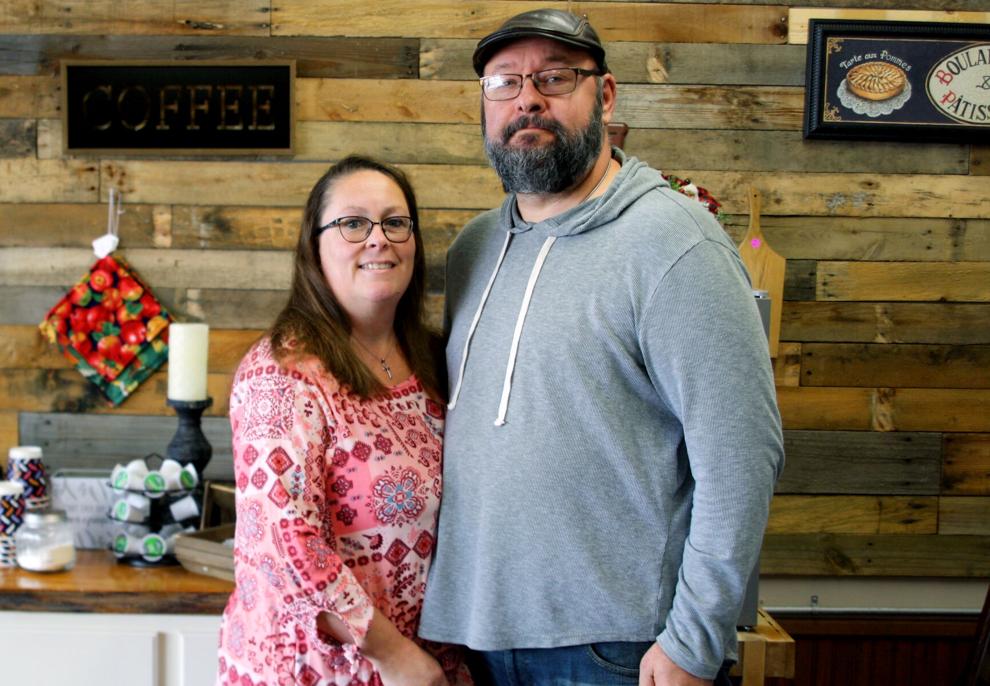 SWANTON — Knitted caps. Birdhouses made from Vermont license plates. Laser-engraved artwork. Canned foods in mason jars. And flavor-infused maple syrup.
At the newly-opened Divine Treasures in Swanton, there's something for just about everybody, thanks to its collection of Vermont-made products.
Angela and Chad Carr opened the business in Merchant's Row two weeks ago, and the local couple are looking to make the former Masonic Lodge space into a business where Vermont's entrepreneurs can bring affordable local goods to local buyers.
Angela Carr said she had been thinking about creating such a space in Swanton for a few years. As one of the organizers of the Highgate Craft Shows, she said she runs into a lot of people who produce homemade goods, but want an actual storefront instead of chasing the craft show circuit.
Divine Treasures gives these business owners a place, she said.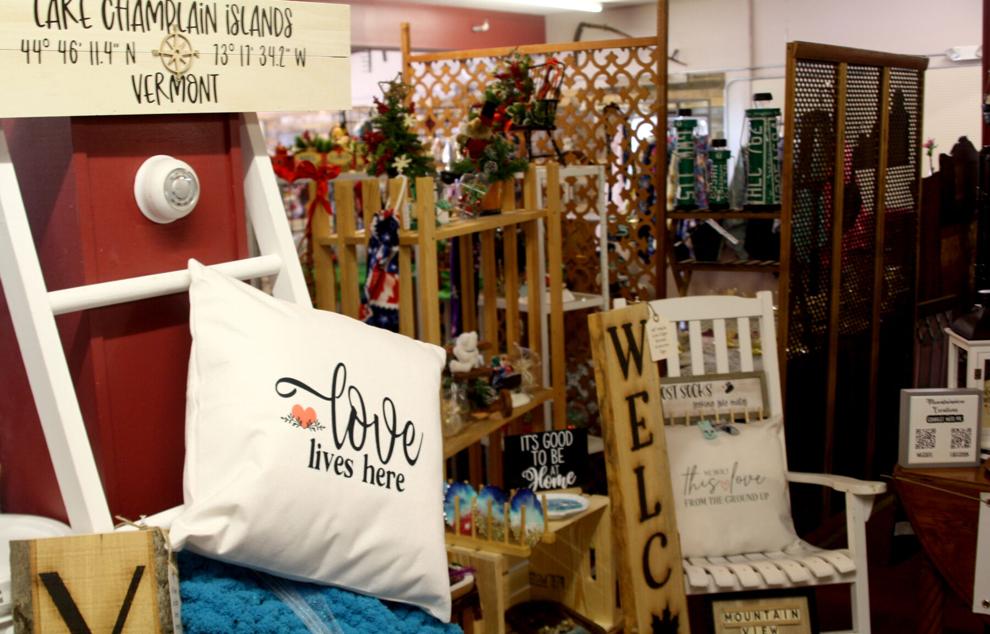 Interested entrepreneurs can set up a semi-permanent display to sell on a consignment basis, and when customers come into the store, Carr will be there to show them what's available.
"We want to bring back shopping," Chad Carr said. "We're looking for the type of place where people can come in and enjoy themselves."
The Carrs explained they created the space's vibe to be similar to a welcoming country store. The couple rehabbed the walls with pallet boards for a rustic feel, and they've asked the business owners who use the store to help create colorful, yet earthy displays for their products.
The couple also installed a small dining area near Divine Treasures' southernmost front window, so customers can come in for a coffee or baked goods in the morning. Or a shopper can take a break while another makes a purchase.
As for the actual goods in the shop, Angela Carr said she keeps a close eye on the type of goods featured at Divine Treasures to make sure there's a unique selection of items that all bring something different to the store.
Chad Carr used the store's maple products to explain. While customers can find maple syrup from the Gagne Family Orchard, they'll also find flavor-infused maple syrups by Runamok that are aged with oak barrels, or lined with sparkles.
They are both maple syrup, Carr said, but they both fill a different niche.
Formal wear
While the upstairs is filled with goods, the downstairs is filled with clothes. Visitors to the space will find formal wear, like dresses, lining the walls for locals looking for a new style.
As Angela Carr explained, there just aren't that many places to get formal wear in northern Franklin County, and Divine Treasures can help cover that gap with its selection. Basically, if someone needs a dress or tie, Divine Treasures can help.
"Good luck finding a tie in Franklin County," she said.
Like the items upstairs, Divine Treasures also stocks unique choices in its clothing selection. Compared to what someone might find at a Wal-Mart or T.J. Maxx, Carr said her styles are a little bit different than what major retailers offer.
Eventually, she'd like to bring the downstairs half of Divine Treasures into the bridal space, and she's already had a few people come in to check out her wedding dresses, which customers can try on in a recently-built changing area to better see the fit.
Her extended family can also help connect them with wedding planning services. Her husband, Chad Carr, is a caterer. Her brother is a D.J., and her daughter, who also has a small office downstairs, is a photographer. 
Downtown Swanton
Since the shop opened, the Carrs said business has been good with people coming in curious to see what's happening in downtown Swanton, and they're excited to see Swanton continue to grow and evolve as the village's development picks up pace.
While Angela had considered creating a space like Divine Treasures for years, the couple said they had been holding off on taking the plunge to make sure they could start in a solid business climate.
Swanton's ongoing development helped convince them to jump in. There has been a wish to have a community-focused store, Chad Carr said, and there's been a sense of an upswing going on in the town as more attention is focused on Swanton's industrial park, on multiple initiatives to clean up historic buildings and on building a community center. 
Two weeks in, the Carrs said they've already seen some of that energy as people drive by, see the sunflower on their new sign and stop by to check out what they have in stock.
"It's why we invested in Swanton," Chad Carr said. "We want people to come in and enjoy this spot. They can sit down and relax when people come in to shop."
List of goods featured at Divine Treasures:
Kilvravock Krafts, Kathy Rose

Anne Marie's Knits, Anne Marie Chates

Crafting Motherhood, Amy Gratton

Vermont Country Cottage Crafts, Brad and Joyce Blaisdell

Good Dog Cookies

All Lasered, Christina Carnes

Hand-crafted Jointed Teddy Bears, Jienette Gagne

Vermont Island Candles, Katie Bushey

Merchant Creations, Michalle Merchant

Bckwdsdsgn, Taylor Blair

Mountainview Creations

Studio 63, Larry Langlais & Barbara Langevin

Unique Creations, Melissa Litzinger

Colomont CBD

Pure Energy

Gagne Family Orchards

Defining moments Photography, Natasha Carr