MONTPELIER – The state of Vermont will be widening the availability for testing for COVID-19 to include those showing mild or moderate symptoms of the disease, the state's health commissioner announced during a press conference with Gov. Phil Scott's administration late Friday morning.
According to health commissioner Dr. Mark Levine, Vermont had reached a point where testing those with mild and moderate symptoms of COVID-19 and isolating those who test positive could further stymie the spread of the novel strain of coronavirus responsible for the disease.
"Vermont is still early enough on the curve where this strategy could be effective," Levine said.
Per Levine, tests would be available by ordering through health care providers at the providers' discretion.
The health department was still finalizing guidance for hospitals on requesting tests for patients showing symptoms of COVID-19, which, according to the Centers for Disease Control and Prevention (CDC), range from mild symptoms like fever and dry coughs to more serious symptoms like difficulty breathing.
He emphasized tests for COVID-19 would still be limited to those who were showing symptoms for the disease. "To be clear, if a person is not symptomatic, we're still not testing," Levine said. "But if a person has mild or moderate symptoms, we're making it far easier to receive testing."
Levine's announcement comes as the numbers of fatalities associated with COVID-19 in Vermont grows to ten, with most of those fatalities connected to an outbreak at the Burlington Health & Rehab center.
The state's overall number of confirmed cases of COVID-19 grew to 183 as of Friday morning, according to Levine.
As of Friday morning, six residents from Franklin County had tested positive for COVID-19, according to the Vermont health department.
According to Levine, the state initially intended to expand its testing procedures to include more than those who were at a higher risk of exposure and of COVID-19's more serious health complications, "but we didn't have the capacity to do that on as large a scale as we wanted to."
The state has, according to Levine, now acquired enough supplies to make wider testing more feasible.
"That's why, the recent procurement of more collection and testing supplies has made that more of a reality for us and it's much more feasible for us to do," Levine said. "And we're going to do it full-bore, even if it means we let ourselves to be at risk for eventually not having enough supplies ten days or more from this point, because this is really the critical juncture."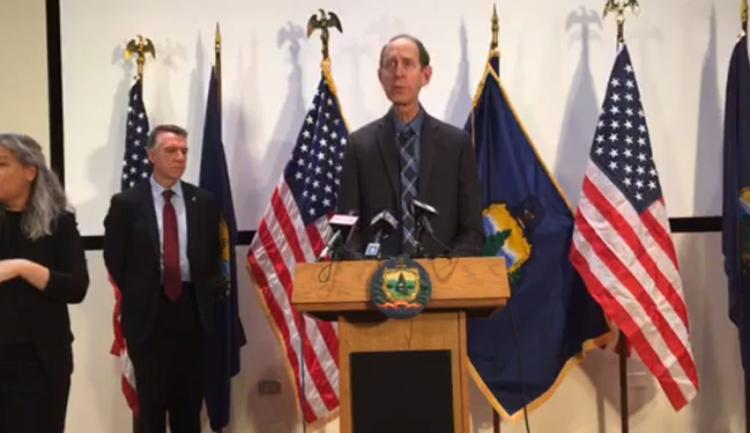 Schools closed until end of academic year
The Scott administration called for Friday's conference following state directions Thursday to extend the ordered closure of Vermont's public schools through the end of the academic year, a decision Scott said at the time was necessary for further suppressing the spread of COVID-19.
Building on Thursday's announcement, Scott repeated that extending the closure of schools through the rest of the academic year came as a means of providing some consistency for parents and students wondering whether to plan for schools reopening in April.
"This was really to give some expectations for the students, for the families," Scott said. "It may not be good news, and I acknowledge that, but at least they know what's before them for the next three or four months."
In the meantime, under Scott's latest order, schools will still be required to provide remote learning for their students through the rest of the academic year, with the Agency of Education set to have technical guidance ready for local school districts by the end of the week.
What the order's extension means for end-of-year ceremonies like high school graduation was still an open question, according to Scott.
"Even with this decision, it's my hope that with the mitigation steps we've taken, our children will be able to return at the end of the year for activities like graduation," Scott said. "But we won't make that decision until we're certain it's safe."
The order also relaxed child care mandates Scott's initial school closure order had placed on local districts, with Scott now seeking to encourage schools to open their facilities for use as child care centers for servicing the children of employees who the administration determined to be "essential" for the state's response to the COVID-19 pandemic.
The Dept. of Children and Families will be providing reimbursements for child care centers that were closed under Scott's orders and for those still open to serve the families of "essential persons," according to a release from Scott's office.
By ordering schools shut until the end of the school year, Scott added Vermont to a growing list of states that made similar calls to close their schools until at least the end of the school year.
According to the education publication THE Journal, all but four states had ordered statewide shutdowns for their schools as of Friday, and most districts had opted to close their schools in those few states where those decisions had been left to local officials.
Several states have already extended those closures through the end of the school year.
In a statement issued immediately following Scott's Thursday night order, the head of the Vermont – National Education Association (VT-NEA) responded by committing the state's teachers union to working with officials "to work out how best to continue teaching and learning in a meaningful way."
"While we are disappointed and saddened, we understand the fierce urgency of maintaining the health and safety of all our students, educators, school administrators, parents, and all Vermonters," VT-NEA president Don Tinney wrote.
According to Secretary of Education Dan French, who answered questions remotely during Friday's conference, the state has received some guidance on adhering to federal special education mandates while schools transition to remote learning, but Vermont's school system is still committed to its special education requirements.
Meanwhile, according to French, it was still "premature" for schools to consider major staffing shifts in light of districts' transition to remote education, in response to reports that some schools were considering layoffs in response to ordered school closures.
Pressed on whether the extensions for school closures would impact other orders issued by Scott's administration in response to the COVID-19 pandemic, Scott said, "I wouldn't take anything from the extension or dismissal from the schools to indicate what our plan is in terms of businesses."
"Our hope really is that businesses will be allowed to go back to work when it's safe and when we think the timing is right based on all the information and data we have available at the time," Scott said.
Scott said he understood closing schools for the remainder of the year was a significant decision, but said it was a decision he made according to "what's best for public health based on the best science we have available."
"The education of our kids, along with the bonding and learning experiences they get at school, are incredibly important, so I fully understand and appreciate the impact this will have on our kids individually, and families across Vermont," Scott said. But from my vantage point, I believe it's the right decision because it's for the health of our kids, communities and the entire state."