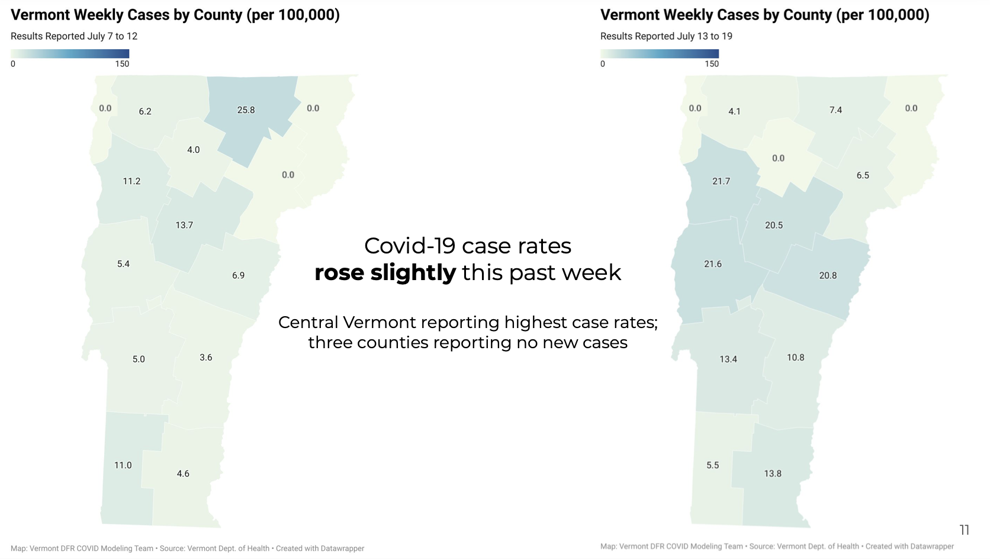 Vermont saw its second consecutive week of increased COVID cases in the state, following the trend of a recent uptick in cases nationwide that are most likely due to the spread of the Delta variant, officials said.
At the Governor's weekly press briefing July 20, Mike Pieciak, Commissioner of the Department of Financial Regulation, announced that the state reported 89 cases this week as opposed to 54 cases last week.
The rate continues to remain lower than it was at the pandemic's peak a few months ago, he said.
As of July 22, Franklin County has seen an additional nine cases over the last 14 days, according to the Vermont Department of Health's COVID-19 Dashboard.
The majority of the cases continue to be in the unvaccinated population, Pieciak said.
"When we look at cases by age, we can see that cases continue to remain very low in the 60 and older population, the population that is most at risk for COVID-19 but also the population most protected against the virus," Pieciak said.
Vermont still has the lowest case rate in the country with a daily average of two cases per 100,000 in the last seven days.
The New York Times reported that the U.S. average has been 12 cases per 100,000 over the last week.
Pieciak said the Center for Disease Control estimates that 83% of all new COVID cases are the Delta Variant.
"Anyone who is not vaccinated is at risk and with this more contagious variant, a higher risk than ever before," Vermont Health Commissioner Dr. Mark Levine said at the press conference. "The more people we can get vaccinated the more we can keep up that protection."
Vermont continues to lead the nation in vaccinations, with an additional 2,258 Vermonters starting vaccination this week, bringing the percentage of Vermonters who have received at least one dose of the vaccine to 83.2%, Piecak said at the press conference.