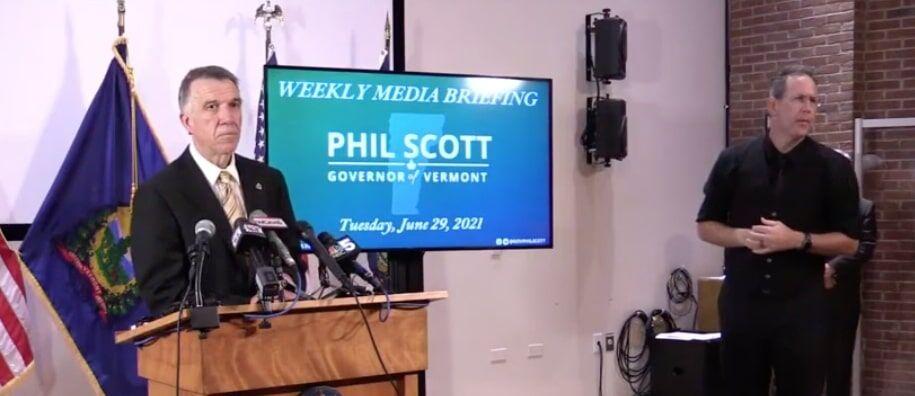 Vermont Governor Phil Scott said the state would end participation in the federal unemployment benefits program aimed at supporting those impacted by the pandemic when it expires in September, even if Congress votes to extend federal benefits to laid-off workers.
At a June 29 press conference Scott said he thinks it's time for the program to end.
"If Congress decides to extend the $300 stipend, I would probably not accept it," Scott said. "I think it's gone long enough."
He expressed concerns about the stipend disincentivizing people from joining the workforce.
"There are a certain segment of the population that do the math," Scott said. "(They) feel as though they can stay home, collect unemployment, get the $300 stipend and be in better financial shape than if they were working."
Benefits for self employed workers or long-term unemployed workers are available through the Pandemic Unemployment Assistance Program and the Pandemic Emergency Unemployment Compensation Program. Both of which are slated to end on Sept. 4.
The Federal Pandemic Unemployment Compensation program, which is a federal benefit created by the CARES Act, allows for an additional $300 to each weekly benefit payment. This program is also slated to end on Sept. 4.
25 states have already opted out of the $300 federal benefits before the end date.
Corey Parent, Vermont State Senator from the Franklin District, said he agrees with the Governor.
"The number one issue I hear from employers is the need for employees," Parent said. "The science says its safe to go back to work."
Scott recognized that there is a segment of the population that can't go back to work and need the stipend.
"I know this is painful for many, especially in the hospitality sector in particular," Scott said. "But every single sector in Vermont is challenged by workforce needs."
Scott noted that the state is moving in the right direction. In April the state had around 80,000 people on unemployment insurance, moving to around 18,000 as of June 24.
He emphasized though that many of the hiring challenges being faced by employers are not new, with Vermont having the lowest unemployment rate in the country.