In 1977, thousands of American women ran a relay to kick-off the National Women's Conference. They carried a torch from Seneca Falls, N.Y., the site of the first women's conference in 1848, to Houston to symbolically show the ground women have covered in their fight for equality.
Next month, women across the U.S. will celebrate the 100th anniversary of the ratification of the 19th amendment, which gave women the right to vote in August 1920.
Vermont women are being encouraged by the Vermont Suffrage Centennial Alliance (VSCA) to carry on that tradition of running to commemorate progress by completing a 5K the week of Aug. 8-15.
Over a year ago, VSCA had planned a parade and festival to take place on the statehouse lawn the week of the centennial, but due to COVID-19, those events have been postponed to 2021.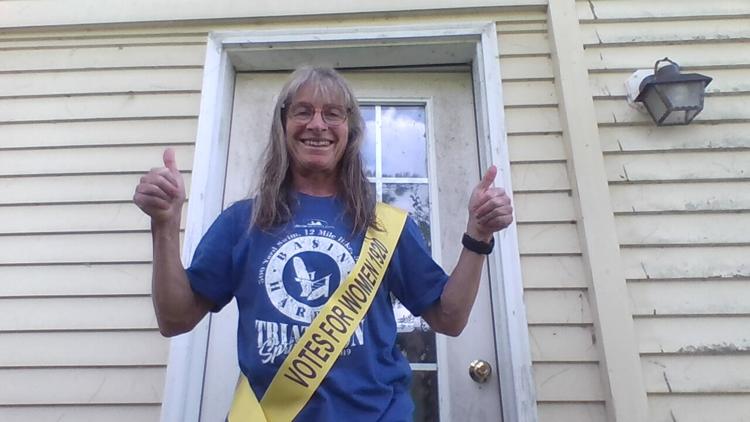 In addition to the celebrations in Montpelier, Donna Smyers, a member of VSCA and the Central Vermont Runners (CVR) club, suggested the organizations host a Suffrage Scramble 5K in Waterbury, Vt., Aug. 15.
Due to restrictions limiting the number of people who can gather outside at once, the 5K has since gone virtual. But Smyers said this change has actually made the event more accessible to women across the state.
"Running is a good way to celebrate female power," she said.
Vermont women can walk, run, stroll or roll a 5K in their own neighborhood anytime during the week of Aug. 8-15. Women who register to run will be mailed a sash, reminiscent of the ones suffragists wore in the early 20th century. The sashes read "Votes for Women 1920" on the front and "Votes for all 2020" on the back.
"The centennial commemorates women receiving the right to vote in 1920, but recognizes that not everybody has the right to vote yet," Smyers said.
Women may have the right to vote, but there are still barriers for women, especially women of color, who are trying to get to the polls, she said.
"It's not so much of a problem in Vermont, but in other places, people have to wait in line all day to vote, and for women who are taking care of children, that just isn't possible," she said.
Participants are encouraged to wear the sash during their run and to submit their photos to CVR and VSCA.
"I'm excited to see lots of photos of women with their sashes on," Smyers said. "It will bring attention to the centennial, because it's easy to overlook right now with everything else that's going on this summer."
The week of Aug. 8-15 was chosen for the event because it will encompass Aug. 11, the date of the Vermont primary election. Smyers said she hopes women decide to run to their local poll or to wear their sash to go vote.
Participation in the event costs $20 per person, but there are discounts for teams. All proceeds will go to the Rutland, Vermont chapter of the National Association for the Advancement of Colored People to increase voter registration, education and access among communities of color.
"NAACP was chosen as the beneficiary because of current circumstances as well as the history of women's suffrage actually being a bit racist," Smyers said. "We're trying to help atone for that and make it better."
As of July 28, 125 Vermont women had already pledged to run a 5K, with the number of participants growing rapidly each day.
UnTapped, an endurance food company based in Richmond, Vt., and Cabot Creamery are sponsors of the event. In addition to a sash, participants will receive a code for a free sample pack from UnTapped, and will be entered to win a gift basket from Cabot.
Smyers feels it is also important at this moment to recognize that though women have had the vote since 1920, female runners couldn't compete in many races, including the Boston and New York City marathons, until 1972.
"We need this history out there," Smyers said. "Getting the right to vote 100 years ago is a big deal, but being allowed to run almost 50 years ago is amazing."
Smyers herself is a successful triathlete, having been inducted into the USA Triathlon Hall of Fame in 2018. A practicing physical therapist in Adamant, Vt., she has competed in almost every Elmore Triathlon since the early 2000s.
Smyers said when she first became old enough to vote, there were almost no women to vote for on the ballot.
"I accepted my right to vote, but the idea that I might vote for a woman didn't pop up until much later," she said.
In the last decade, Smyers has seen a much bigger push for women to run for office.
"I still see barriers of course here in Vermont, where there are no women at the highest levels," she said. "There hasn't been a female governor since Madeleine Kunin. But now I see women running for city council, for state representative, for state senator, and we have lots of choices."
Runners interested in participating in the Suffrage Scramble 5K can register at https://cvrunners.org/cvr-races/suffrage-scramble and can pledge to become an informed voter at https://vtsuffrage2020.org/incomplete-legacy/#pledge.