Fifty years ago there was comfort and charm associated with attending little neighborhood schools throughout the City of St. Albans. Children could easily walk to and from their schools and they knew every one of their schoolmates and teachers well. Former neighborhood students look back fondly on that time. On the other hand, with small dispersed educational facilities and minimal teaching staff numbers, there also came limited access to music and theater experiences. In the 1960s, music often consisted of singing in classrooms, instrument playing occurred after school, and plays were rarely presented.
That changed when the community decided to invest in a centralized state-of-the-art school facility in the late 1960s. The St. Albans City School founders made sure the building plans included a specialized band room and a large stage for drama performances. Two performing arts teachers were hired and immediately the school offered band and general music primarily to the older and middle school students. From then on St. Albans City School established itself as a place where children had ample opportunities to thrive in the performing arts.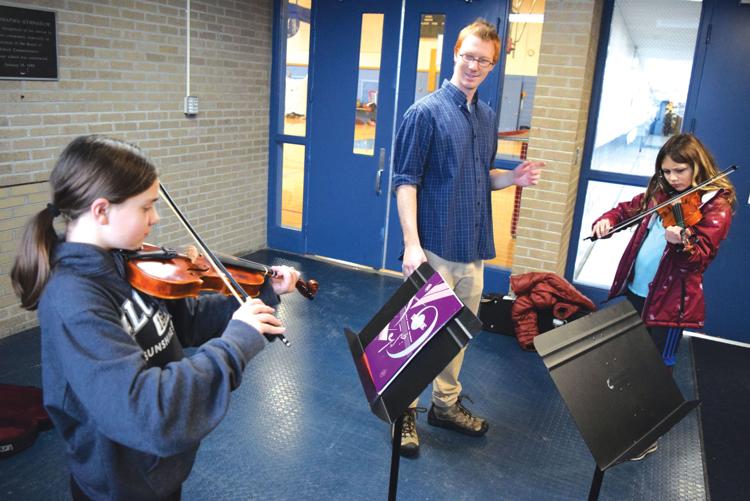 Performing arts creative opportunities continue to exist strongly today. St. Albans City School has a team of three amazing resident performing arts instructors who help children express themselves from PreK through 8th Grade. Ms. Cathy Cameron Muscente and Ms. Molly Hartman are vital to the performing arts program at St. Albans City School.
Ms. Cathy Cameron Muscente serves as the primary general music instructor and has done so at our School for 20 years. She focuses primarily on the younger children (PreK — 3rd grades) where she moves into each classroom for "specials" time and brings with her singing and instrument playing opportunities. It is a joy to see our smallest students sing folk songs, dance and learn the use of a variety of rhythm instruments. She also teaches 4-6th graders how to read music and how to play drums, ukuleles and recorders. Ms. Cameron-Muscente's expansive knowledge of folk and other forms of music provides the foundation for much of what children end up doing later in the program as they mature towards graduation.
Ms. Molly Hartman, a St. Albans City School instructor of five years, also serves as a general music instructor across the entire student age spectrum, although older students are now frequently her main focus. She brings her locally developed passions for choral singing, big drama performances and dance to St. Albans City School. Everyone is benefitting from her creativity. Under Ms. Hartman's leadership as the primary Drama Director, the School added a youth theater program for 2nd-4th graders and they put on a spectacular drama performance each fall. This past December it was the Nutcracker. Each spring, Ms. Hartman's 5-8th grade students put on equally impressive drama performances that truly showcase the capabilities of our many students. This spring the show will be the Wizard of Oz (April 10th and 11th). In addition, Ms. Hartman oversees the production of chorus, dance and show choir events performed by 5th through 8th graders. It should be noted that Ms. Cameron Muscente and Mr. Kelly (featured in an earlier article) also add their directorial and technical skills to the large drama events put on at the school.
One other performing arts opportunity exists for our students. The district employs Mr. Alex Charpentier, a stringed music specialist. Mr. Charpentier's home base is St. Albans Town Educational Center. However, he travels weekly to the other district schools for individual and group lessons. Like the other teachers mentioned above, he brings passion and joy to his work and that translates into productive learning experiences for students.
Children at St. Albans City School are exposed to music, dance and drama throughout their tenure. As they get older, they can learn how to sing or play an instrument for themselves, or they can opt to experience the support and encouragement they need to fully develop their performing art skills through public performances. St. Albans City School welcomes the Community to come and celebrate the performing arts talents of our students and their four capable and passionate mentors multiple times a year.