ESSEX — Turning a negative into a positive is probably putting it mildly.
A group of running enthusiasts from Essex have been competing together in an annual summertime race for the last five years. Like most other events around the country, that race will not happen in 2020.
Instead of being distraught all summer about the cancellation, the group of seven decided to do something about it to get somewhat of a sense of continuing their tradition, train, and compete again during the month of August. Only they won't be competing against other teams of runners like usual — but, instead, themselves.
The group of Essex residents have formed their own Miles for Meals Challenge to help raise money for the Vermont Foodbank. Over the last five years, variations of the group have participated in the 100 on 100 Relay — a race that spans 100 miles along VT Route 100 from Stowe to Ludlow. Runners take turns with different sections of the course — or "legs" — and combine to finish in a time anywhere between 11-18 hours.
"It's a bit of a road trip mixed with a race," said Dan Davis, one of the Miles for Meals participants who works in health care information and technology and is a member of the National Guard. "It's just a great time. Stuff happens, stories are told, and good times occur along with competition — so it makes it a really fun event."
The team made a concerted effort to improve upon its times over recent races and has become the fastest group from Vermont over the last couple summers with finishing times of 11-12 hours.
"Not to make a correlation, but I did join this team three years ago," said Eric Langevin, a math teacher at Essex High and the and former boys' cross country coach of the Hornets. "I'm just saying, that's when the results started coming in."
The idea that the Essex runners came up with for this year mimics the 100 on 100 format, but they chose to more-than double the length of the course — deciding to go from one end of the state to the other.
Plans are to start in Pownal, Vt. at the Massachusetts border around 7 p.m. Friday, Aug. 14 and finish at the Canadian border in Highgate the night of the 15th. The course will mostly be on less-busy roads that parallel to US Route 7 — except for a necessary detour through Essex.
The teams expects to run along the eastern side of St. Albans Bay around 7:45 p.m. Saturday evening. The route will then go up VT Route 36 and through Swanton around 9:15 p.m. The runners hope to maintain a pace of 8 minutes per mile — putting them on the edge of Canada alongside Highgate State Park around 10:15 p.m. Saturday evening.
Langevin will have a small cheering section while going through the St. Albans Bay neighborhood as his parents are residents of the area.
"For me, that is definitely something nice," he said. "They've always supported my running, but this is just even more special. It's nice knowing that someone, and especially them, will be there toward the end to give us just a little more motivation."
Without hammering down specifics yet, they think that each leg will be between the distance of a 5K road race (3.1 miles) and four miles — each runner totaling about 30 miles for the 210-mile course.
Davis and Langevin will be joined in the Miles for Meals Challenge by Seth Jensen, Brendan Kinney, Derek Martisus, Dylan McNamara, and Jeff Weston.
"A couple months ago, we were all talking about different races that we wanted to do or that we were signed up for this spring or even next fall," said Jensen, a world language teacher at Champlain Valley Union High School who started his family in St. Albans — his two daughters being born at Northwestern Medical Center. "And as things got bumped out further and further, I started to think, 'You know, why don't we try to do something together as a group and benefit the community?'
"So we came up with the idea a couple months ago, and we formalized the whole thing probably two or three weeks ago. After watching the news and seeing people lined up for hours and not getting food, we thought, 'Well, this is a great opportunity for us to jump in and do something a little bit crazy — probably in most people's minds — but couple that with giving back to our community and to all of Vermont. And at the same time, we've turned it into kind of an adventure."
The group wasn't completely sure right away what the full plan would be and if it wanted to contribute towards an organization that was more local.
"We've batted around some different ideas," said Kinney who oversees fundraising and marketing efforts for at Vermont Public Radio. "What we recognized was two things: we see this race as an opportunity for us to actually explore parts of Vermont that we haven't personally been to, and also it's a way to celebrate the entire state. And I think that one of the things we've all seen during the COVID era so far is that so many people across the state are struggling with hunger and food insecurity.
"So we were trying to think of a nonprofit or a cause that more people than just those in our immediate circle would want to get behind," he continued. "That was partly why we chose the Vermont Foodbank. It's a state-wide organization that benefits communities all across the state. So it was our way to celebrate Vermont and celebrate helping as many people in Vermont as we can."
The runners also wanted donations to help out those from outside of the town — since they knew that not all of the funds were coming from their Essex neighbors, family, and friends.
"We realized: we're running through the whole state of Vermont, not just Essex, and so many of our donors are all over Vermont, not just Essex as well," said Davis. "So it made sense to give to a larger organization."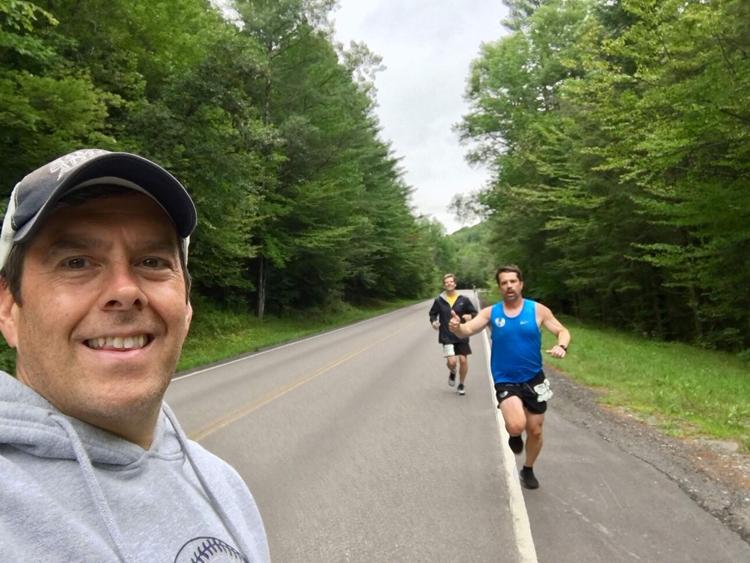 The team didn't know where to start in terms of a fundraising goal. A crowdsourcing page was set up July 7 — listing that the runners hoped to bring in at least $5,000. While speaking with Messenger staff the night of July 13, they met that mark and were looking to double their goal. The new, $10,000 target was hit July 18, and they are now looking to go for another $5,000 as of this story's publishing.
"When Seth first mentioned it, I thought, 'I don't think anyone's interested. It sounds like fun; I'll do it, but I don't think anyone cares,'" said Martisus on the 13th. "And here we are, almost $5,000 into a challenge where, when we sat down, I think we might have suggested a couple of thousand dollars [for] our goal. We're out there having fun, but it's going to raise a lot of money — I think a lot more than we imagined."
Whereas the 100 on 100 had the team leapfrogging each leg's runner in a smaller vehicle, the guys are planning to utilize an RV this summer for a little extra space and comfort — a tactic that can certainly help with the logistics of stopping and starting to run a handful of times.
"Hopefully with the RV, it's going to give us a little bit more space," said Langevin. "But one of the guys said earlier that if you don't stretch, you're going to be toast later. You really have to take care of yourself, and we preach it. Probably every single one of us has made the mistake of not doing it at least once or twice in our lives, and you'll learn real quickly that you have to stretch, you have to hydrate, you have to be careful of what you eat. It's a really delicate balance of: I have to keep my stomach calm with some food in it — but not too much — and I really need to stretch and make sure I'm ready."
Martisus, who's an insurance professional and the varsity boys' cross country coach at Essex High, broke it down in terms of more-common race circumstances.
"Let's say we end up doing 5K legs," he said. "If I were going to do a 5K race, I would warm up for two miles, I'd run a 5K, [and] I'd cool down for two miles. You can't do that 10 times during [Miles for Meals], because suddenly you're running 80 miles instead of 30. So you have to cut the cool down and the warm up, and you have to do the stretching and the hydration. It's not perfect, but there's just no way around it."
It might not be the big spaghetti dinner that a novice runner envisions marathoners diving into the night before long races, but the group certainly intends to meticulously prepare and replenish their bodies with the proper food and nutrition both before and during the challenge.
"I think because we have a history of running marathons, we have a history of figuring out a fueling strategy for running," said McNamara, who works for the Essex Westford School District along with being Martisus' assistant coach for the cross country team. "We haven't worked out the details, but we'll definitely want to carbo-load the night before — have a good healthy dinner that has some carbs and make sure our electrolytes and fuel banks are stocked up… One of the obstacles for endurance runners is fueling. If your blood sugar gets low or electrolytes get low, you have cramping — you have bigger issues. So, we're experienced enough to know how to do this, which is value added. I think it would be hard to do this if you've never done an ultra [distance race] or marathon."
McNamara went on to say that there will be plenty of snacks and sports drinks on board — including bananas, peanut butter sandwiches, and salt tabs. He also thinks, however, that the length of time will be a major obstacle — more so than the length of the course.
"We've all run marathons, so we can go out and run 30 [miles] if we had to," he said. "But we all haven't stayed awake for 30 hours straight and done increments like this. So that's kind of a cool, challenging part of it."
The "team" knows that it can embrace that term and lean on one another for tips and ideas if needed, but they will heavily rely on what they know works best for themselves.
"One of the great things about this group is you get experiences from a bunch of other runners who are like you and can help you learn," said Davis. "But I also now know that: as much as I've been trying to do the same thing Dylan's been doing every time, it doesn't work for me. So I think we've all learned the strategy that works for us, and we share that along the way. We'll maybe try each other's thing, and we'll be packing our food and sharing our foods with each other. But we all pretty much have unique needs and unique strategies to handle it."
Not having done something to this extent before, the team understands that it might have to adjust the order of runners on the fly or alter the length of the legs — especially Saturday evening.
"Particularly hilly routes, Seth will hop in a double leg or something like that," Martisus joked. "I have actually done a race very similar to this when I was younger, and the last six hours can be very mysterious — especially when there's a shorter leg. We're not exactly sure how long the legs will be, but sometimes the shorter ones can be a little more dangerous — because you feel a little frisky on the first couple [miles], and by the end, that comes back and bites you."
The team is working on getting safety orange-colored t-shirts printed for them to wear while running, and they'll also be utilizing headlamps and reflective vests when it's dark. They've discussed bringing along a bicycle to help with warming up and cooling down — as well as being an extra cautionary measure for the runners. They also know there may be unforeseen circumstances they encounter, such as road work, creating surprise detours.
"I think the biggest risk comes in the middle of the night," said Davis, "if the RV isn't close and the runner has to make a decision in one of those situations. But for that reason, we're planning to have the runners run with a phone on them — hoping they have service wherever that situation crops up."
The runners intend to complete the challenge through rain or shine — or possibly even worse.
"They made me run in lightning last year in the 100 on 100," said Langevin. "It wasn't very fun. They drove by me; they didn't pick me up, and they honked!"
The group doesn't want to look too far down the road, but a few of the guys did comment about this summer potentially being the first handful of flakes that could eventually become a larger snowball.
"If we do it again, maybe we can do it under some sort of actual organized event," said Martisus. "Maybe we're not talking $10 or $20 thousand, we're talking hundreds of thousands of dollars going forward. I mean, not to get too far ahead of ourselves, but it could be a great event; it could be something that provides a lot of food for a lot of people in need."
"Because of this group of guys, I've tried some things I never thought I would have," said Davis. "Certainly, three months ago — or when Seth came up with this idea — I thought, 'Ugh, the whole state? I don't know.' So after this is done, you can tell me we're going to run east to west coast, and I would probably believe it. I think in 20 years, we'll probably have some crazy, even-more challenging things than this that we've done. But this might be the one that we look back on and we're proud of — just because it needed us the most, and we're really making a difference."
The team has outlined a schedule on its crowdsourcing page that it's hoping to stick to — knowing that some of its donors or supporters throughout Vermont might want to give them a wave and a cheer as they go by. However, they know other people might be "watching" what they're doing — even if it's not the act of actually watching them run.
"Everybody on this call has kids — so we're also trying to be role models," said Martisus, "and we can go to the kids and say, 'Hey listen — Dad's just not going out for a run; Dad raised 12 grand, or 20 grand for people who aren't as fortunate as you are.' So I think that's not lost on this group, either."
Weston, who's originally from Essex, also qualified for this year's Boston Marathon by one second — only to have it cancelled. He echoed those remarks.
"To go from that high to now it's canceled shows my kids, too, like, 'Hey, I got kind of knocked over here, but here's more challenges. I'm not giving up on running,'" he said. "Things build off that and just keep going, and having these guys around you really helps keep that mindset strong. We keep seeming to push each other to the next level; after each challenge comes up, there's either been another one that's even more challenging, or we try something again. So I really think this could potentially not just be a one-year thing."
Kinney says he was also in line to finally qualify for Boston through the Vermont City Marathon in May, so August will be a little consolation of sorts for not being able to partake in the infamous road race.
"For me, it's a bit bittersweet that most of our races have been canceled, but this is a way to keep the spark going in terms of my love of running," he said. "And running with these guys is just a blast; we have a lot of fun, and we support each other. It's been a really great experience for many years — hopefully for many more years to come."
The group has been consistently running together throughout the years whenever possible — whether going out for eight miles on a weekday or 18 miles on the weekend depending on who's available and interested. The pandemic hasn't stopped that as they've just added some separation from one another while being out on the roads or the trails.
Lately, while getting ready for Miles for Meals, they've been visiting and exploring various places around the area including Indian Brook, Colchester Pond, Saxon Hill, Camel's Hump, and Mount Mansfield.
"It just seemed to spark a friendship and also a sense of competitiveness," Weston said of joining the group when he got back into running later in life. "I think all of us have really fed off each other, and I think our friendship's really grown through different challenges. And I feel it's kind of a sense of mental release, too, that this group has really brought to me. It's nice to know that every week you have different people you can go run with and just kind of get away for a little bit — regardless of how stressful life is. Now I feel — with everything else being canceled — there's a chance to give back to the community a little bit. It's kind of a another fun challenge to help bring our bonds together and help us focus on running — what we love doing"
"We don't need a sense of purpose for running," said McNamara. "You don't go and run marathons repeatedly because you want the medal or you want the sticker on your car; you do it because you find some natural incentive to do it. But this is value added; there's certainly value added to pick a challenge that gives back to the community."
Supporters can follow the team's journey through its preparation and the challenge itself on its Instagram account (@VTrunning2standstill) or by searching for the tag "#vtmiles4meals." To donate, visit fundraise.vtfoodbank.org/team/303812.
"I think that the key word for me in all of this is 'challenge,'" added Jensen. "We're always looking for a personal challenge. This has been a challenging time, obviously, for a lot of people in our state and in the country and in the world, and we're kind of challenging the community to give back also. So it's a challenge for us physically — without a doubt — but in the end, I think if we all do our part in these hard times, then good things come out of it. And that's really the center of what we're trying to do — is help other people."