SWANTON — When you don't see 6th grader Emily Walke blocking the defensive end of the Swanton Royals' soccer field, you'll find her washing other peoples' shoes.
Two years ago, the Walke family was living in Watertown, NY when they heard about a local woman running a soccer cleat drive, calling it Cleats 4 Feet.
And upon moving to Swanton, the Walkes decided they would bring the shoe drive to their new hometown.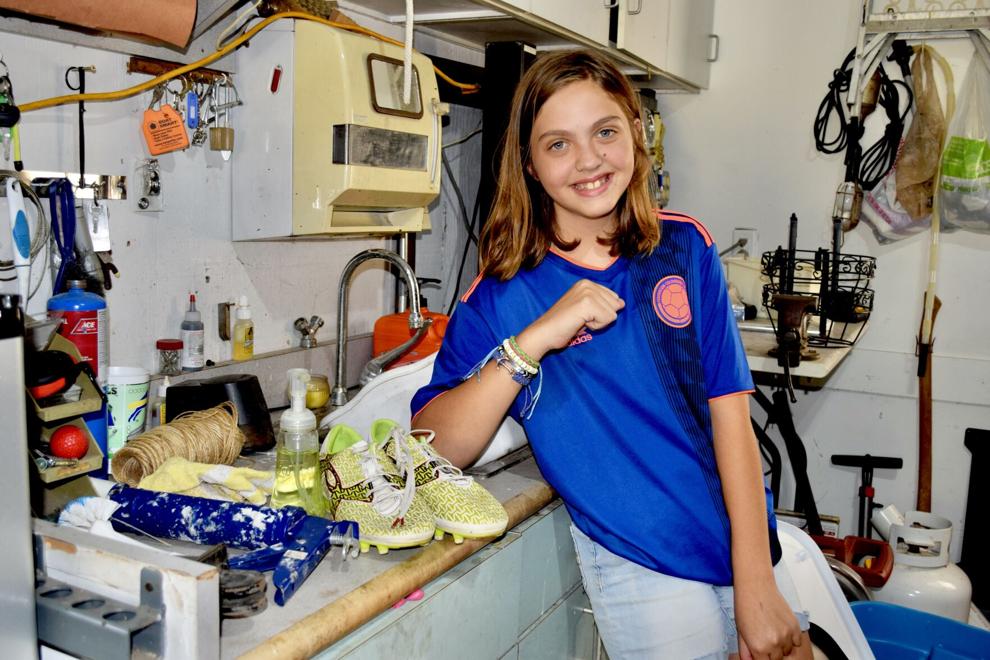 "Soccer shoes are expensive," Emily Walke, the 11 year old Swanton Cleats 4 Feet chief executive officer, said. "This helps people who don't have the money to buy expensive cleats."
Starting a movement
Emily has been playing soccer for seven years and said she knows good sports equipment can be hard to come by.
Watching other members of her community struggle with sports gear costs in order to play, Emily decided to reignite the Cleats 4 Feet movement in Swanton to help others access high-quality sports equipment at no-cost about one month ago.
Emily said she started with making a Facebook page and setting up two donation boxes: one at her house at 86 St. Albans Rd. in Swanton and one at the Swanton Recreation Commission at 16 Jewett St.
Emily was shocked when, over the course of one week, her campaign was gaining steam.
Building momentum
A week after her campaign launched, the Swanton Recreation Commission had a surprise for Emily.
"Like, three huge boxes full," Emily said. "There was a lot...I felt excited."
Every shoe that comes through Emily's workshop is hand-scrubbed, laces cleaned, interior and exterior washed, deodorized and sanitized, and they're placed on display.
The cleats look like new once they've received Emily's care, and her father Michael said right before soccer season they saw the recreational community rush for shoes.
"We did close to seventy pairs of cleats in our first month," Emily said.
As of Tuesday, Emily's Cleats 4 Feet had 38 followers on Facebook, and her garage is home to many large boxes of cleats waiting to be cleaned. Emily said she intends to present the refurbished cleats at open houses, recreational events and in her home garage for whoever needs a pair, free of charge.
A year-round job
Despite soccer season already being underway and fall coming into full-swing, Emily said she's still seeing donation after donation of all types of athletic shoes fill the boxes at her house and the Recreation Commission.
And she's not stopping anytime soon: Emily said her organization will be scrubbing shoes through the winter and into spring,and will be accepting all types of athletic shoes in addition to soccer cleats.
"I get golf shoes, basketball shoes, indoor soccer shoes," Emily said. "I'll be continuing this [shoe drive]."
While Emily has contemplated the idea of expanding her movement, she said for the time being Cleats 4 Feet is going to be her side gig.