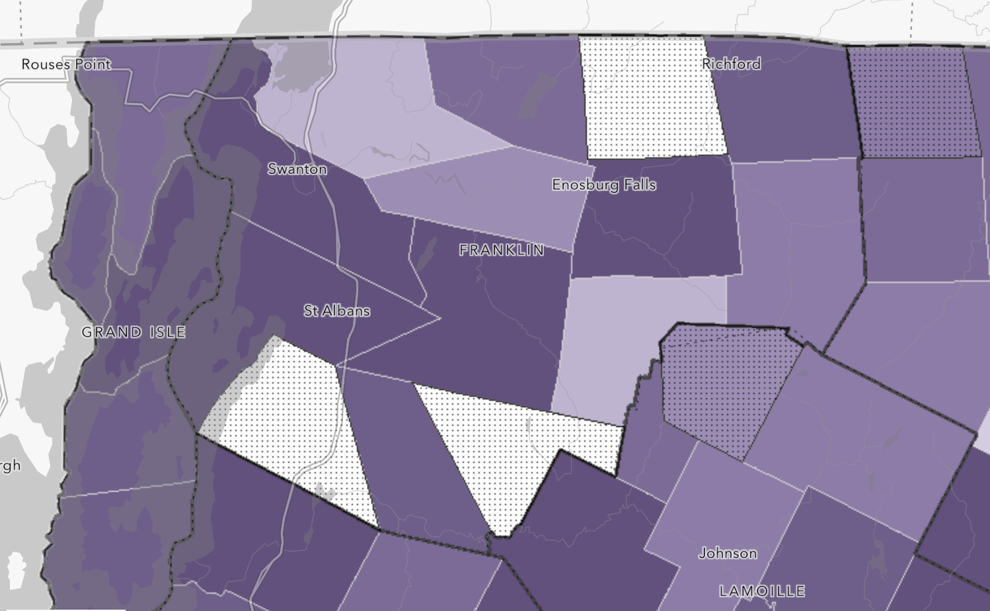 There are three towns left in Franklin County whose vaccination rates sit under 10 percent: Georgia, Berkshire and Fletcher, according to updated data from the Vermont Department of Health showing vaccination rates by town.
Vaccination rates in these towns have been at a standstill, with the towns reporting the same numbers a month ago, according to a June 4 Messenger article.
The most immediate towns surrounding Georgia all have vaccination rates above 80 percent, with Fairfield and St. Albans hitting above 90 percent and Fairfax sitting in between 80 and 90 percent, according to the data.
There is a population of people who live in Georgia, Berkshire and Fletcher but don't have zip codes or addresses there, which may account for the low number.
However despite the uncertainty, Clement Roger, AmCare director of operations, still thinks it's important to open new vaccination sites in the area.
Roger announced he will be running new vaccination sites next week in Berkshire and Georgia to help those towns get on track.
"Even if the numbers are skewed, it is still showing a low number so we decided to try and at least hit two of those areas next week," Roger said.
The update comes as the state grapples with questions regarding the new delta variant which experts say is far more contagious than the original form of the virus.
There have been only five cases of the delta variant detected in Vermont, one in Addison County and four in Chittenden County. However, according to State Health Commissioner Dr. Mark Levine, the best way to protect yourself is to get vaccinated.
"The data shows that all three vaccines work against the variants circulating in the U.S., so if you want to protect yourself against COVID and its variants, the best way to do that is to get vaccinated," he said at a July 13 press conference.
Currently the state has the highest vaccination rate in the country with 82.3 percent of the population vaccinated.
Levine in late June emphasized that Vermonters will continue seeing vaccination clinics pop-up within their communities as well as vaccination offerings at local pharmacies.
"Story after story tells us the majority of unvaccinated people in Vermont have nothing against getting the vaccine, they've just not gotten around to it or haven't prioritized it," he said at a June 29 press conference. "They may not have thought much about it, haven't found their own personal reason or, impossible as it seems, just haven't run into it in their day to day lives."
Roger said he thinks there are a number of reasons someone might not get vaccinated, from accessibility to skepticism.
"I've seen it all. I've seen people from across the street who don't want to be bothered to go across the street to get a vaccine and people from Essex who go all the way to Fairfax or Enosburg to get a shot," he said.
He thinks that overall, the easier he can make it for people to get the vaccine, the better.
You can find places to get the vaccine on the Department of Health's website.