SWANTON — On Monday night, Swanton Village's Board of Trustees heard from residents unhappy with the board's previous decision to remove the Swanton art walls.
The village office was filled to its socially distanced capacity with 17 members of the public attending.
Before inviting the public to comment, Village President Neal Speer gave a brief history of the walls, which went up four years ago. One of the walls was located outside of the village offices.
Following George Floyd's death at the hands of police and the return of nationwide protests of police violence against Black Americans and other forms of racism, a Black Lives Matter fist was painted on the wall.
This started a pattern of anti-racist images being painted over by Swanton resident David Hemingway. On the most recent occasion, Hemingway began painting over an image of two hands clasping, one black and one white, while the paint was reportedly still wet. The background was a rainbow flag with stars in one corner.
Painter Chloe Viner Collins and those who assisted with the project confronted Hemingway, taking photos and video of him painting over the image. The conversation on social media which followed "became harsh," Speer said, and "caused us to become concerned over the volatility of the posts."
The art walls were also tagged by supporters of the Patriot Front, a white supremacist group. Those images, too, were painted over.
On July 13, the trustees heard from community members concerned about the situation and decided to remove the art walls, Speer said.
However, Viner Collins noted Monday, the art walls had not been warned on the agenda for that meeting, and the board only heard from those who supported removing the walls.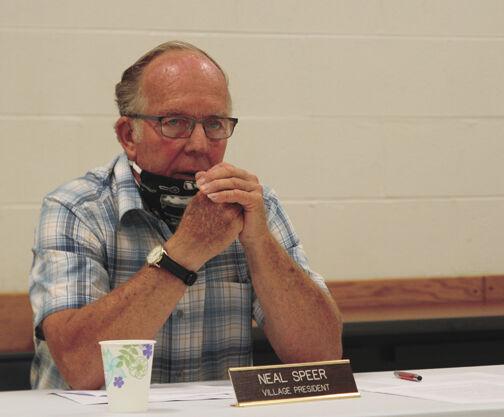 "We at Swanton Village understand we have racism and diversity issues in our community," Speer said.
Speer said the village and town are organizing a joint public forum on racism, and are currently searching for a neutral moderator for that meeting.
"The selectboard is ready to move ahead," said Joel Clark, the chair of the Swanton Town Selectboard. "We've got a lot to learn, our employees have a lot to learn."
"We all understand that we all have biases within ourselves," said Reg Beliveau, Jr., the village manager.
Sandy Kilburn was the first member of the public to speak. She began with a quote she had heard recently, "when my neighbor hurts, I hurt."
"I think we have a lot of hurting people in our town right now," Kilburn said. "Well-intentioned actions have had unintended consequences."
Kilburn expressed hope that community members will "come together and listen respectfully without judgment."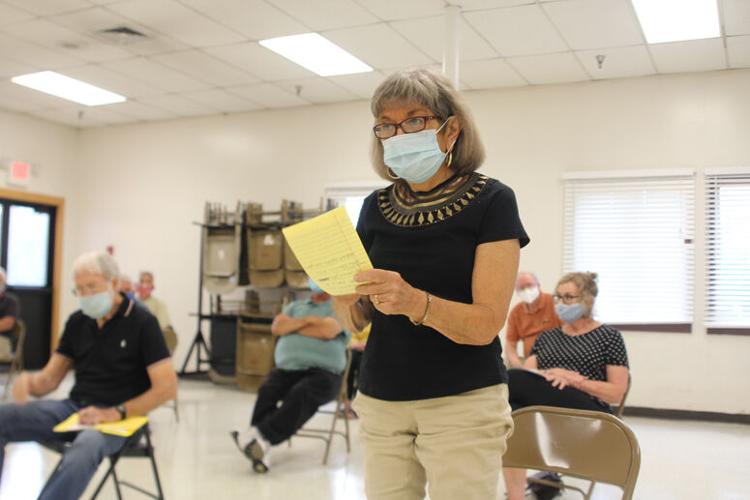 Viner Collins took a less conciliatory tone. She began by responding to a remark made by trustee Eugene LaBombard, who did not attend Monday's meeting, from July 13, in which he asked if those involved in painting the anti-racist images were even Americans. "I am a U.S. citizen," said Viner Collins. She is also, she noted, a citizen of Swanton who has been involved in the community, including distribution of food and clothing to those in need.
"I have received death threats," said Collins, saying she is also called a "n lover" at the grocery store. "My character and citizenship were questioned because of my art work."
"The attitude that human rights is divisive needs to go," Collins said.
Meaghan Conly took issue with trustee Adam Paxman for having described those supporting Viner Collins' paintings as "keyboard warriors."
She also criticized the trustee for siding with someone who believes there is nothing wrong with covering up an image they consider offensive even if they can't say why.
"Art has always been a powerful medium, allowing us to express ourselves when words fail us," Conly said, adding that the board removed the walls to "placate those who just want it all to go away."
Susan Kelleher said the walls were heavily damaged when they were removed with a backhoe, despite promises they would be taken down carefully. Speer said the village would address the damage.
"At the heart of of this matter is the failure of every single one of you to do your jobs," said Kelleher, pointing to the fact that she had to email members of the board multiple times before receiving a response. "You have perpetuated the fear people of color here feel."
The art walls, said Terri O'Shea, have taken on "much bigger meanings than they had six months ago." The question is why the images on them provoked such a strong response.
"It is obvious we have some work to do to make ourselves more opening and welcoming for all," O'Shea said.
"All of us have implicit bias," she added, saying it needs to be understood not as a character flaw but as a product of the society in which we live.
Priscilla Connelly said she has lived in Franklin County for 41 years, but only moved to Swanton nine months ago. "When I first saw the art walls I thought 'I am so excited to be part of Swanton,'" she said. Leaving the walls down until January, which the trustees previously voted to do, would be a "very bad idea," Connelly said. The community should come together and find a way to reinstate the walls.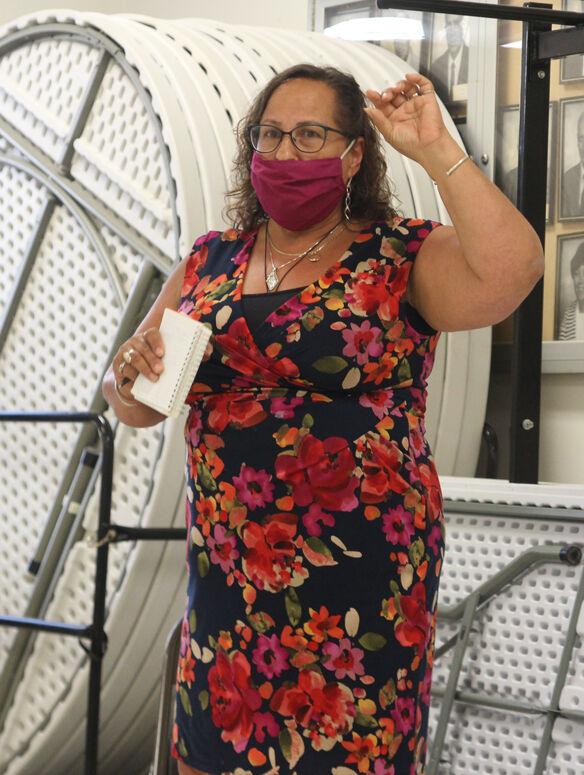 Fred Wiseman reminded everyone that Swanton has been in a similar place before, when the Abenaki community began talking about harassment in the schools and discriminatory treatment by police. But after the Monument Road crisis — a confrontation over removal of items from an Abenaki burial ground — the community began having conversations.
"We got better," said Wiseman. "Swanton accepted the indigenous community as an integral part and in return the Abenaki have given back."
The only truly tense moment of the night came when Hemingway spoke, reiterating his complaints from the previous meeting about how he was treated. Speer cut him off, telling Hemingway that the subject was the boards.
At the conclusion of the public comment, Speer told those present, "I'm glad you came and stated your case."
Conly said she agreed with the plan for a public forum, but added that open conversation "can be difficult if there is no statement from the trustees that you did harm."
Some things the trustees said were very hurtful, she said.
Beliveau said the village is working on a statement.
Suzanne Washburn said she hopes people come to the conversation with open minds. Referring to someone at the meeting, whose name she declined to give, Washburn said "I felt like if I wasn't agreeing with her, I was being dismissed."
She also cautioned that change will likely be slow. "It took how many years for the Abenaki to be recognized and have a place in this community?"
"We can all look in our hearts to say 'have we wronged and do we want to start making change,'" said Speer.
"These are not going to be easy conversations and they're going to be uncomfortable conversations," cautioned Kilburn. "Let's cut each other a little slack."
"I'm hoping we can move forward in a positive direction," said Speer. "Hopefully, this will join us together instead of separate us."
UPDATED: On July 29 at 6:10 p.m., this story was changed to correct the spelling of Meaghan Connelly's name.