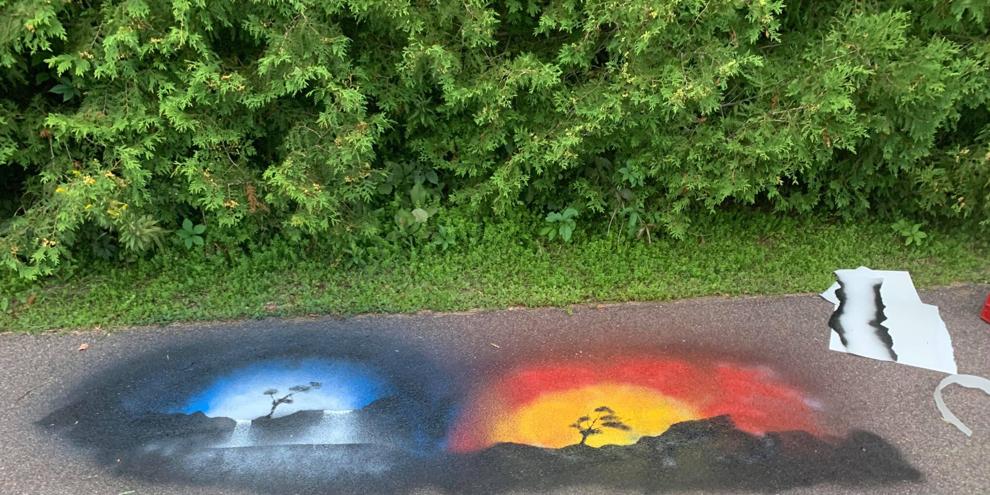 SWANTON — A series of hateful incidents of vandalism along the Fit and Healthy Recreation Path in Swanton is part of an ongoing battle between local artists committed to stopping hate and the people spreading it.
The messages showed up sometime Aug. 31 near the Swanton Elementary School close to the Robin Hood Drive intersection. They included an expletive, a racial slur, a swastika and the phrase "ACAB," which has been used in various contexts since the 1940s to stand for "All Cops Are Bastards."
Vermont State Police received multiple calls about the incident, and an investigation is being conducted, trooper Seth Boudreau told the Messenger in a Sept. 3 interview.
Knowing who did it is the most important thing, Bourdreau said.
Swanton Village Police have also received calls about a different vandalism case at the Swanton Elementary School, Boudreau noted in a news release from the VSP St. Albans Barracks.
The Attorney General's Office has been advised of the incident, Boudreau said.
In late June, an incident of a similar nature occured in Sheldon along Vermont Route 105, where a racial slur and a phrase showing aggression toward law enforcement was spray painted in the driveway of a homeowner.
A local Swanton artist, who goes by the name Van Joe, heard about the messages near Robin Hood Drive after someone posted a photo of them on a community Facebook page, Joe said in a Sept. 1 interview with The Messenger.
Showing up to the Fourth Street parking area on Aug. 31 with some colorful spray paints, Joe got out of his car and began to ask a walker along the path where the messages were, but before he could even get the question out, the walker said it was a little ways down the trail.
Joe said as he knelt down to spray paint over the messages a passing mother with her children, shielded their eyes and thanked him for what he was doing.
Over the messages, Joe spray-painted a series of landscapes, black silhouettes of animals juxtaposed against the backdrop of a blue or orange sunset, two giraffes and a pair of elephants holding trunks.
Since then, the trail has been tagged with more hateful messages, some drawn on top of Joe's pieces, including swastikas and more racial slurs.
Joe revisited the site Sept. 1 and painted more images over the messages.
As of Sept. 6, Boudreau did not have any updates on the investigation to share with the public, but he confirmed that the department is still working to find who put the messages there.
Joe said the Aug. 31 incident displeased him as a frequent runner of the path and a parent of children who go to that school.
The day before, Joe said, he was running along the path and was so happy to see it being used by so many different people of so many different backgrounds.
"For me to go to work that next day and hear that (the path) was defaced, people were spreading hate, I just didn't want that to continue," he said.
A rivalry between art and graffiti in Swanton goes back to last year's national Black Lives Matter movement and protests, and racist messages were showing up even before that.
In June 2020, local art boards were used to display stickers from the white supremacy group Patriot Front, just outside the town offices, according to a June 12 Messenger story.
In July 2020, a mural expressing solidarity with the BLM movement was repeatedly painted over with white paint, leading to a larger conversation about racism in Swanton with some saying it existed within the town and others arguing it did not.
Swanton Village Trustees voted at their next meeting, July 13, to remove the art boards to allow for a more robust discussion about the board's rules to take place.
Those new rules took effect this summer, and the first of many murals under the Swanton Public Art Network's new rules was painted just south of Swanton Village along Route 7 early July 2021.