ST. ALBANS CITY/SWANTON – A study examining sources of PFAS in the intakes and outtakes of Vermont's wastewater facilities found examples of the sometimes-harmful chemicals in each of the state's treatment plants – including facilities in St. Albans City and Swanton.
PFAS, or poly- and perfluoroalkyl substances, are a large group of human-made chemicals often found in industrial and consumer goods ranging from firefighter foams and household cleaners to cosmetics and cookware, popular due to their resistance to heat, water, oil and grease stains.
PFAS do not break down easily in the environment and are commonly observed in humans, fish and animals. According to the Dept. of Health, it can take between two and four years for half of the perfluorooctanoic acid, a common PFAS, within a human body to leave the body.
Studies have started linking PFAS to health complications, possibly affecting the growth, learning and behavior of babies and young children, people's immune systems, and increasing risks for cancer.
While wastewater facilities are currently under no regulatory obligation to address PFAS in either their intakes or in their discharges, the Agency of Natural Resources (ANR) began tracking PFAS levels at wastewater plants after being charged under a 2019 law with investigating potential sources for PFAS contamination in the environment.
As a part of that task, the state sampled the influent and effluent – the intake and outtake – of the state's network of wastewater treatment facilities in 2019 and, in a resulting study by Weston & Sampson, found each facility had at least some level of PFAS observed in collected samples.
The highest levels of PFAS were observed in wastewater treatment facilities in Newport and Montpelier. The report speculates the source of those heightened PFAS levels were caused by those facilities' regular intake of landfill leachates – liquids that have filtered through and either absorbed or dissolved chemicals from landfill sites.
Swanton's wastewater treatment plant in particular also found higher than average levels of PFAS in its influent and effluent, impacts the study appears to link to industrial discharges leading to the North Street facility.
More generally, the report suggests sites regularly processing industrial waste found higher levels of PFAS chemicals than their counterparts, a category that includes both the Swanton facility and its St. Albans City counterpart on Rewes Drive.
According to Swanton Village manager Reg Beliveau, the state was still looking at what could be causing the spike in observed PFAS levels in Swanton, but he noted the Swanton facility does have one customer that produces metal sheeting, cited by ANR as a common source of PFAS chemicals and contamination.
The village was also already pursing a public relations campaign looking to discourage people from flushing objects into the wastewater system the system was not designed for when the state released data on PFAS and wastewater treatment plants.
"We're going to monitor it closely, because we're a wastewater plant owner and a water treatment plant owner," Beliveau said. "This data just came out, and I haven't had a chance to absorb it yet and digest it like I'd like to, but I've sent some emails out to the state people who inspected our plant so we could hopefully have something to wrap our arms around in a month or so."
Beliveau also said Swanton's wastewater plant may be unique compared to some of its counterparts measured in the report, since Swanton uses a lagoon system that, according to Beliveau, may discharge less frequently than pipe-based systems.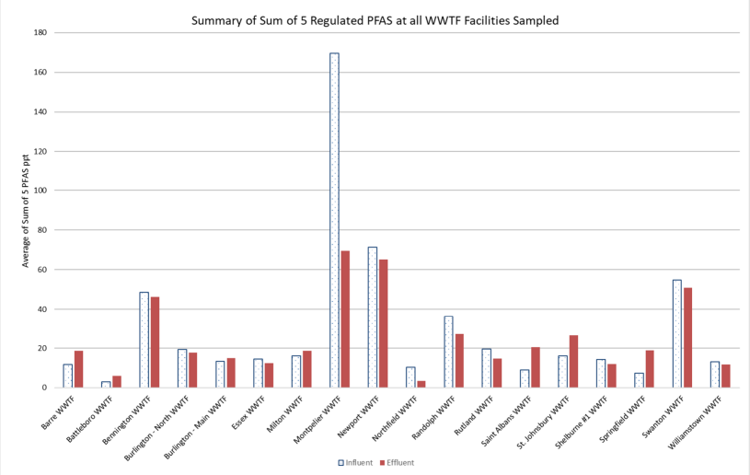 The St. Albans City plant, meanwhile, saw elevated levels of PFAS that were on par with other wastewater treatment facilities in Vermont, save for facilities in places like Brattleboro and Northfield, the latter of which lacked potential industrial sources of influent, according to the Dept. of Environmental Conservation (DEC).
Under Act 21, a 2019 law spurred by positive PFAS reporting at the site of a former Teflon coating factory in North Bennington, ANR is charged with setting standards for five regulated PFAS chemicals in sources of drinking water.
The state has set those levels at 20 parts per trillion, a number based on exposure for infants and significantly below the Environmental Protection Agency's health advisory limiting PFAS exposure in drinking water to 70 parts per trillion.
According to the state's PFAS report, the average levels of PFAS recorded in Swanton's wastewater treatment facility hovered near 50 parts per trillion and levels recorded for St. Albans City were closer to 20 parts per trillion.
Discharges recorded in Newport and Montpelier, meanwhile, averaged between 50 and 60 parts per trillion, according to the state's PFAS report, with peaks cresting above 80 parts per trillion.
There are no regulatory requirements for PFAS outside of drinking water.
According to DEC, findings from the state's investigations will inform 2020 sampling plans and later actions the state could take for addressing PFAS contamination at large.
Likewise, according to DEC, treatment options are available for reducing or eliminating contaminants like PFAS from wastewater treatment facilities, but, per the department, "these treatment options create a concentrated waste residual that also must be disposed of or destroyed."
The state is currently contracting with an independent third party to explore treatment options for wastewater facilities in Vermont, according to DEC.
Both the St. Albans City plant and the Swanton plant ultimately drain into Lake Champlain.
PFAS is independent of the required improvements for mitigating phosphorus runoff currently required by the state of Vermont under federal orders.
While St. Albans is already well into a multi-million dollar retrofit and while Swanton explores possible improvements for capturing phosphorus, phosphorus loading from wastewater facilities as a whole are already well within phosphorus limits set under the Lake Champlain total maximum daily load agreement.