ST. ALBANS TOWN — The Town is charging property owners a stormwater utility fee for the first time this year in an effort to raise funds to fix its watersheds and address lake pollution.
New Town Stormwater Coordinator Emmalee Cherington said phosphorus mitigation plans are underway, restoration plans for Steven's Brook are complete and a goal to repair two impaired watersheds is in the works.
These town projects will help mitigate phosphorus and nutrient content in Lake Champlain, which builds up over time due to runoff from roads, farms and septic systems.
Nutrient mitigation
For years, waterways in Vermont have been sites for toxic cyanobacteria to bloom throughout the summer, resulting in health concerns for swimmers and animals and the closure of beaches.
The bacteria grow especially well in water that contains high amounts of phosphorus and nitrogen, according to the Vermont Department of Health, and have occurred often in St. Albans Bay and Missisquoi Bay in recent years.
The algal blooms can range in appearance from bright, mossy green to dark like an oil spill, and are harmful if touched or ingested by both humans and animals.
Skin contact with cyanobacteria can cause rashes and eye infections and ingesting water with cyanobacteria in it can cause organ damage, vomiting and muscle weakness, among other symptoms, according to the Center for Disease Control.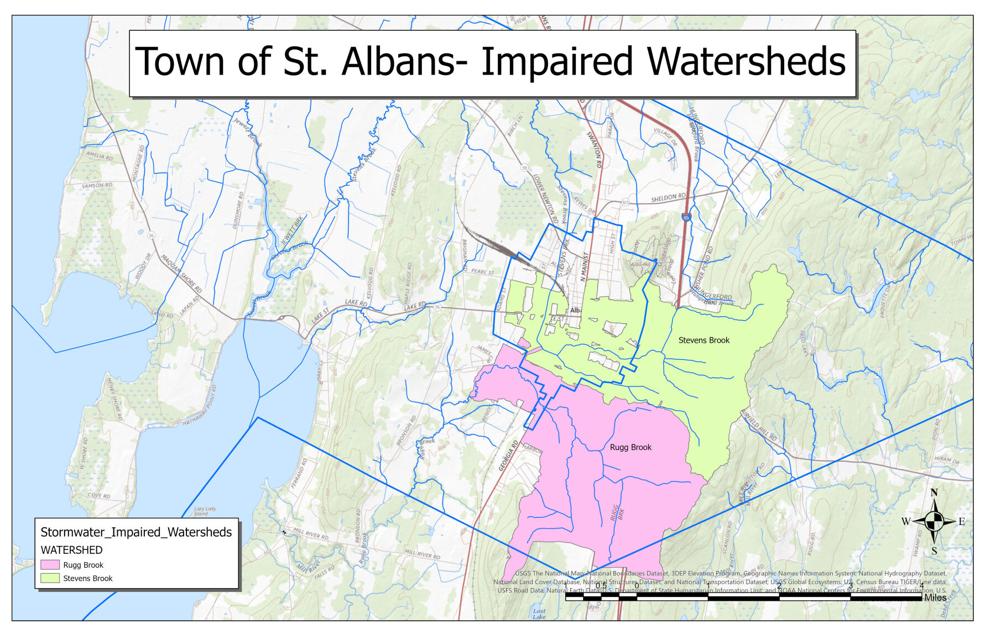 Ongoing efforts to reduce the amount of nitrogen and phosphorus around the St. Albans Bay include collaborative efforts between farmers and municipalities to plant crops and flora that enforce banks, improve infrastructure to reduce runoff, and prevent phosphorus from fertilizers used on the farm from entering waterways.
Now, Cherington's next steps are to fix the watersheds on the banks of Lake Champlain.
New stormwater utility
Town voters approved the formation of a stormwater utility in the fall of 2020 to adhere to local zoning laws and the federal Municipal Separate Storm Sewer System, or MS4. The MS4 permit encompasses other state-specific permits in regards to the two impaired watersheds in St. Albans Town: Rugg Brook and Steven's Brook.
Utility fees charged to residents will aid in Town plans for phosphorus control, stream repair and the implementation of gravel wetland to eventually cut down on the cyanobacteria blooms that frequent St. Albans Bay, closing the beaches to swimmers and pets during peak days of the season.
"Coming into this I have been working in South Burlington and Shelburne to start the utility for them, so they're on a very similar timeline in terms of the bills going out," Cherington said. "We started that process two years ago in Shelburne. So the fact that the Town has accomplished this much in the nine months … is pretty incredible."
If successful, the plans will bring 29 expired state permits in St. Albans Town back into compliance, with all work to be completed by 2036, Cherington said.
See 18 photos of the 2021 Saint Albans Area Watershed Association Meeting
Phosphorus control plan
At the annual Saint Albans Area Watershed Association meeting on Spt. 1, Cherington cited documents from the Environmental Protection Agency and said 73% of the local phosphorus loading is derived from agriculture, forested lands and streambank instability, while 27% comes from the St. Albans Waste Water Treatment plant. All of the farms are in good standing with the required agricultural practices enforced by the Vermont Department of Agriculture, Cherington said.
The phosphorus control plan for the Town was launched this July, and beginning Sept. 1, watershed consulting began examining the 48 new outfalls in St. Albans Town, taking samples of discharge to make sure there is only pure stormwater flowing through the pipes. Outfall pipes in town drain into Lake Champlain.
If discharge is found to be anything but pure stormwater, a mediation plan is developed.
"You could easily find someone that has a sewer connected to a pipe or a leech field connected to a pipe," Cherington said. "You could find if someone has graywater tied into the swamp water system … In South Burlington when I was there, we found one that the meat market of a major grocery store in the butcher section, the floor drain was coming into one of our outlets."