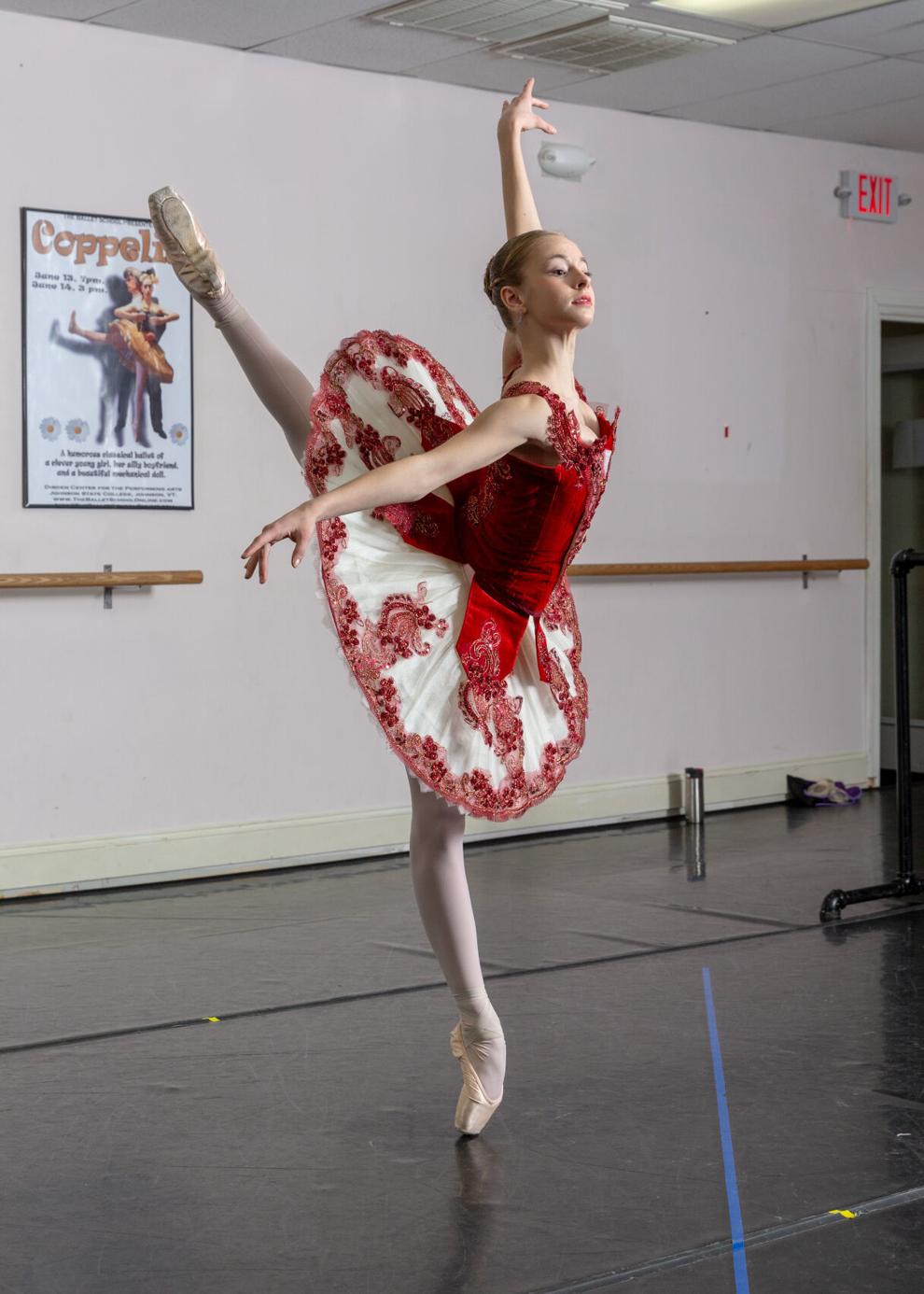 Anna Anderson is a busy 17 year old.
The St. Albans resident hopes to become a professional ballerina, and in a month, she plans to take a leap toward that dream by moving to New York City to train with the American Ballet Theatre's elite training program, the Jacqueline Kennedy Onassis School.
To get accepted into the school, she's been training five to six days per week at the Ballet School of Vermont. And to help pay for the training and travel, she has been working two part time jobs -- one as a licensed nursing assistant at St. Albans Health and Rehab and another at a creemee stand in Swanton.
She is also pursuing college classes at CCV and has doubled up on her course load at BFA St. Albans to complete her junior and senior year early after being homeschooled for most of her academic career. 
"Ballet is definitely intense, but I want to be busy," Anderson told the Messenger this week. "It's a big load, but making a schedule and being committed really helps." 
Mary Ellen Vickery, Anderson's ballet teacher, told the Messenger she noticed Anderson's talents at the age of 12 and encouraged her mother to let her teach her.
"I thought that she had a special gift for ballet." Vickery said,
Before that, Anderson joined the Ballet School of Vermont at 10 after watching her sister perform with her ballet school. She soon found herself jumping more class levels over the next two years and auditioned at various ballet intensives out of state.
She also began pointe in her second year, a year earlier than most students. Pointe involves supporting the dancer's entire body weight on her toes, and to prepare for that, Anderson would press her toes on a wooden block in her shoes.
Anderson also trains in other types of dance, including modern and jazz, to improve her overall dance abilities.
Ballet requires strength and flexibility, as well as discipline, Vickery said.
"The class structures are 150-250 years old, and it's about doing it methodically over and over again," Vickery said. "It's also about listening because not all students listen and apply."
Overcoming an injury
When Anderson was maturing as a young teenager, she also had flexible joints that would pop in and out. This led to an injury when she was 12 years old.
During her school's end-of-year performance in June, her knee popped out, which required surgery and a four-month recovery period. 
She lost strength and had to work hard to get back to where she had started.
"It was up in the air whether I would be able to dance again, which was devastating because that was around the time I knew I wanted to pursue it as a career." Anderson said. "It made me realize how precious this art is, how much I really wanted it because I almost lost it." 
Raising money
While her family has been supportive, the possibility of training in New York has caused financial worry for them. Neither the school or the housing program in New York offer financial aid.
Anderson and her family and friends are trying to fundraise for the trip. 
"We're trying to get some corporate sponsors," Vickery said. "There's only been a few Vermont residents that have gone on to become professional dancers."
Vickery lamented the difficulty elite dancers have getting recognized for their skills.
"If this was a sport or athletic event, people would know her name, but it's an art, which is not as popular," she said.