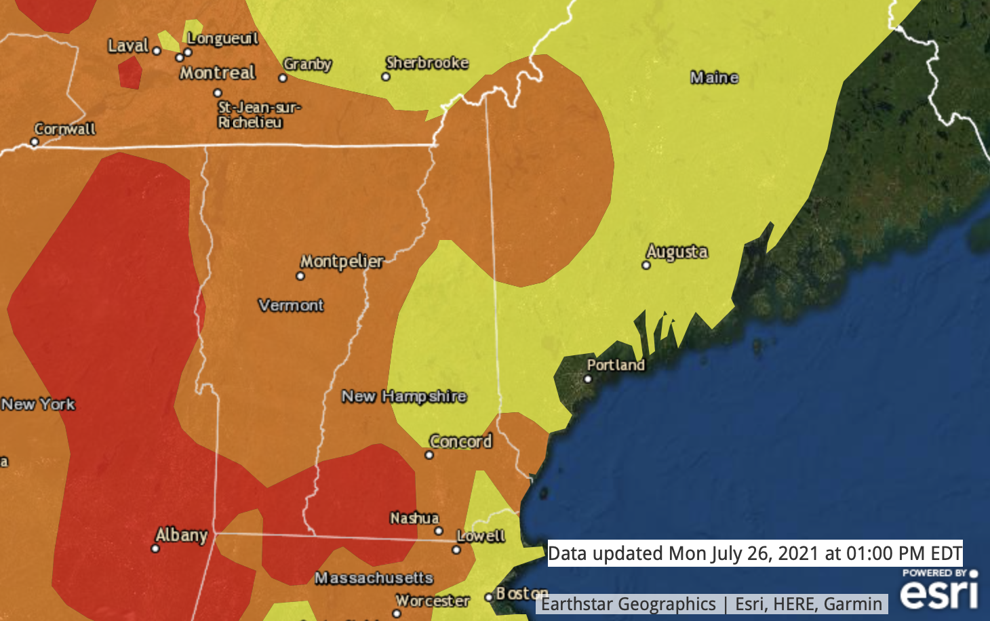 When Vermont's air quality dipped last Tuesday due to a plume of wildfire smoke coming from Midwest Canada and the Western U.S., analysts thought the quality would improve after a series of thunderstorms in the following days. 
But as of yesterday, when the storms that had improved Vermont's air quality for a short time ended, the smoke returned, bringing Vermont's air quality back down to being "unhealthy for sensitive groups," according to the U.S. Air Quality Index.
The Air Quality and Climate Division in the Department of Environmental Conservation issued an air quality alert on July 26 and then again today July 27, said Bennet Leon, an analyst from the division.
"Most healthy people won't really notice any difference in their breathing or respiratory symptoms," Leon said. "Vulnerable populations like children or the elderly or people with asthma, people with heart or lung disease, they're more likely to experience some respiratory symptoms."
Leon said this is largely unprecedented for Vermont.
The quality is the result of a perfect storm: the severity of the fires out west combined with the meteorological systems that have brought the smoke to Vermont.
The matter that is in the Vermont air is called fine particulate matter, meaning it is less than 2.5 microns in size, Leon said. To put that in perspective, a fruit-fly's eye is about 70 microns across.
"That's a particle that's so small that you can't even see it except for when you're looking out across longer spaces like out to the horizon," Leon said.
The particles are really effective at scattering and absorbing light which is why the mountains may look like hazy outlines.
But for some the size of the particles, which creates beautiful and vibrant sunsets, is also what makes them so dangerous. The size gives the particles the opportunity to travel deeper into the lungs, Leon said.
Leon said that people who are at risk, like those who have asthma, should have an action plan from their doctor to respond if the air quality affects their breathing. They should have their medication, like an inhaler, on hand if they own it.
The division has advised that although athletic practices can still happen, coaches and trainers should think about how to make them lower intensity.