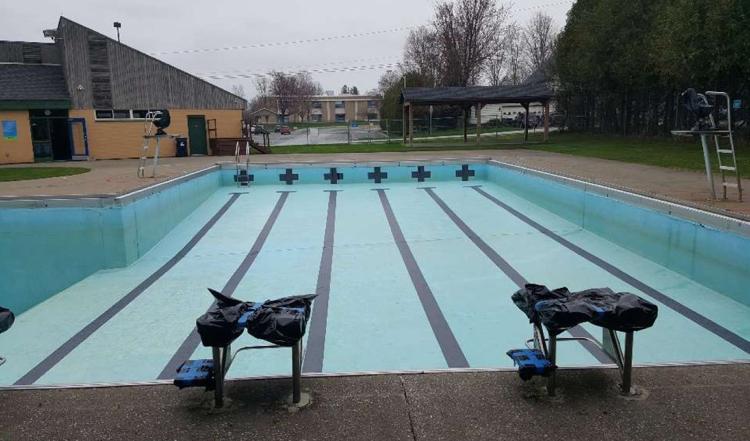 ST. ALBANS CITY — While city officials calculate concrete operation figures regarding the proposed Hard'ack community pool, an engineering firm's report on the condition of the current community pool paints a dire picture.
How dire? Consider this: The proposed cost of the community pool, a new sidewalk to Hard'ack and the entrance changes to the recreation area is a total of $5.5 million, which St. Albans City and Town would evenly split at $2.75 million each. That figure includes an inflatable dome rendering the pool open for public use year-round, allowing for expanded programming and public use hours while also providing a pool 20,000 gallons larger, with a zero entry area offering a gradual slope for kids.
Conversely, engineering firm Weston & Sampson estimated just bringing the existing pool up to code — which is only seasonally open, with limited hours due in part to space — would cost $2,037,731.
The firm emphasized that would just "modernize" the pool. The figure doesn't account for programming needs or additional capacity.
It might buy the pool another 15 years, but the firm concluded "it would not bring a long-term solution" for the pool, which is 40 years old.
For perspective, the pool manufacturer estimated its lifespan at 25 years.
As city recreation director Kelly Viens said city staff starts every year uncertain the pool will even open. They've been "babying" it for years, Viens said, repairing crumbling walls or, as was the case last spring, fighting potentially catastrophic issues like a failed hydrostatic pump, which sent groundwater rushing into the pool.
When city staff looked into a replacement pump and valve — both failed — they learned neither is manufactured anymore.
"We thought, 'This is it,'" Viens said. "'This is the thing that ends the pool.'"
She said the city's public works department devised a one-year fix that they hope allows the pool to open again this year.
And that makes a difference to the seasonal members, those taking swim lessons, those coming down for summer camps or racing with the swim team.
Weston & Sampson estimated more than 2,600 people used the pool during the 61 days the pool was open in 2018. That's about 426 people a day, and the firm noted pool staff often had to turn people away during peak hours.
The St. Albans Sharks swim team grew by 30 kids that year to a total of 101.
People bought 212 pool memberships that year, and spent $10,000 on summer swim lesson fees within 24 hours of the lesson sign-up going live.
The pool's total revenues in 2018 were $105,995, which was used to offset its operating cost of $118,218.
Daily admission costs $5 for residents and $8 for non-residents during the afternoon hours, $3 for residents and $5 for non-residents in the evening.
"We try to make it as affordable as possible," Viens said. And she said that's the aim for the new pool as well, a target Viens said she thinks they are likely to hit.
"I don't see huge increases," she said.
Neither does City Manager Dominic Cloud. Cloud stressed that the proposed pool is only conceptually different from the existing pool in that it would be open year-round, allowing for more fitness classes and lessons, after school programs, birthday parties and open swim hours, expanded programming for the younger and older swimmers.
He and Viens said they expect to have operating cost estimates for the proposed pool in these next couple weeks, well ahead of the Town Meeting Day on which city and town voters will decide whether to move forward with the proposal.
But Cloud said he knows one thing for sure: "It's not a moneymaker, it's a community amenity," albeit one the city expects could generate enough revenue to offset its operating costs.
There are already opportunities to save even on those relatively cheap admission prices. RiseVT, for example, distributes pool passes to libraries around the county, offering a "Free Swim Saturday."
The pool has seen upgrades since its construction in 1981: replaced filters, pumps and chemical feed systems, recoating, and the like.
The problem is not poor maintenance, according to the firm's report, but the sheer age of the structure. And its bathhouse was built at the same time, meaning it's in similarly poor shape. Weston & Sampson estimated the cost to restore the bathhouse would be roughly equal that of building a new structure.
The firm's pool study includes an explicit breakdown of the existing facility's non-compliance with today's codes.
It doesn't meet the maximum system turnover rate of six hours — it's closer to 7.1 hours, resulting in poor water quality.
It needs another Americans with Disabilities Act entry, another lift, transfer station or ADA-accessible stairs.
It doesn't have a backflow prevention device.
Then there are a plethora of cosmetic issues, like an absence of "no diving" markers in shallow water, water too shallow for the existing competition blocks, no sign indicating where to find emergency 911 phones.
The pool's operators have to regularly refill the pool due to significant water loss throughout the open season, which Weston & Sampson surmised could be due to a pipe sheer and joint failure due to the sheer age of the facility.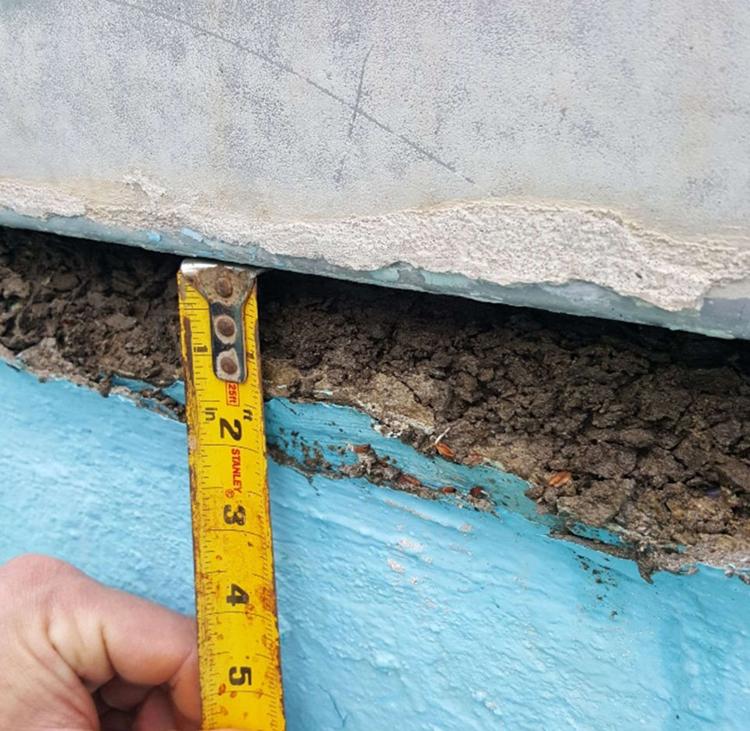 The pool's maintenance staff replaces the mortar in the pool's mortar bed, between the gutter and the top of the concrete wall, every year. It's spalling, breaking into pieces.
The pool's interior surface is cracked, despite what the engineering firm called "a tremendous effort" on the part of city staff.
Given the condition of the pool, it's hardly surprising that officials didn't just decide to replace it yesterday. Cloud and Viens said discussions with town and municipal officials about replacing the pool have been ongoing for four to five years. Weston & Sampson completed its report, for example, in March 2019.
Cloud said the only reason it's taken this long to focus on the pool is the prioritization of other major community projects, like moving the police department, attending to the wastewater plant, completing streetscape and sidewalk work, all priorities the city council identified.
Another Town Meeting Day ballot could positively affect pool funding for city voters: a proposed local option tax, funding capital improvements, including tackling debt service, while alleviating the property tax burden.
In fact, the city government's current LOT proposal dedicates seven percent of annual LOT revenue to lowering programming costs — at the pool, for example — for lower-income or family swimmers.
"That's the strength of a pool," Cloud said. "It works for everybody."