ST. ALBANS CITY – While organizers may have seen a lower turnout than normal this year, last weekend's Empty Bowls fundraiser brought a record amount in donations for Martha's Community Kitchen – Franklin County's only soup kitchen.
According to Brother Bob Begley, o.f.s., this year's iteration of the Empty Bowls fundraiser raised more than $5,000 for Martha's Community Kitchen.
"It was a great success," Begley, the Guardian of Martha's Community Kitchen, said in an interview Thursday. "It was really positive – very, very positive."
Empty Bowls is a fundraising event organized annually by communities around the country, hosted to support local groups dedicated to addressing issues around hunger.
Typically, attendees either buy a bowl or given a bowl as a condition of the event's ticket and are then served a meal made by local volunteers. Attendees then keep the emptied bowl as a souvenir and a symbolic reminder of those who are struggling with hunger.
In the case of the Empty Bowls event organized for Martha's Community Kitchen, the bowls came courtesy of local artisans and students in area schools.
As was typically the case, the 14th Star Brewing Company hosted this year's Empty Bowl fundraiser in its Room space. "They've always been good to us," Begley said of the brewery. "Always."
It was actually a local artisan, potter and Martha's Community Kitchen volunteer Donna Fontana-Smith, who brought Empty Bowls to St. Albans five years ago. The inspiration, she told the Messenger, came from the Empty Bowls fundraisers she used to participate in as a potter in Oregon.
"It just seems like the natural thing for me as a potter to do," Fontana-Smith said. "Bowls are made to feed people."
Martha's Community Kitchen, she said, was an obvious organization to partner with.
"Its whole purpose is to make people aware that hunger exists and there are ways we can help people who are hungry," Fontana-Smith said. "Martha's just seemed like the best avenue."
Like Begley, Fontana-Smith said she felt positive about this year's results, even if turnout fell short of previous years in light of calls for "social distancing" and other fears related to the current outbreak of a novel coronavirus.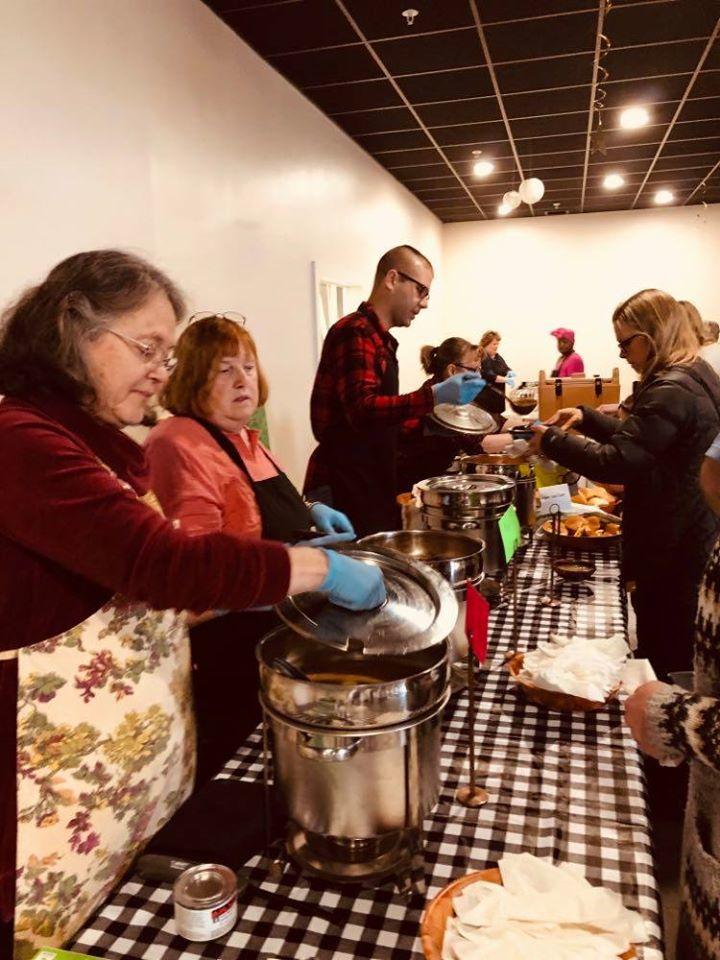 "It was a very happy crowd of people who came this year," Fontana-Smith said. "Those that came really wanted to be there, and those who didn't feel comfortable coming know they have a bowl waiting for them… I think the whole community enjoys the event."
There are still bowls leftover from last weekend's event available for donations at Martha's Community Kitchen.
Fontana-Smith said there were also hopes to use some of those remaining bowls for a follow-up event – she suggested an "ice cream social" – once the ongoing coronavirus pandemic subsides.
In the meantime, organizers have already started planning for next year's Empty Bowls event.
"We're looking forward to it," Fontana-Smith said. "We've got the date set already."
Hunger remains a challenge in Northwest Vermont.
According to a 2017 report from the nonprofit organization Feeding America, more than 10 percent of Franklin County's population and 14 percent of the county's children come from households that could qualify as food insecure, meaning they lacked consistent access to nutritious food.
More than half of the households within Franklin County met the state's income guidelines for the federal Supplemental Nutrition Assistance Program, meaning household income fell within 185 percent of the federal poverty level.
In neighboring Grand Isle County, just below 10 percent of the population could be considered food insecure, according to Feeding America.
Nearly 15 percent of children in Grand Isle County lived in food insecure households, according to the same Feeding America report.