ST. ALBANS — Pam Cross, the retired registered nurse who organized a community effort to make masks early in the COVID-19 pandemic, has been named the recipient of Northwestern Medical Center's 2020 Community Service Award.
The award is bestowed by the Northwestern Medical Center (NMC) Board of Directors.
The nomination given to the board for Cross also cited her involvement in other civic organizations and charitable events such as the Franklin County Business and Professional Women and the Festival of Trees.
"Pam organized and mobilized an impressive community effort to make cloth face coverings for NMC and many other community organizations, businesses and individuals," the nomination read. "Her coordination and leadership have been simply amazing. The group she leads has created more than 26,000 masks. Not only has she and her team provided a valuable free resource to anyone who needs them, she has given community members an active way to contribute, to make a difference, and to come together in a time of isolation. Early in the local peak of COVID-19, as NMC was in the midst of assessing PPE supplies and making plans for staff to wear masks, Pam Cross contacted NMC about making cloth face masks for NMC and other community organizations. What was amazing about Pam's outreach was that her background as a former NMC nurse, her community connections and her commitment to this community made her the perfect person to marshal a huge effort. Since then she has led the group of 450 volunteers and facilitated their work with incredible flexibility and inventiveness. Pam's efforts are a wonderful example of community service in a time of deep community need."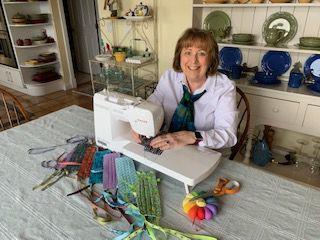 "This means so much to me, thank you, and to give credit, my service at NMC gave me the skills to pull together a project like this," said Cross in accepting the award.
She then shifted attention away from herself to the members of the large volunteer group she led, thanking and praising them for coming out and volunteering to sew masks and explaining that those who could not sew helped with washing and ironing the fabric and how their efforts "just mushroomed" in response to community need. She noted that one of the quilts that was made with left over face covering fabric has been accepted into the quilt museum at Michigan State University as a tribute to the community-based effort.
"For myself personally, this is one of the most rewarding efforts I've ever been involved in," Cross said during an interview with the Messenger in May. "With the amount of dedication, selflessness and willingness to help each other, these women that are involved with this project – it's almost hard to describe."
The masks were donated to NMC, other area health organizations, long-term care facilities, municipalities and businesses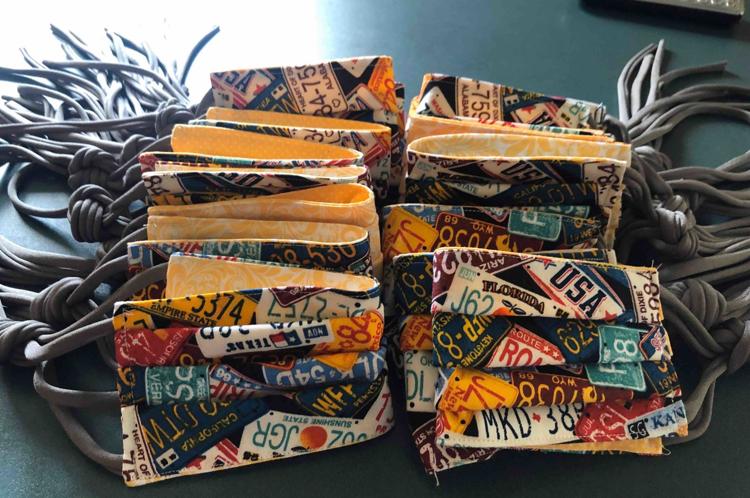 The NMC Community Service Award was established by the NMC Board of Directors in 2013 to recognize an individual or organization residing in Franklin or Grand Isle Counties who exhibits enthusiasm, integrity, and perseverance beyond the ordinary to help fellow citizens and the community through selfless giving to improve the overall health of the community. Nominations are invited from NMC's Board, staff, medical staff, volunteers, and Incorporators. The NMC Board makes the selection from the nominations.
The NMC Community Service Award is presented each year at a meeting of the NMC Incorporators. Recipients are presented with a crystal maple leaf commemorative award and have their name added to a plaque which hangs in the NMC Conference Center. Prior recipients of the NMC Community Services Award are: Dr. Thomas Howrigan, Marcia Perry, Helene Biggie, Dr. Frank and Judy Zsoldos, Retired Rear Admiral Warren and Barbara Hamm, Emerson Lynn, and Kathleen Keenan, RN.