ST. ALBANS — Perhaps no one in Franklin County gives Santa a bigger assist every December than the crew of volunteers who run Operation Happiness.
Now in its 29th year, Operation Happiness supplies food, toys, and winter clothing to a thousand families in Franklin and Grand Isle counties each December.
It's a massive effort, including food, coat and toy drives, as well as unseen tasks, like collecting hundreds of banana boxes from local stores to pack with food.
Sally Sargent has been co-chairing Operation Happiness for 19 years, ever since retired Rear Admiral Warren Hamm, a founder of Operation Happiness, handed it over to her and Pam Nicholson.
"He saw that everybody was doing these little things and was like why don't we do something big together," said Sargent.
Marilyn Billings became involved a couple of years later.
Billings and Sargent have co-chaired the event for nearly 20 years. In that time, the number of families served has doubled.
Operation Happiness has also spread to satellite towns, which do some of their own gathering of food and toys, and pack and distribute the boxes themselves.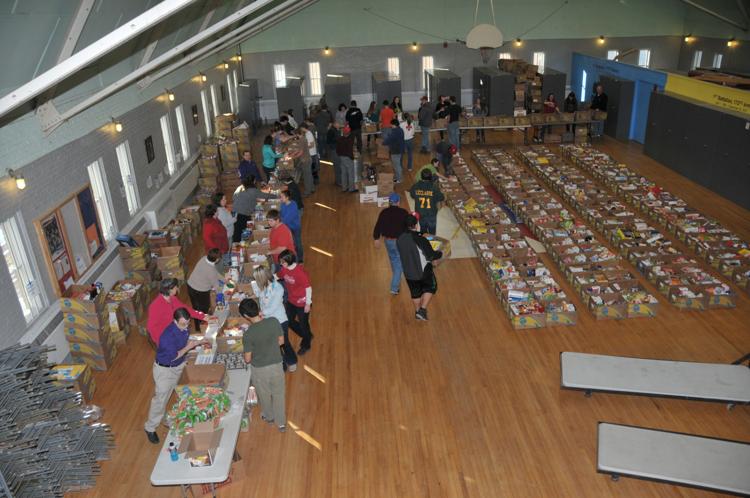 "We used to pack 650 boxes in the armory and then we found vans and trucks and took them to the other towns," said Sargent.
What was needed was to get the other towns involved in helping their neighbors, she said. Kathy Lavoie and Terri O'Shea took over distribution in Swanton. Maurice Gauthier took charge of Alburgh, and Billings found some volunteers in Richford.
Operation Happiness is always seeking volunteers, people who are organized, good with detail and motivated. And also have a healthy back.
"We are looking for a number of people who are detail-oriented to take on small parts," said Billings. It is a six week commitment. "With that commitment, you get so much more back," Billings added.
Billings herself became involved when her daughter was part of a church youth group food drive to benefit Operation Happiness. "I said, 'I'll help' and they said 'great, you can be co-chair.'"
The youth-led food drives continue, with one scheduled for Dec. 7. Schools also collect food for Operation Happiness, as do volunteers in other towns.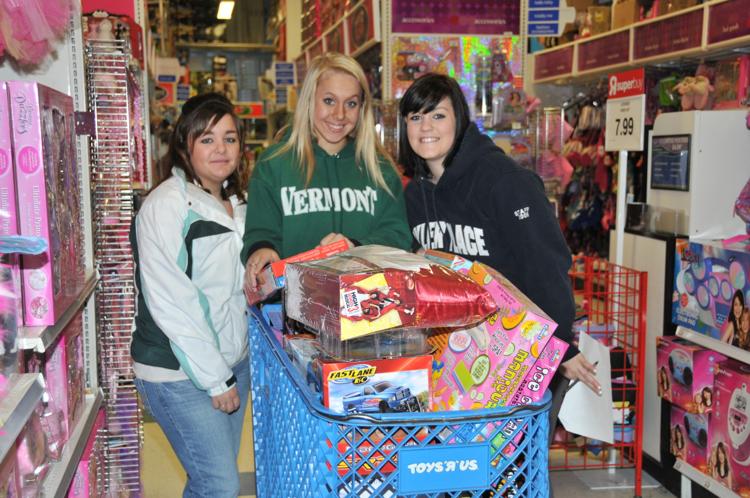 Students at Missisquoi Valley Union collect coats and winter gear, and each year a group of them is given funds to buy gifts for teens for distribution through Operation Happiness. The coat and other clothing donations have grown so extensive that this year they will have their own location at the Bellows Free Academy cafeteria.
Families register ahead of time, telling organizers how many people are in their family and how many children they have. When families arrive on distribution day, they receive a box of food, which, depending on location, includes either a turkey, ham or a voucher to purchase meat. Parents or guardians are then able to select a toy for each of their children, a family game from the game table, and a book for their child. Coats, hats and mittens are also available for those who need them.
The toys are gathered in red barrels around town. Donations, including an annual contribution from the John LeClair Foundation, are used to buy gifts for middle and high school students. Fewer toys come in for that age group. Those looking for guidance on what to buy can find it at the St. Albans Free Library where stockings hung on the fireplace list the age of a child and items which might be appropriate.
Monetary donations are also used to purchase food so that every family at least receives some form of meat, stuffing, peanut butter and jelly, macaroni, tuna, brownie mix, margarine, pasta sauce and bread. Hannaford donates carrots, onions and potatoes. The food drives are used to supplement those staples.
Asked what has kept them engaged with Operation Happiness for nearly 20 years, Billings said, "What the real meaning of Christmas is. I would feel weird just celebrating and not giving back. You see so many people struggling and if we can give back in a small way."
"People are truly, truly grateful," she added. "We hear so many heartbreaking stories."
"We have such an amazing community. Each time we ask for something, people are more than willing to do what we ask of them," said Billings. "We are so grateful for the number of volunteers that have stepped forward and keep coming back."
Sargent said, "When you're blessed in your live and you're able to give time and donations, why shouldn't you?"
"What would Christmas be like if Operation Happiness didn't happen?" she asked. "Howe would that effect families? Would they still have a gift for their kids under the tree?"
While local food shelves would still give out food, "what would it look like and would it be enough?" Sargent asked.
There are families "who are just grateful to have toy under the tree, one toy, that came from us," she added. "Those are the ones that put a smile on your face."
Billings added that it's not just families with children. Many elderly people also benefit from Operation Happiness. At which point Sargent added, "They often have grandchildren living with them."
The sheer scope of Operation Happiness requires a network of volunteers, and Sargent and Billings mentioned many of them over the course of their conversation with the Messenger, but there is always room for more. Those interested in helping to spread some holiday cheer, can sign up to volunteer at the Operation Happiness Facebook page.