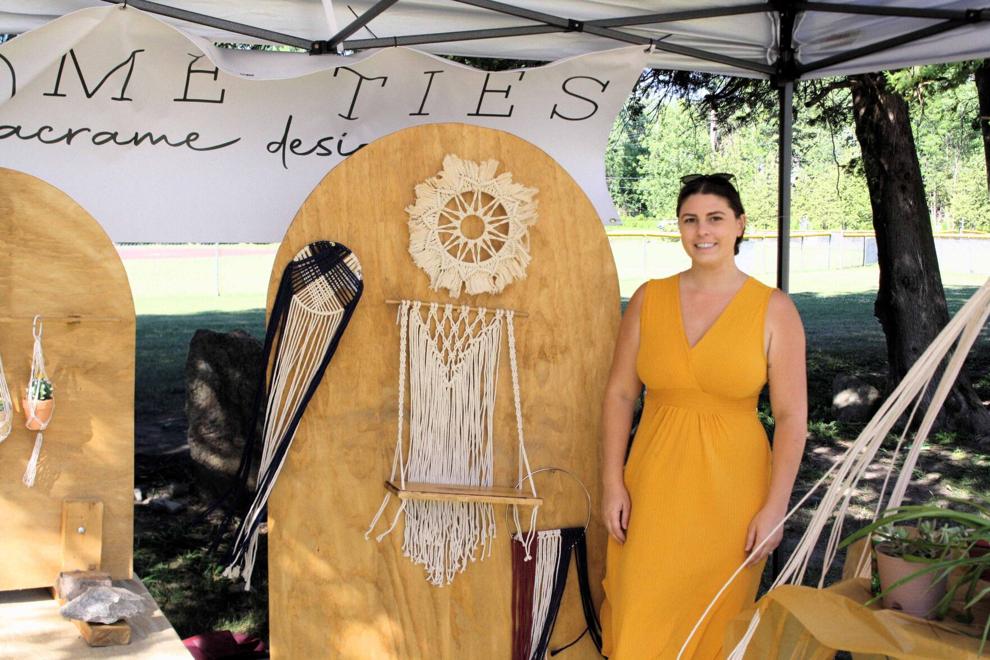 Erin Willis, owner and operator of Home Ties, found her passion for macramé when she was planning her DIY wedding.
With long strings strewn across her living room floor, Willis began practicing her art.
"It was a bunch of trial and error," she said. "But I did end up making a macramé backdrop and cake stand for my wedding which now I rent out."
Macramé is a form of textile done by using knotting as its primary technique, rather than sewing or weaving.
Willis and her husband moved to Vermont during the pandemic across the country from California to be closer to their family. All of the sudden jobless and in a place where she really doesn't know anybody, Willis found her passion for macramé again and thought she should start selling her work.
Right now, Willis works at the Drake Bar and Kitchen on South Main Street as a manager there. 
Home Ties and macramé for now remain a side job, selling at places like the Saint Albans Bay Farmers Market every Thursday or taking custom orders by email.
The creative process of making macramé for Willis starts with a vision.
"If I have the basic structural pattern, I can then think about the details and then the layering," she said.
Willis makes macramé pieces for pure decoration, but also pot holders to hang plants in.
She said the thing she's learned most from macramé is patience, learning how to deal when something doesn't go right, going back and untying some knots after she's spent so much time tying them.
"My husband always says, 'Only you would notice that,' but I'm like, I have to put out the work that I'm confident in," she said.
Willis said she hopes to be an inspiration to people. She said she would often go to markets and think that she should be a vendor someday. Now she's finally doing it.
"I hope to be inspiring as a creator," Willis said. "You just have to do it. Just pull the trigger."