ST. ALBANS CITY — Thirty new apartments will be available in downtown St. Albans this fall.
Champlain Housing Trust (CHT), in partnership with St. Albans City and Snyder Homes, is constructing a new building on the corner of Maiden Lane and Congress Street.
"It's really moving along very well," said Amy Demetrowitz, director of real estate development for CHT.
Snyder Homes is doing the construction. CHT will then purchase the completed building at the end of October with an eye to having tenants arriving in November, explained Demetrowitz.
CHT is a non-profit specializing in affordable housing. Funding for the project has come from a number of sources including the Vermont Housing Conservation Board and the Vermont Community Development Program, as well as tax credits for low income housing.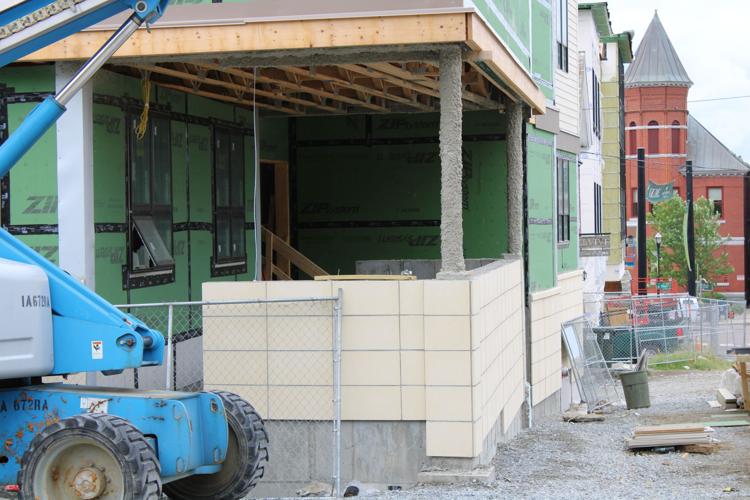 Construction was delayed by the COVID-19 epidemic, but not severely. The roof was being finished as the pandemic hit, and that work was allowed to finish, Demetrowitz explained. Work was shut down completely for about three weeks then small crews of two people, then five people, were allowed to resume work.
"They were able to make up that time pretty quickly," Demetrowitz said.
Exterior siding is going up quickly and sheetrock installation has begun on the inside.
The building will have 17 one-bedroom apartments and 13 two-bedroom apartments. "We expect it's going to fill up very quickly," Demetrowitz said. "We still have more applications than we have apartments."
CHT owns other buildings in the St. Albans area including the former Leader Evaporator plant and the former Fairfield Street School in the city, both of which were turned into low-income housing.
The Maiden Lane building is part of a larger project that also includes a 25,000 square-foot commercial building and a 33-unit market rate apartment building. Both are being built by Grant Butterfield.
To make room for the two new apartment buildings, the city purchased an existing apartment building which ran along much of the western side of Maiden Lane. There were 23 apartments in that building. They were rented at affordable rates, but the building was privately owned.
It was also in need of repair. CHT did consider renovating that building, but decided a new building was a better option, said Demetrowitz, adding, "the great news is we're going to get so many more units."
"It's great to bring that kind of density to downtown St. Albans," she said.
CHT found new homes for the tenants in the old building before it was removed. "We were able to find affordable apartments for everybody," Demetrowitz said. In addition, tenants were given financial assistance to help with relocation costs and any rent increases.
Those tenants will be given preference for renting in the new building, but Demetrowitz said most appear to be content with their new homes.
The city building isn't the only project CHT is working on in the county. The Swanton School building which currently has 16 senior apartments will be adding six more. A former clinic location on the bottom floor is being converted to apartments.
Demetrowitz said CHT hopes to begin construction at that site in September and have the apartments ready early next year. Because of assistance from USDA Rural Development some rental subsidies will be available. Demetrowitz called it a "beautiful, historic building."