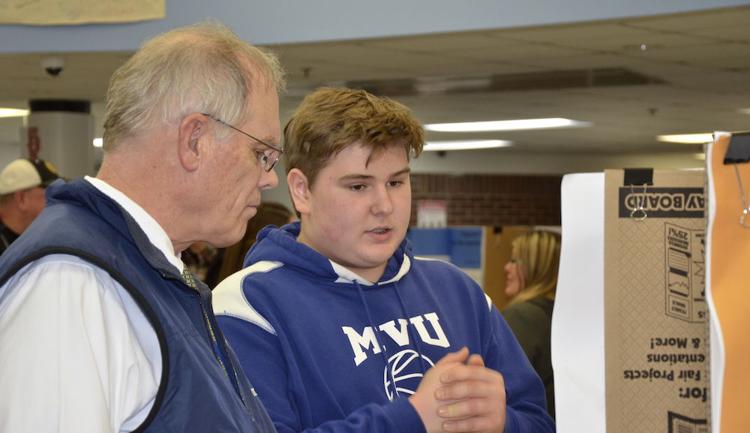 SWANTON – The common area in the Missisquoi Valley Union (MVU) High School will sound a little more like a science lab Thursday as more than 100 students gather for this year's MVU STEM Fair.
For several years now, MVU has hosted an annual STEM – science, technology, engineering and mathematics – fair celebrating research projects conducted by students at the Swanton-based high school.
This year, according to the school's technology integration specialist and the fair's coordinator Richard Ballard, more than 130 students were expected to present, a number not quite as high as last year's 150 but far more than the 40 or so who presented at the school's first show.
"We used to barely contain it in our library," the chair of the school's science department, James Daly, said when he and Ballard met with the Messenger Tuesday. "Now it's barely contained in the common area."
According to the two educators, the fair provides a chance for students to show off their independent projects pursued under the school's Next Generation Science Standards curricula – a state-enforced reform to science education placing a greater emphasis on student skills.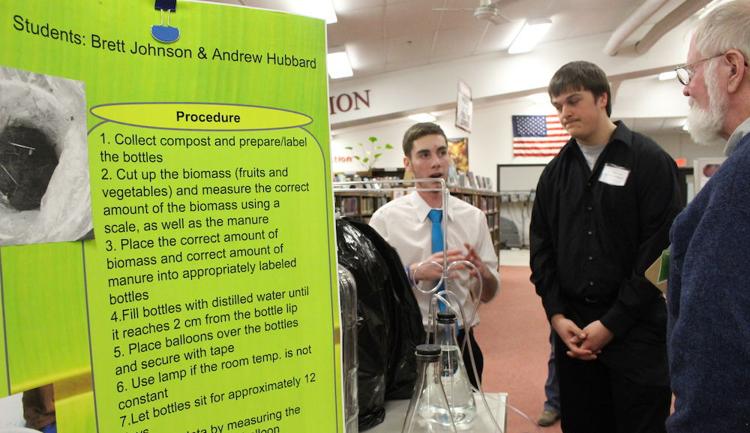 "We're hoping the kids will learn how to do a scientific project and follow through all of the scientific method," Ballard said. "The students get to choose their own topics and they get to research it and then we have this one big night."
"The independent research project that students do addresses nearly all of the practices of science," Daly said. "They ask a question, they plan and investigate a question over the long term, they have to analyze and represent their data."
While participation in the show itself is entirely voluntary, but Ballard and Daly agreed the chance for students to display work was an important opportunity.
"It gets the kids talking to the public, and I think that's a big skill students need to have," Ballard said. "I always tell kids if you don't get anything else out of this, your ability to share with adults and people walking by is going to be a huge skill in your life."
"From feedback I get from students who participated in this event, it becomes a talking point for their future careers or school," Daly said. "Every student has a grade... but not every student did that particular project."
The fair itself runs for only two hours Thursday night. During that time, students are interviewed about their projects by members of MVU's staff and a team of about two dozen volunteer judges, most of who come from professional backgrounds within the STEM fields.
Scores from those judges are compiled and winners at both the middle school and high school level are awarded cash prizes courtesy of donations and the local STEM Challenge Initiative, with one high-scoring high school senior typically recommended for a STEM-related scholarship.
Some students might even find themselves recommended for larger science fairs outside of Swanton – independent research projects from MVU students have been known to net a few coveted awards from past state STEM fairs.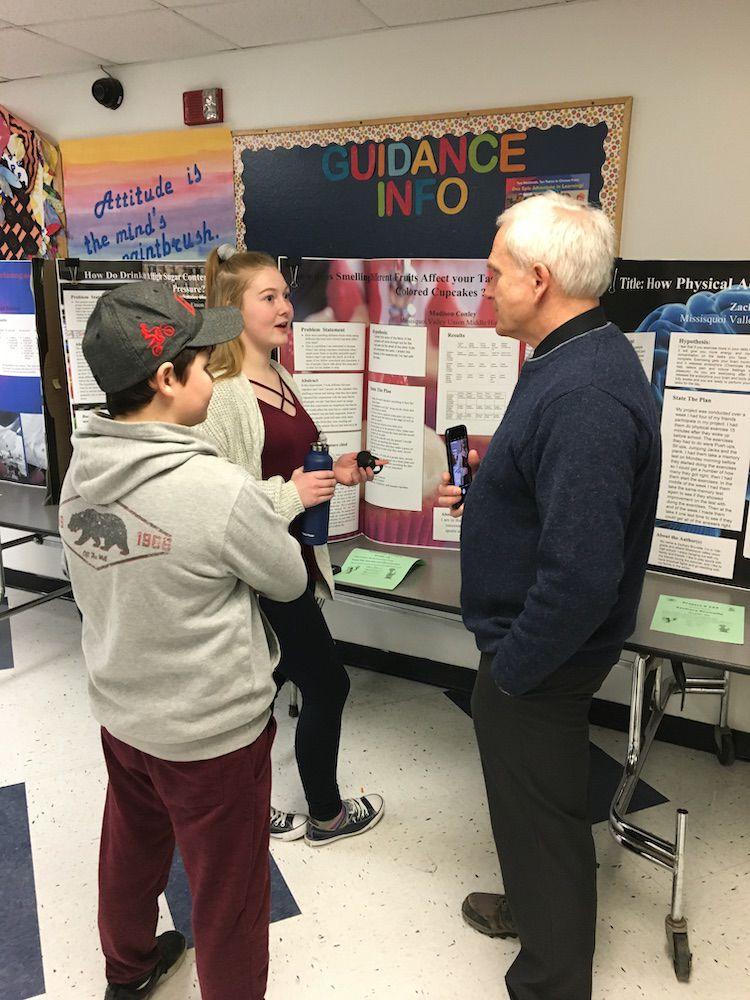 Students have taken the loosely defined STEM field and applied it in all manner of projects, as well, according to Ballard and Daly.
There have been projects gauging brainwaves and responses to art therapy and music, projects tracking the effects of a hockey stick's curvature on a puck, and projects ranging from robots to bacteria and anything in between.
Highlights pinned to an MVU wall from previous fairs explored topics ranging from biodegradable filters to the effects of sugar on fruit flies, and, according to Ballard, at least one current high schooler planned on bringing a study done during a summer session with a University of Vermont professor to Thursday's fair.
"I'm interested in seeing the variety of topics picked," Ballard said. "You can see a kid really take something and run with it."
"Any kind of reasonable, testable project can be tested," Daly said.
Sometimes students' results are that there was no result or that a project did not work, which was just as important as a proven hypothesis, according to Ballard. "It broke and that's okay – you learned something," Ballard, himself formerly a longtime science teacher, said. "That's science."
Students have also used their projects presented in the fair as a springboard of sorts. According to Daly, those projects and the ensuing fair have "been a launching point for a lot of student research careers."
Students' projects are printed onto bona fide research posters courtesy of a printer purchased by the school through a grant, meaning students' projects look like their college-level and professional counterparts when posted in MVU's common area.
According to these two MVU educators, however, the most important part of the fair might just be the excitement from the students themselves as they present the projects they themselves steered from day one.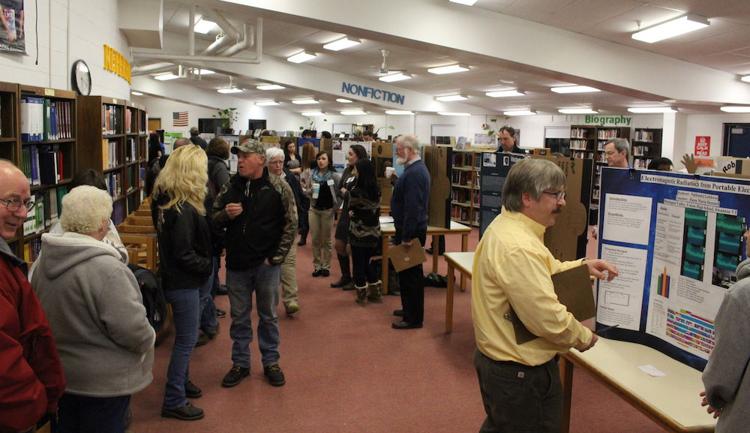 "These kids really know what they did... so when they're asked about it, they're excited about it," Ballard said. "Kids really get a lot out of it."
For those interested in attending this year's STEM fair, doors at MVU open to the public at 5 p.m. and run until 7 p.m. that night.