SWANTON VILLAGE – Earlier this month, a raised fist representing the Black Lives Matter movement was painted on a communal art wall near Swanton's village offices – and ignited a conversation about race and art in the quiet Franklin County town.
Within the following weeks, new fists would be painted on the wall and replaced within a matter of days as others sought to cover those works with something they viewed as more patriotic, and message chains with hundreds of comments would appear on Facebook.
Some heralded the clenched fists, now a widespread symbol amid the protests against racism and police brutality that have swept through the country, as a powerful display of solidarity, while others decried it as racist due to its association with the controversial Black Panther Party.
Others have even called for the town to get rid of the art walls, a project of the Swanton Arts Council that has rarely courted controversy in the four years they've dotted Swanton's street corners.
Some, however, have started talking about diversity and race in Swanton, and while the black fists have stirred up controversy, it was this conversation the artists said they hoped to start when they added the raised fists to those walls.
"I really wanted to start the conversation about racism and our community," Samantha Freeman, one of the artists who helped paint the initial black fist on the wall, said. "I know that it's apparent that it needed to happen, especially during these times."
Conversations around racism in the U.S. have taken center stage in recent weeks with protests sweeping across all 50 states of the U.S. in response to the killing of George Floyd by officers from the Minneapolis Police Department and larger issues related to policing and racism.
While some protests have become violent amid riots and clashes with police, most have been peaceful and had even spread to historically quiet corners of the U.S. – including St. Albans.
Judy Paxman, the executive director of the Swanton Arts Council, said she was glad local artists were able to inspire a conversation peacefully through their use of the murals. "I personally think it's wonderful people are using art as a nonviolent way to start a conversation," Paxman said.
According to Paxman, the art walls' four-year history has rarely stirred the kind of controversy they had now, though, with calls from some to tear down the walls due to the recent controversy and calls from others to somehow police the content on the walls.
Those conversations have even made their way to the village government, where, during a recent board of trustees meeting, Swanton Village officials debated whether stricter guidelines should be in place for an art board set on the village offices' front lawn or whether it should be removed altogether.
According to a recording of the trustees' June 1 meeting and minutes from that meeting, village officials stressed that the art board's proximity to the village offices made it appear as though the village endorsed the message on the board.
Others worried about whether the raised fist would be interpreted as offensive or what the village would do if a more offensive work had found its way onto the board, suggesting officials should approve whatever would be painted on the board before allowing any art to go up.
"in my opinion… that's supposed to be an art board, it's not supposed to be a 'make-a-statement' board," village president Neal Speer said, according to a recording of the meeting. "It's right on the village property."
In an interview with the Messenger, Paxman appeared uncomfortable about an approval process for the artworks on Swanton's art walls, which she said had provided a vehicle for some people in Swanton to begin a conversation that couldn't have happened otherwise.
"Not everybody has the best way to start a conversation," Paxman said.
And that conversation was important, according to the artists behind the series of Black Lives Matter murals splashed over the art wall.
Chloe Viner Collins, one of several artists who joined the fray with a mural featuring the clenched fist with a bouquet of flowers, said she'd seen the disparities people have been protesting through her work in Vermont's criminal justice system.
"I feel like it is an important time to speak up," she said. "I work with the courts, so I'm able to see the disparities that exist in arrests and in sentencing in our system, and I believe systematic racism is a real issue that needs to be addressed."
"There are very few things in my life I feel 100 percent in the right on, and I believe anti-racism is one of them," Viner Collins added during her interview with the Messenger.
Freeman shared that urgency.
"I do have a lot of black friends and bad things have happened to them, and once I heard that, I thought I really wanted to bring it to light," Freeman said. "I personally can't understand the struggles black people face, but I can show my support and help to empower them and make their voices heard."
Both said they'd received some backlash for their murals, with messages accosting them for what some have called an offensive symbol due to its history with the Black Panther Party, a revolutionary organization from the 1960s and 1970s who championed welfare programs within black communities but frequently clashed with police before their eventual dissolution.
That argument stuck out to Freeman, who said she saw the symbol as one of solidarity.
"I think people just saw the fist as a racist symbol, but it's honestly the complete opposite," Freeman said. "I wish that our community understood their privilege – I wish everyone used their privilege to take a stand against an injustice rather than immediately coming out against it."
As of press time, much of the dust around the murals appeared to have settled, with the back and forth over Black Lives Matter paintings replaced by a mural dotted with bubbles over a black backdrop.
But the artists involved hope to keep a conversation around the murals going, and already there appear to be rumblings of a forum on racism within Swanton possibly hosted by the Swanton Public Library, an organizer and artist who asked not to be named due to the controversy around the murals told the Messenger.
"All of this has told me that there needs to be education in the community and a forum where the facts can be put out there," the organizer said.
An email to the director of the Swanton Public Library was not returned by press time, but Facebook posts have confirmed the library's interest and already one community leader – Swanton Police Department chief Leonard "Joey" Stell – has agreed to participate.
"As the Police Chief of our community I feel that having open communications on issues that may affect the quality of life for our citizens and those that visit our community is very important," Stell wrote in an email to the Messenger.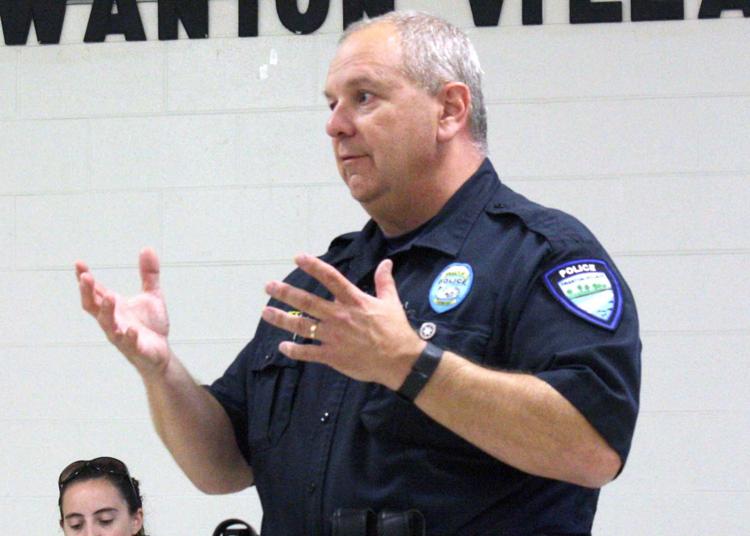 "If we have members of our community," he added, "that do not feel safe interacting with the police 1.) I want to know about it, 2.) I want to fix it."
After the initial clenched fist had been painted in front of the police station, Stell had posted a video with the Swanton Arts Council outlining a short history of the symbol and how, he believed, the fist painted in Swanton represented solidarity.
It was a statement Freeman, who, while adding she didn't have a particular grievance with the Swanton police, admitted "doing it in front of the police station was definitely intentional," said she welcomed.
"I actually was really pleased by that video," she said. "I think that, coming from a police officer and someone with his entitlement eased a lot of the tension and helped people try to understand what I was trying to prove."
Meanwhile, according to Paxman, having a conversation like this stem from the arts underlined the role art could play in these larger conversations.
"Some people would say art is a pretty picture," Paxman said. "Art isn't something you look at, though. It's something that helps you see."
On Friday morning, Swanton's art walls were found with references to the white-nationalist organization Patriot Front painted over existing works currently on the boards.
According to a subsequent statement shared by Stell over the Swanton Police Department's social media page, a member of the community who "faced criticisms for painting over the black power fist" had painted over the Patriot Front's logos.
"He stated to me that he would paint over anything that he views as hatred," Stell wrote.
According to the Southern Poverty Law Center (SPLC), the Patriot Front is "an image-obsessed organization" that levies patriotic images to promote white supremacy and fascist ideologies, often through anonymous postings and propaganda.
The SPLC lists the Patriot Front, a spinoff of a larger neo-Nazi organization, as one of two hate groups active in Vermont.
"We have no place for this level of hatred in our Town," Stell wrote. "With the ongoing unrest in this country around racial inequity and the loss of so many jobs because of COVID-19, we must unite to forge a path forward."
Editor's Note: This story was edited on June 12 at 8:32 a.m. to properly reflect that it was a mural with bubbles added to the wall as of press time.
Editor's Note: This story was updated on June 12 at 1:41 p.m. to include a statement from Swanton police chief Leonard "Joey" Stell on white-nationalist postings that had appeared on Swanton's art walls after this story went to press.