HIGHGATE – Ray's Die and Tubing was founded in 1960, after Raymond Gadue, Sr., started the endeavor from his home on Walnut Street in St. Albans.
Over 60 years later, the dies and tubes produced from Ray's have stretched over one million feet in one year, been to the moon with the Apollo missions and helped save the life of Mother Teresa. 
The history
"It seems like everything fell right into place," Ray Gadue, Jr. told the Messenger.
Ray has headed the company since his father Gadue, Sr. passed away in 1977. Ray said without a small decision he made in the early 1950s, the company would never have existed.
When he was in sixth grade, Ray attended the Holy Angels School in St. Albans. One day, his friend Freddy suggested that Ray go instead to the St. Albans Bay School. 
Ray agreed and went with Freddy that day. He said at the time, he switched schools with no problem and moved into the seventh grade classroom with teacher Ida Fredette. 
After a few months, Ray was moved into the eighth grade by Fredette, and he graduated from the school in 1955. 
"If Freddy didn't ask me to go to school with him, I probably would have stayed at Holy Angels and kept with their commercial path, and I probably would have gone to [Bellows Free Academy]," Ray said.
He decided to not go to high school and instead to work for his uncle in construction. 
Eventually, Ray left his uncle's jobsite and started work for Wagner Construction, putting up radar domes in Franklin County. 
Gadue, Sr., would join Ray here, and soon after the crews at Wagner Construction were sent to a thermowire plant on the Champlain Islands to help expand it.
Ray and his father worked as construction employees for the wire company for a winter before Ray quit. Here, Gadue, Sr., was exposed to wire manufacturing. 
In wire and tubing manufacturing, larger pieces of wire are drawn through small molds called "dies," in which the diameter of the original wire is shrunk and the wire is lengthened. 
"The engineer from the company was looking at a little die, and my father asked what the problem was," Ray said. "[The engineer said] 'We make these things for our machine, and if we can get one that works out of ten we're doing good.'"
This was Gadue, Sr.'s first inspiration for casting wire dies. 
Gadue, Sr., was soon laid off from the wire manufacturer and struggled with keeping him and his wife afloat with $35 weekly welfare checks, equating to roughly $370 in 2023.
In 1958, from his house on Walnut Street in St. Albans, Gadue, Sr. had the idea to craft his own dies to sell to wire manufacturing companies.
Using $5, Gadue, Sr. purchased the shaft of an old outboard motor for the steel. Gadue, Sr., knew the steel had to be high-quality and non-corrosive, and thought the motor part was the perfect fit. 
"When he went home, my mother almost shot him," Ray said. "Spending $5 and all we're getting is $35 a week on unemployment?"
Gadue, Sr., used the steel to form a die by renting a lathe and sent the finished die to a company called Super-Temp in Winooski. 
"He sent them the die, and then he got an order for another one. And another one. And another one," Ray said. "He made ten."
Gadue, Sr. was then asked by the company to make 100 dies, and he knew he had to expand his operation. From his porch on Walnut Street, Gadue, Sr., bought and operated his own lathe before he got more friends and family involved. 
The business eventually spread over state lines after E. I. Dupont, another wire company based in Delaware, discovered Gadue, Sr.'s work through Super-Temp. 
During that time, Ray continued his own work in construction but would help his father by making wire guide tips that guide wires into the dies. 
Gadue, Sr.'s business had grown by this point into his basement where he would form the dies by himself. His business, which he started from $5 on an unemployment check, was growing. 
In December of 1972, wires produced by Gadue, Sr.'s dies were used on the Apollo 17 moon mission, which carried the last humans to walk on the moon. 
In 1975, Gadue, Sr. was diagnosed with a blood clot in one leg and had the leg removed. In 1977, he passed away from lung cancer.
Expanding the business
Ray said he was faced with a major life decision. He was in the midst of constructing two houses and was never taught by his father how to make a wire die.
"If I failed at making dies, I could always go back to carpentry work," Ray said. "But if I let his business go, it's gone."
Ray had his personal machine shop in his basement and hired his sister-in-law to build wire guide tips while he worked on forming wire dies. He would send the dies out to manufacturing plants and said none returned so he knew he was making good products.
In the early 1980s, Ray expanded into tubing after purchasing a grinder with a loan of $1,500. 
Shortly after, he said more orders started coming in, and he was featured in a trade magazine funded by the company of the grinder he used. 
"We had five grinding machines in my basement and 21 people working for me," Ray said. "A company in California, five doctors, wanted to know if I could make a part for them: the counterpart of a balloon catheter."
In 1989, Mother Teresa would have her second heart attack while in Calcutta, India. The heart attack would nearly kill her, but she was saved in part due to the use of a balloon catheter to open her heart valves. The centerpiece for the catheter was manufactured by Ray's company.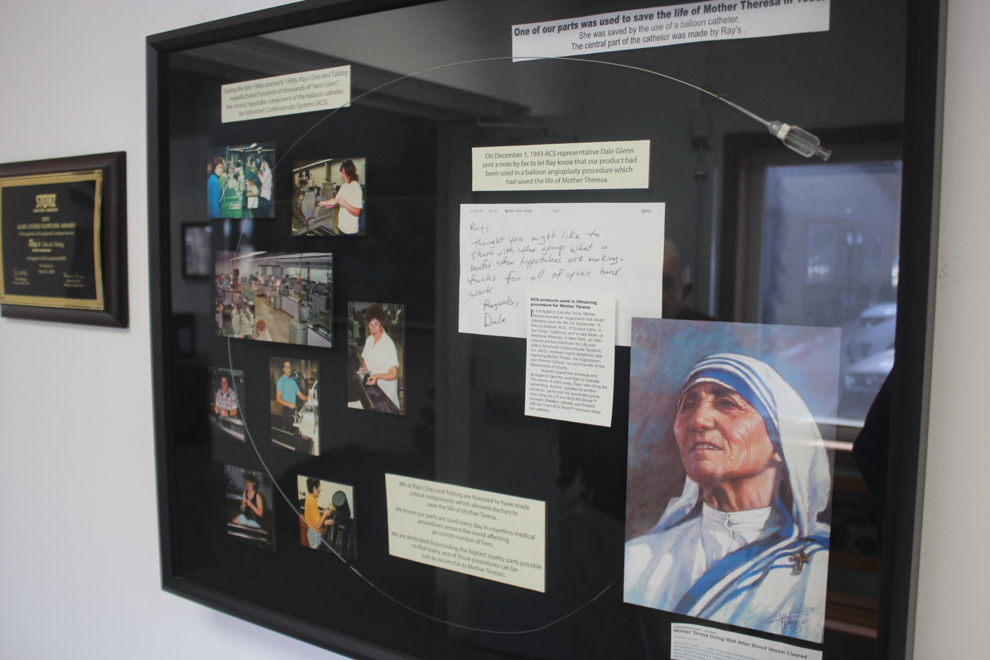 In 1992, the company moved from Ray's basement to a 12,000 foot building in Highgate. The compound would expand to 22,000 feet in 1996, and to 40,000 feet in 2013.
The business stayed in the family, with Ray retiring in the late 2000s and Ray's son Kevin Gadue taking over.
In 2019, Kevin Gadeu passed away and Ray took over the company again.
Now, Ray's Dies and Tubing employs 40 people, including seven family members of Ray's — grandchildren, nephews and in-laws. 
Ray's Dies and Tubing manufactures 3,700 different sizes of tubes and wiring, along with welding tubing together and engraving.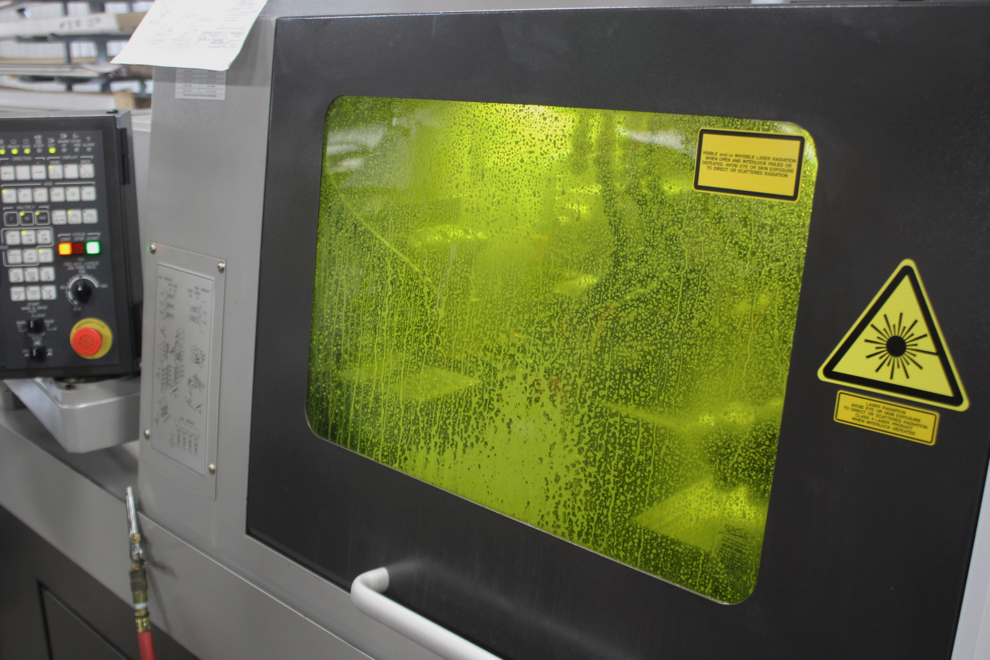 The biggest international purchasers of products from the company are located in the United Kingdom and France, with large domestic purchasers based in Massachusetts. 
"We're worldwide without any advertisements," Ray said. "It's all word-of-mouth, we don't have any salespeople."
The business isn't looking to slow down, Ray said. He has no plans to retire, and he'd like to hire more employees.
The best advice Ray said he can give people is to have common sense and to keep moving forward. 
"You might fall down, but you can pick yourself up and keep on going," Ray said. "Don't think you're going to be a millionaire overnight. It takes time."
Ray said the company came from just a small decision to go with his friend to school instead of going to his own school, and the rest is history.