ST. ALBANS — The most moving and somber part of Relay for Life, the American Cancer Society's annual fundraiser, has always been the luminaria ceremony.
In a normal year, those taking part in Relay stop walking and gather while bags decorated in honor of those who are struggling with cancer and those who have succumbed to the disease are lit. The names decorating those bags are read aloud while the crowd remains silent.
Because of the coronavirus, it wasn't possible to hold Relay this year, but dedicated volunteers held the luminaria ceremony Saturday in an event called Light the Fight. Bags were purchased and decorated, and the names of those they honored read aloud. To avoid a large gathering the ceremony was broadcast live on the Facebook pages of Franklin County Relay for Life and the St. Albans Messenger.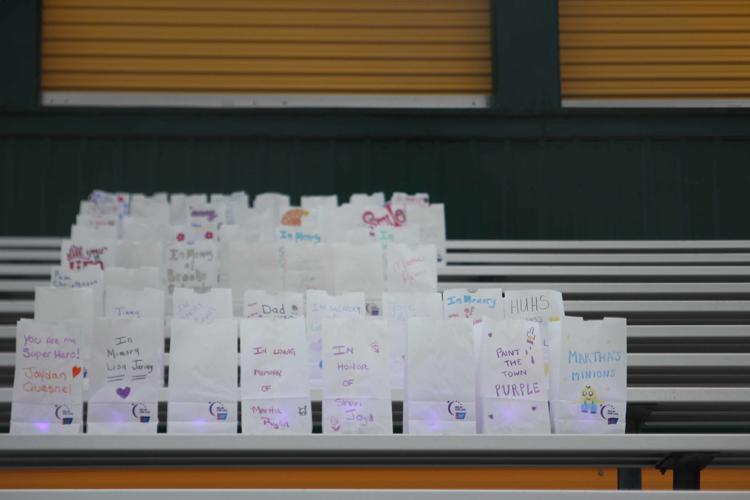 Instead of being placed around the track, the bags, which were lit with purple tea lights, were placed on the bleachers beside the track to spell out the word "hope."
When asked why they organized this event, Heather Winther from the American Cancer Society of Vermont said, "We wanted to create HOPE at a time where we are all going through difficult circumstances and possible separation from those we love. What better way to bring light to a dark time then to literally come together as a community to light up the night sky and send out a positive message? Whether you were on the field or watching from home on Facebook LIVE, we all shared an emotional and intimate moment with the soft glow of each luminaria lit in remembrance of a life touched by cancer. Together, we held a moment of silence to remember the loved ones they're dedicated to."
Chelsea Champagne was among the volunteers at the Collins Perley Sports & Fitness Center on Saturday, helping to set up bags in 90 degree heat. "It's nice to still be able to do something," she said.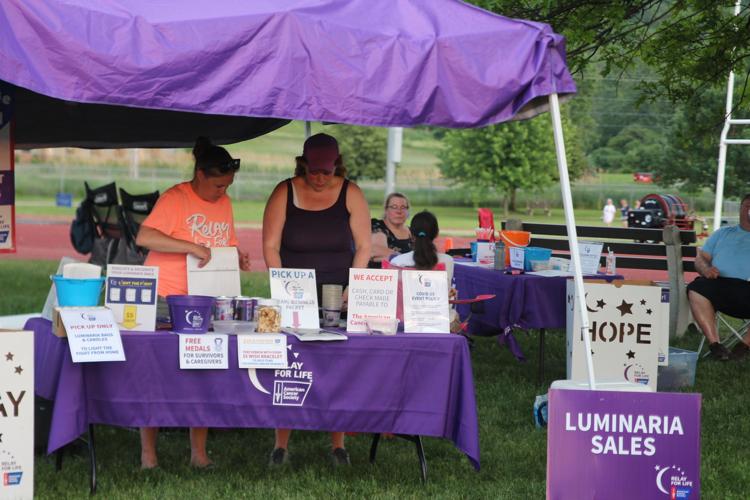 Champagne became involved with Relay a year after her father's death from lung cancer. "It was devastating," she said."I needed a productive way to honor my dad."
This year she was excited to be part of the organizing committee for Relay, only to have the coronavirus shutdown take place just days after the annual kick-off event, a trivia night at Twiggs.
In the past, Champagne and her team, Champagne Supernovas, have organized Zumba events, paint and sips and children's tea parties to raise money for Relay. This year, she had to be more creative.
Champagne reached out online to people she knew whose lives had struggled with cancer themselves or had a family member who had. "I started doing this for my dad, but I actually know a lot of people who have been impacted by cancer," she said.
Champagne said she asked people to do what they could. "Fundraising wasn't one of our main goals."
Nevertheless, her team did well. "I surpassed my fundraising goal," Champagne said. "It felt so good."
As the ceremony was broadcast on Facebook, viewers responded when the names of those they love were read.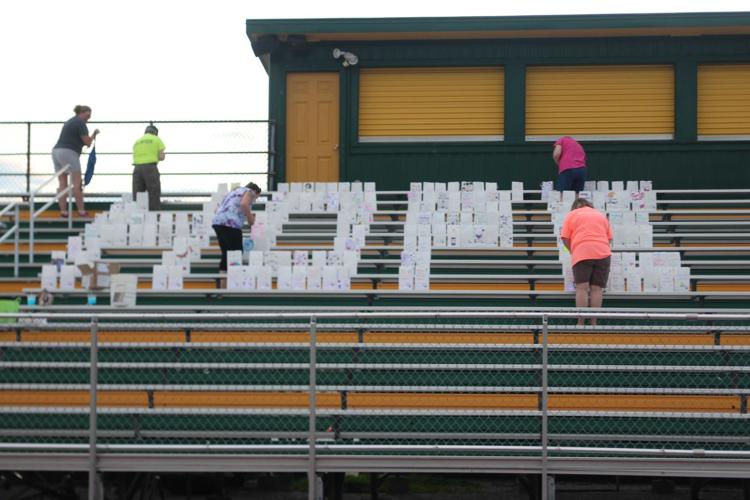 At the close of the luminaria ceremony, after the last name had been spoken, those who were able to attend in person walked silently along the track. Those at home were asked to take a silent walk along their street or around their home in a show of support and solidarity even in separation.