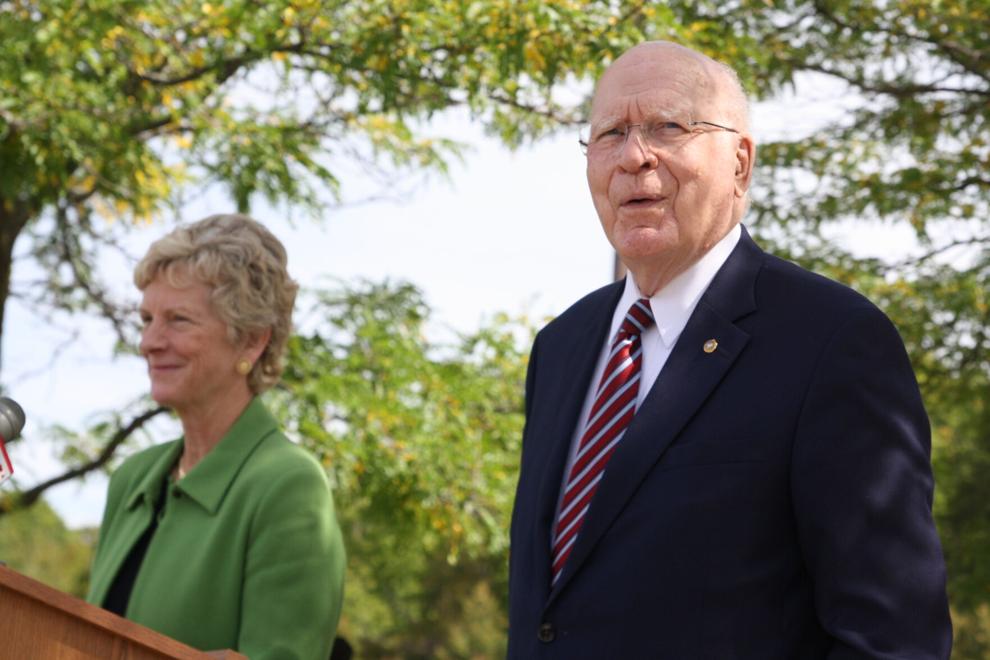 HIGHGATE SPRINGS— The $1 trillion bipartisan infrastructure bill waiting to be passed by the House includes $285 million to modernize five land ports of entry in Vermont along the Canadian border.
U.S. Sen. Patrick Leahy (D-Vt.) and U.S. General Services Administrator (GSA) Robin Carnahan visited the port in Highgate Springs Sept. 1 to talk about how the bill, which the Senate passed Aug. 10, would affect Vermont.
Although much of the focus on the bill has been about fixing roads and bridges, that's not the full story, Leahy said.
He said roads and bridges are important, but he has tried to make sure the conversation around infrastructure includes other specific and tangible improvements that speak to the needs of Vermonters, including updating border crossing facilities across the state.
The bill is an investment in the future, Leahy said, with the Canadian government looking to improve highways on its side all the way up to the border.
GALLERY: U.S. Senator Patrick Leahy visits Vermont Land Port of Entry in Highgate Springs
The five U.S. ports that would receive funding are in Highgate Springs ($170 million), Alburgh Springs ($22.9 million), Beebe Plain ($29.3 million), Newport ($32.2 million) and Richford ($31.1 million).
Improvements on the facilities would aim to increase security but also increase traffic flow with a division for commercial trucking vehicles and cars to split into separate lanes, as well as expanded lanes, Carnahan said.
Almost exactly a year ago in Aug. 2020, the Ministry of Transport Quebec broke ground on the third segment of construction for Autoroute 35, which when finished will connect the port in Highgate Springs directly to Montreal.
"There's going to be significantly more traffic coming into Vermont, and I think that's a very good thing," Leahy said. "We've got to be prepared for it."
The border remains closed for Canadian travelers because of COVID-19, although vaccinated U.S. visitors have been able to pass through since Aug. 9.
Carnahan said the bill is a once-in-a-generation opportunity to invest in U.S. infrastructure but still has to get passed in the House of Representatives, which has 220 Democrats and 212 Republicans.
House Speaker Nancy Pelosi has said she's committed to rallying support to pass it by Sept. 27. It overwhelmingly passed in the Senate 69-19.