SWANTON – Commuting from their home on the outskirts of Swanton, husband-and-wife Samuel Palmisano and Kyla Drew operate Pulcinella's, a South Burlington's Italian eatery. 
But out in Swanton, Palmisano and Drew work with a unique ingredient: they raise rabbits for meat, alongside egg-laying ducks and hens, and turkeys for Thanksgiving dinner.
At K&S Farm, the duo started breeding rabbits in 2022, but they've had the modern small homestead for a number of years, selling fresh eggs and offering to board horses. 
Their operation currently has one male, called a buck, and six females, called does, which are bred three times a year and whose offspring equate to 600 pounds of rabbit meat.
"You could breed those does seven to eight times in a 12-month period," Palmisano said. "The problem is you'll burn out the doe and it's not a happy lifestyle. From breeding, 32 days later they give birth to the litters, and the kits can be weaned off 4-6 weeks later."
For Palmisano and Drew, they want to farm the animals ethically and will not breed the does too often, instead sticking to three litters per doe per year. With a lifespan in captivity of up to 12 years, they want the producing rabbits to live as good as they can get it. If bred too often, the does will start to behave strangely and become aggressive. 
"They get angry, and they'll eat their young," Drew said. 
While the rabbits are kept separate and in hutches roughly five feet by five feet, Palmisano said it's difficult to keep rabbits outdoors and together, as they're territorial animals and easily stressed.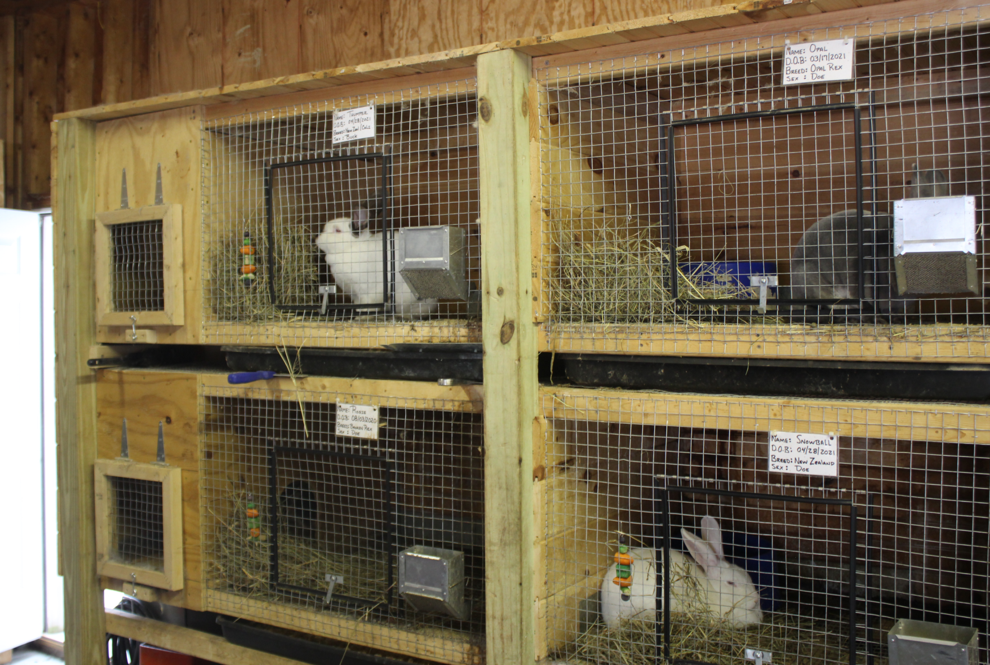 As prey animals low on the food chain, Palmisano said rabbits don't seem to want a large, open space and are most secure in living spaces that are similar to the holes they naturally reside in in the wild.
"They don't really have a defense mechanism, that's why they burrow and why they like smaller spaces because of the fact that's how they feel protected," Palmisano. 
Palmisano said he read a book about free-range rabbits and watched videos produced by a rabbit farmer in the Midwest that attempted to have free-range rabbits within a large fenced in area, and it resulted in the does having poor health and bad breeding cycles. 
The couple tried to have the rabbits outside in the summer of 2022, and it did not go well. Palmisano said they're fragile critters, and do better in the cold garage than anywhere else.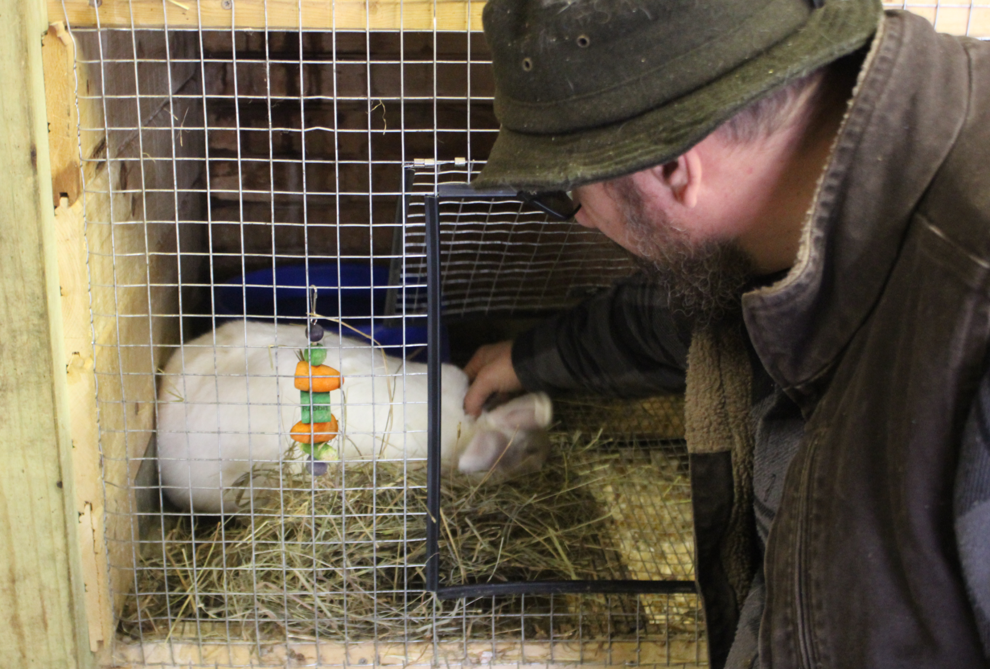 "We tried to have them outside, in runs, to feel better about the situation of keeping them cooped up in cages, and two of them died [of heatstroke]," Drew said. "And it wasn't even hot out, it was like 65 degrees and they had heatstroke."
Rabbits, as the expression goes, breed fast. The process at K&S Farm is hands-on and readily tracked by Palmisano.
"It makes you feel a little dirty inside," Palmisano said. 
The buck and doe are placed in a small fenced-in area similar to a dog crate and are watched carefully to ensure neither party is injured and the event goes smoothly.
If the buck was placed into the does's home cage, she would see him as a potential territory threat and a fight would ensue. Similarly, that's why does are housed separately. 
The rabbits that are bred from the original seven are taken to slaughter between 12 to 16 weeks, compared to common chickens that are harvested before they hit 10 weeks of age.
Why rabbit
Modernly more popular in Europe and other countries outside of North America, humans have consumed rabbit for tens of thousands, if not hundreds of thousands, of years according to archaeological evidence.
Rabbit farming was common during the Roman Empire and across Europe, although it's hard to pinpoint an exact date when rabbits made the hop from being hunted to being farmed, and eventually kept as pets.
According to the Food and Agriculture Organization of the United Nations, over 330,000 tons of rabbit meat was harvested in Europe in 2012 while almost 318 tons were harvested in North America.
Rabbit is one of the healthiest meats, extremely low in fats and cholesterol, and with 28 grams of protein for every three ounces. However, rabbits do not provide essential nutrients found in other meats and fats and a diet of only rabbit meat would result in severe malnutrition.
"It is the highest meat for protein, pound-for-pound," Palmisano said. "There is literally no fat. It's really great meat that you can do a lot of really great things with." 
Pulcinella's, stylized after classic southern Italian cuisine, occasionally features the couple's farm-raised rabbit as a special, served as rabbit cacciatore and in a pot pie.
The rabbits are the only meat from K&S Farm used in the restaurant, as Vermont meat regulations require a state-inspected and approved meat processing place. Phil Brown in Glover, Vermont, is the closest rabbit processing facility.
"Since he's a Vermont DA-approved facility, we can sell our rabbit at our restaurant since it's a state-approved state for slaughtering," Drew said. "With the chickens and the turkeys, we can sell directly to the consumers, and we could sell to the restaurant just as long as it's labeled 'not inspected'."
Meat labeled "not inspected" would have to have a warning on the in-restaurant menu, and Palmisano said it may not appear appetizing. 
'Sanity from the real world'
But for the couple, the homestead isn't about the money, as taking care of the animals is expensive and time consuming.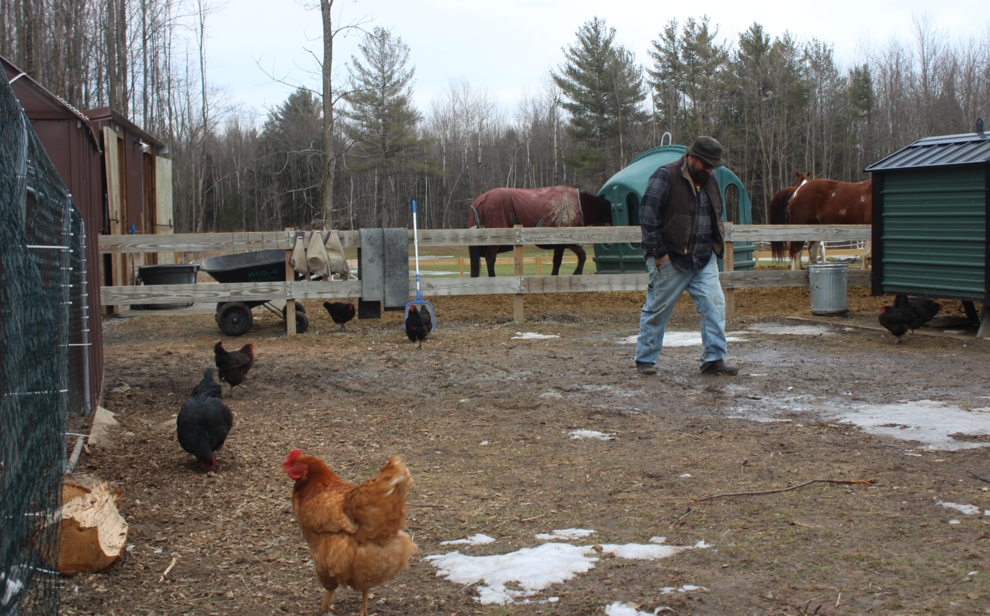 "We are out here all of the daylight, from the time we get up from the time we leave for work," Drew said. "They can't care for themselves. It's an hour worth of chores every day, and on your day off, those big chores like cleaning are going to take all day."
Price-wise, livestock and the meat market isn't a huge fortune. After feed and cage costs, gas to get to the butcher, and the cost per rabbit to actually be butchered, Palmisano said they usually profit about $7 per rabbit. 
"There's no money in farming," Drew said. "People do it because they feel good about the product, and they feel good knowing that you're raising them properly."
Palmisano is the head chef at Pulcinella's, and Drew is the head manager and a bartender, working six days a week a 40-minute drive away to South Burlington. 
But at their home in Swanton, nobody knows the duo besides their friends and neighbors. In Burlington, Palmisano and Drew said they're often recognized by people they see at Pulcinella's, and so living in Swanton provides a much-needed step back.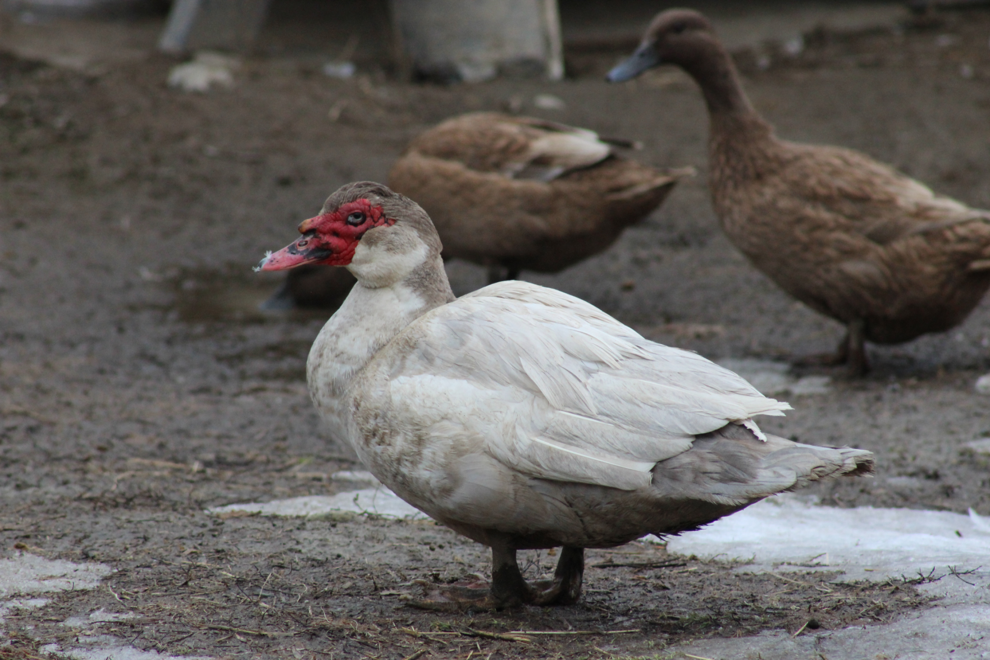 "This is our sanity from the real world," Drew said. 
K&S Farm will also raise 50 turkeys in 2023, with 25 fresh for Thanksgiving and 25 frozen. Out of the 25 fresh, 12 have been claimed before the chicks have even hatched.
"I think we're starting to see a change, where people are starting to think more about their neighboring farms rather than sourcing everything at the grocery store," Palmisano said.
Learn more about K&S Farm at www.k&sfarmvt.com.