ENOSBURG FALLS – It was the end of students' first week back to school and Jennifer Hubbard, Enosburg Falls Elementary School's new principal, beamed a smile from behind her mask.
"I'm so thrilled to be here," she said as she sat down to meet with the Messenger outside the Enosburg Falls school. "This was the place I needed to be."
Hired to take over at the helm of Enosburg Falls' elementary school in the midst of a pandemic, Hubbard's first year at the school was admittedly a strange one.
Nearby where she met with the Messenger, students slid off their masks for an outdoor "mask break" as teachers made motions the students mimicked to help maintain some form of personal distance between one another.
Inside the school, according to Hubbard, were the other sights that have become the norm for Vermont's reopening schools – desks arranged for a wider distance between one another, single-lane hallways marked for social distancing, students and teachers' faces hidden behind cloth face coverings.
But, outside the school, as students chirped away on a nearby playground, one could easily see the optimism that pandemic preparations may have stifled during the lead into school – and nowhere was that more obvious than with Enosburg Falls' new principal.
"It was a lot of planning, a lot of stress," Hubbard said, "but the minute the kids came through the door, it was all normal."
While it's her first year at the Enosburg Falls Elementary School, Hubbard has been involved in education in Franklin County for the better part of two decades now, spending most of that time within Swanton's elementary school before leaving to serve as a math interventionist in Highgate.
From there, reportedly with some encouragement from Highgate's own outgoing principal Patrick Hartnett, Hubbard applied for the seat then-Enosburg Falls Elementary School principal Michelle Lussier would be vacating and took the formal step into school administration.
Even before her own career in education, though, Hubbard wasn't foreign to the field.
Hubbard said she comes from a family with a history in education. Before her father was an optometrist, he was a teacher in a one-room schoolhouse. Her mother taught, as did her sister and sister-in-law. "You could say education's in my blood," Hubbard said last week.
Nor was Enosburg Falls foreign to the St. Albans-raised Hubbard.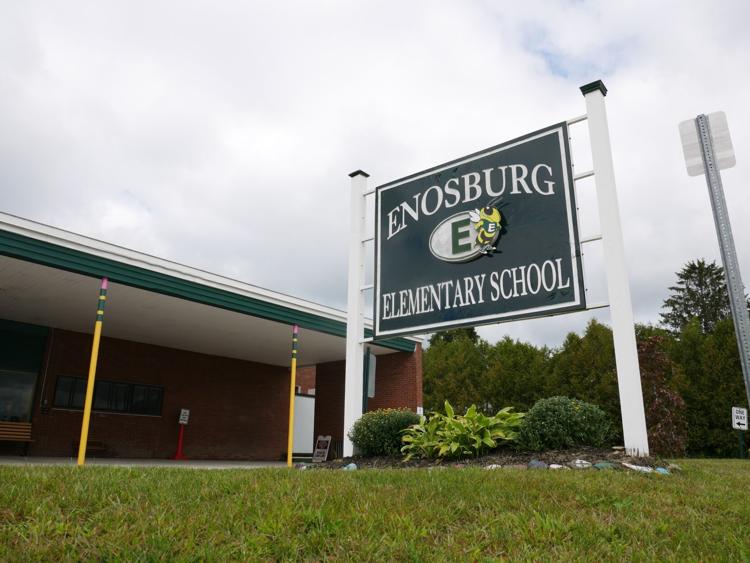 Hubbard said her father had an optometry practice in Enosburgh she'd visit from time to time, earning Enosburgh a place in her heart. "It was a special time," Hubbard said. "This place is a wonderful community and was a special place for me."
Clearly optimistic for the coming school year, Hubbard placed much of the successes of the school's first week on the elementary school's staff, an experienced staff Hubbard said had helped her acclimate to an atypical first year in Enosburg Falls.
"All of the unknowns were very hard," Hubbard said, "but this staff has been remarkable."
She extended those same sentiments to the wider Enosburgh-Richford Unified Union School District and the whole of the Franklin Northeast Supervisory Union (FNESU), whose administrators have worked together throughout the summer in anticipation of last week's partial reopening for FNESU's schools.
"They just feel like family," Hubbard said.
As things normalize for the school following its partial reopening last week, Hubbard said she had hopes of being able to directly address "individual students and what that student needs" coming out of March's unexpected state-ordered school closures.
Statewide and nationally educators have stressed the unexpected closure of schools and subsequent experience with remote learning had possibly widened education gaps among students as suddenly homebound students struggled with accessing classes remotely and adjusting to remote classrooms.
Those concerns underscored much of the state's push for reopening schools and officials' apparent preference that schools reopen at least partially to in-person education – a step Enosburgh's schools, like their counterparts across Franklin County, took in light of COVID-19's limited spread in the region.
Hubbard, echoing school administrators from around the state, said it was too soon to say what kind of impact the March shutdown had had on students. Enosburg Falls Elementary School was expected to begin student educational assessments this week, according to Hubbard.
In the meantime, she's working on getting to know each of Enosburg Falls Elementary School's 240 students' names, stressing that the personal connections she'd make as principal with the school's students would be important as the year moves forward.
"Knowing them as individuals is huge," Hubbard said. "It's really important for me to have the kids feel safe and getting to know the kids so they know I'm here for them."
As she looked ahead to her tenure at Enosburg Falls Elementary School, Hubbard told the Messenger she felt confident she would want to continue on as the school's principal for the long run.
"If they'll have me, I think this will be lifelong," Hubbard said. "I'm extremely happy right here, surrounded by the teachers and community we have right here, right now."