ST. ALBANS — Food assistance programs have relaxed requirements and expanded access to more Vermonters as the effects of COVID-19 continue to leave many jobless and food insecure. The Hunger Council of Franklin and Grand Isle Counties, which includes local food shelves and other organizations, have seen a lull in clients in recent days, perhaps due to rising fears. But they anticipate a surge.
"I do believe food security is going to become a big issue," said Robert Ostermeyer, Director of Franklin-Grand Isle Community Action in St. Albans, during a teleconference meeting with the Hunger Council on April 2. "I don't want to be lulled into thinking we can manage with these resources... if [people] are just scared to leave their homes."
Recent changes include waivers of certain eligibility requirements for 3SquaresVT, Vermont's program for administering the federal Supplemental Nutrition Assistance Program (SNAP).
The Families First Coronavirus Response Act, signed by President Donald Trump on March 18, partially suspends the time limit for able-bodied adults without dependents on SNAP benefits. According to Liv Pena, Food Security Specialist for Hunger Free Vermont, able-bodied adults without dependents normally must meet certain work requirements to qualify for enrollment.
"[But] all work requirements are suspended," she said during the Hunger Council meeting.
Another change she noted is a waiver for interim reports. "At the halfway point in receiving benefits they have to send in a report regarding any changes to the case. If anyone is due for a recertification, for March and April, that deadline is pushed back to September and October respectively," said Pena.
She explained that a large part of her job focuses on 3SquaresVT outreach, including training and education. In that vein, service providers who assist people in applying for SNAP benefits are still able to provide assistance via phone and can submit an application on behalf of a client, with verbal consent.
"On Monday, Vermont became one of 31 states granted a waiver by the USDA to make the whole state eligible for universal meals," added Pena.
With state ordered school closures to slow the spread of COVID-19, "there is an added burden on families who rely on schools to provide meals" on top of the economic, social and health burdens accompanying this pandemic, Pena said.
This waiver means that all children ages 0-18 — even those not usually eligible for free lunch — can receive food assistance through their school district. For kids not enrolled in school for whatever reason (maybe they've graduated or are homeschooled), Pena said schools should be rolling out processes for enrollment in the coming days.
Local food shelves and Age Well, the agency overseeing Meals on Wheels locally, also provided updates on how services are rolling out.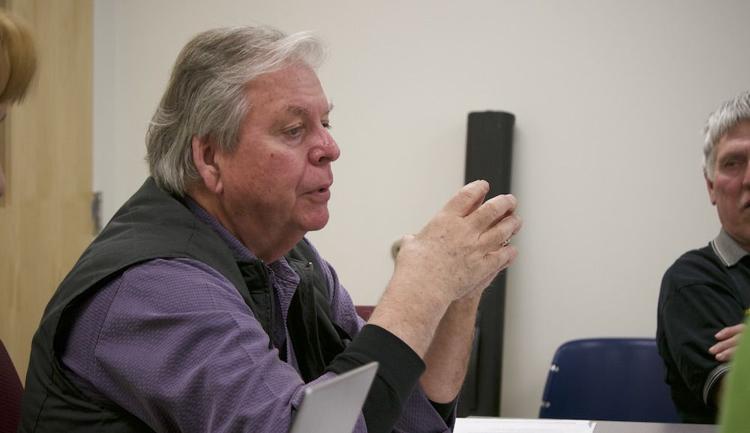 In St. Albans, Ostermeyer said the food shelf hasn't had any trouble procuring food yet, but delivery and staff power are becoming issues.
"Hours are down because staff have to pre-package meals now," Ostermeyer said at the Hunger Council meeting, which he also co-chairs. "The emergency food system was never intended to carry this. It's going to be very difficult to maintain if there is a sudden and dramatic uptick in demand."
The food shelf is open three days a week — Monday, Wednesday and Friday.
John Gorton of the Sheldon Methodist Church Food Shelf told the Hunger Council that initially, he saw a huge influx. "We had more people in a week than we usually see in a month," Gorton said. But the amount of clients has slowed considerably in recent days. "I'm concerned people don't want to go out right now, even to come to the food shelf," he said.
In preparation to serve more folks in need, Gorton said the food shelf is launching a pilot program to "piggyback meal programs," delivering to the same families who need more food than provided by school meals and Meals on Wheels. The food shelf has received a couple grants for additional food. "We have a lot of good food, lots of donations and support," Gorton said.
Chris Moldovan, Director of Nutrition and Wellness Services at Age Well, said demand for Meals on Wheels has risen dramatically in the last couple of weeks. According to Moldovan, the food delivery service serves close to 1,100 individuals across four counties. Franklin County has about 200 of those people, with between 50 and 60 clients in St. Albans.
"We've been able to deliver six frozen meals to each client in the last two weeks as a back-up for emergencies, in case service is interrupted," she recalled for the Hunger Council.
Meals on Wheels has also implemented policies to keep volunteers and clients safe during deliveries. Volunteers go to the client's door, calling as they arrive; they hang the meal in a bag on the client's door knob then distance themselves to verify the client receives their meal.
"This works well in a single home but in an apartment building this doesn't work," said Moldovan. Instead, she said they're in the process of creating a protocol for delivering once a week to clients in apartment buildings, with seven meals per drop-off.
While Moldovan said their biggest gap and need is a lack of funding, she also pointed to staffing as a potential problem. "We've had lots of volunteers step away," she said, about 110 people. "But close to 174 new volunteers stepped up. Except for in St. Albans, we have enough volunteers."
For food shelves, Ostermeyer called for more information regarding the extent of food security in the county. "I think it would be important to make note of how many families we're feeding," he said. "It would be helpful, should this ever happen again, that there is some data on how we can prepare in the event."
Emily Kloft at the Northwest Regional Planning Commission (NRPC) said she, in conjunction with Hunger Free Vermont, would take the lead on tracking food shelf use.
Before the first cases of COVID-19 appeared in Vermont and businesses were closed in response, food insecurity was already a challenge in Franklin County, with Feeding America reporting that 10 percent of the county's population and 14 percent of its children struggled with food insecurity.
For more information about the Hunger Council of Franklin and Grand Isle Counties visit https://www.hungerfreevt.org/hunger-council-of-franklin-grand-isle-counties/.